Restaurant: A-Plus Sake Bar and Gourmet
Red wine has entered the mainstream and single malts are already getting a little passe. What the next big thing will be is anybody's guess, but the owners of A-Plus are putting their money on sake. Not just any old sake from the 7-Eleven, but hand-made sakes, brewed in limited quantities and in many cases not readily available outside Japan until recently. \n"It's mostly to do with the economy," A-Plus owner Andy Ruan (院慶倫) said. "When the Japanese economy was strong, quality sake like this was mostly bought up domestically. Only now with the economic downturn are sake brewers looking for overseas markets. \nThat's good news for Taiwan, and at A-Plus you have the chance to sample over 30 kinds of sake while nibbling on an assortment of scrumptious side dishes ranging from small portions of sashimi (NT$60 and up) to a 14oz porterhouse steak (NT$490). \n"Different sakes are suitable for different foods," Ruan said. For some of the top brews such as the kariho daiginjo (NT$250 a glass), a mellow, sweetish sake served cold, slices of sashimi are recommended. More robust sakes, such as the nishinoseki honjozo (NT$120 a glass), can be partnered with eel rolls or the Californian-style sashimi salad. For the more adventurous, check out the deep fried soft-shell crab or the cod roe, which are perfect accompaniments to an evening of tasteful tippling. \nThe small dishes are more than enough to make a meal, and are a perfect way to wile away the time at the bar. Beautiful glasses and pouring jugs that have been imported from Japan -- these modern vessels in colored or frosted glass are a long way from the usual ceramic cups -- give the whole tasting process an air of ritual, considerably enhanced by the knowledgeable staff who are more than happy to help you find the right sake for your taste, your meal or your mood. The atmosphere is elegant casual, considerable effort having been made to create a warm, friendly dinning room area. At the back is a lounge with deep sofas, but the bar is where the action is. \nWhile the sake part of the enterprise is probably more suited to dinnertime, A-Plus also offers five-course set menus for lunch: a sushi set for NT$180 and a sashimi set for NT$240. While most of the food is definitely Japanese, there is a strong Californian slant, so avocado and crab salad can be found in the eel roles, and some of the sauces are definitely unexpected.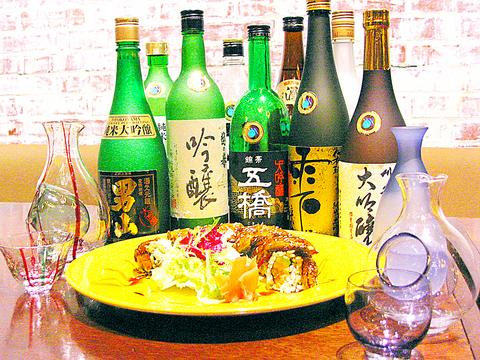 A-Plus' eel rolls go well with some of its more affordable sakes.
PHOTO: IAN BARTHOLOMEW, TAIPEI TIMES
Publication Notes
Address: 33 Anho Rd., Sec. 1, Taipei (台北市安和路一段33號)
Telephone: (02) 2731-9266
Open: Noon to midnight (2am on Wednesday, Friday and Saturday)
Average meal: NT$400
Details: Partial English menu. Credit cards accepted
Comments will be moderated. Keep comments relevant to the article. Remarks containing abusive and obscene language, personal attacks of any kind or promotion will be removed and the user banned. Final decision will be at the discretion of the Taipei Times.