Out of the corner, into the limelight
Chozie has set his sights on adding house and break-beats to the local lexicon with the release of a new album and the first music video for a local DJ
There was a time when DJs were the friendless geeks in the corner. That time is past. Point in case is Chozie, a relative newcomer to Taiwan who has taken dance floors by storm and is busy preparing the release of a three-CD set of house music and break-beats scheduled to hit record store shelves in January. \nTo mark the occasion, Room 18, the swank nightclub where Chozie rules the booth as resident DJ, is throwing a Christmas Eve album pre-release party. While the party will mark the end of a mad dash to get the album out, things will only get crazier for the Chinese-Australian who's called Taipei home for only a few years. \n"I'm probably gonna need to rent a helicopter on New Year's Eve," he says matter of factly. "I have a television shoot in Taoyuan, am opening for DJ Sasha ... and playing sets at Room 18, Plush and 2nd Floor all on the same night." \nBut first he's off to China and Hong Kong to play a series of gigs with F4, superstars of Mando-pop, and by any 14-year-old girl's account, the cutest band in the world. Then he'll be back in Taiwan for a blizzard of television appearances and magazine interviews that will plaster his mug and have his sound heard throughout Taiwan and the Greater China region. In mid-January, he heads to Jakarta and Bali to play at a concert in honor of Indonesian President Megawati Sukarnoputri before beginning a mini-tour of the US and then returning to Asia for gigs in Singapore and Kuala Lumpur. \nAll in stride \nChozie is nonplussed by the pace. Talking with him at his studio in Taipei last week, he was relaxed and friendly, quick to offer a beer while he worked away at the computer. \nHis studio could easily be confused for an apartment -- pictures and knick-knacks cover every horizontal surface and plenty of comfortable furniture is available for lounging -- only the thousands of CDs stacked floor-to-ceiling and racks of audio equipment give away the place's real purpose. A hundred or so records sit on the floor behind him. \n"That's only the vinyl I'm working with right now," he says. "I have a lot more in the other room, more at my house and about 5,000 records back in Australia. ... When I go to buy music, the guy at the store usually has a box for me behind the counter and I'll spend a couple days holed up in a room bouncing from track to track." \nHe doesn't take notes on what he listens to, only noting the album cover artwork for future reference. It's a talent he's cultivated over a decade of DJing throughout Asia and Australia and working with musicians on mixing their work. \nAs we talk, the doorbell rings. It's Ken from F4 come to set up an electric drum and work on their upcoming Hong Kong and China gigs. "This is Ken," Chozie says making introductions, "Ken works in a boy band." \nThe drum is set up and the interview draws to a close. As is usually the case with the busiest DJ in Asia, it's time to work again. "We're shooting my music video at Room 18 on Friday night," he says. "Come shake your ass." \nChozie, the movie \nNow shot and in the can, the video will augment the third disk in Chozie's release, a VCD documentary of club culture in Asia and eponymous biography. It will also follow him on his upcoming media blitz and begin airing on Channel V after Christmas. Appropriately enough for any DJ making a splash in the local market, the video is for a track titled Isle of Formosa and is about DJing in Taiwan. \n"It's the first music video for a DJ in Taiwan. I worked with DJ SL on the mix and Big Daddy supplied the vocals. ... We had appearances by Lin Chang (林強), DJ @llen and a lot of celebrities who showed up to lend their support ... they really helped us out," he said. \nHis use of the words "we" and "us" go to show just how far DJs have come from the corner of the room and the level of popularity they're gaining in Asia. \n"We got up at 5:30am on Sunday to finish the shoot. Do you know what it takes to get a DJ out of bed at 5am? I was touched, man." \nWhat: Chozie's album pre-release party \nWhere: Room 18, located at B1, 18 Songshou Rd., Taipei \n(台北市松壽路18號B1) \nWhen: Starting at 10pm on Tuesday, Dec. 24 \nTickets: Entrance is NT$1,000 and includes two drinks. A buffet will also be available before 12am and sample CDs will be given away, barring production problems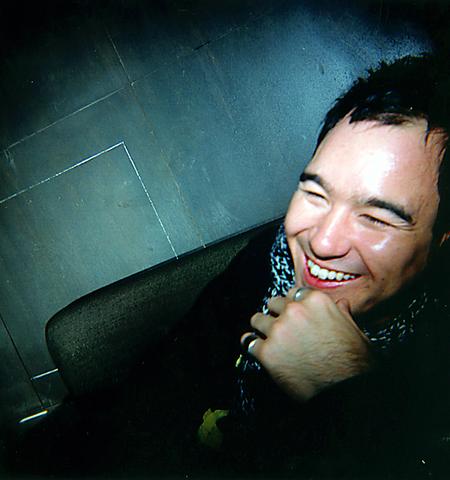 Chozie lounges in the corner.
PHOTO COURTESY OF AVEX RECORDS
Comments will be moderated. Keep comments relevant to the article. Remarks containing abusive and obscene language, personal attacks of any kind or promotion will be removed and the user banned. Final decision will be at the discretion of the Taipei Times.