Digitizing experience
A new series of installations at IT Park will spare visitors the usual dose of theoretical gobbledygook
Keeping a low profile, Etat Lab (在地實驗), comprised of Wang Fujui (王福瑞) , Alf Chang (張賜福), Huang Wenhao (黃文浩) and other non-regular members, has been exploring digital media in art for several years. Its small gallery in Taipei provides space for tech-art installation while its Web site is a lively forum for Real Video files and interactive online works.
To reach out to more viewers, Etat has brought its latest project Middle in the Endless (無盡的中間), previously on show at its own galley, to the better known alternative space IT Park.
The main piece of the exhibition is a big translucent plexiglass tunnel housing an interactive video installation. Stepping inside the 2.6m-wide and 20m-long tunnel, the viewer comes face to face with a screen showing more tunnels. A sensor connected to the screen registers the viewer's every movement. The faster he or she moves, and the bigger the movements, the farther the tunnels on the screen extend, throwing the viewer into a circle of tunnels.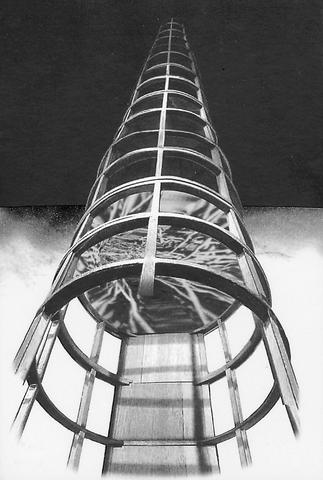 This tunnel is the central part of Etat Lab's show at IT Park.
PHOTO COURTESY OF ETAT
"Visual art used to be no place for the body. It was only for the eyes to look at. [The tunnel] is meant to liberate visual art," said Ku Shiyung (顧世勇), a non-regular member of the group who took part in the collaborative exhibit. "By forcing the body to become the catalyst of the work, we can make installation more than just a thing to see."
This highly interactive work, with its dazzling images and eerie sounds, is as exciting as a dance floor. It imposes no theoretical discourse on the mind of the viewer, and if a visitor to the exhibition walks away with a feeling of emptiness, that's just what Etat intended.
"Many high-speed digital experiences we have, like digital music, leave no meaningful impression. The only meaning is transient, in real-time," Ku said. Indeed, the work is all fun at the time but causes no repercussions.
Another piece at the show turns the landscape along Taipei's Tamsui River into a digital abstract. By protracting pixels of images in a video, Etat lets viewers see the familiar landscape as different-colored parallel lines. Islets and bridges are turned into lines of green and red. Only when standing at a certain spot before the video projection can viewers see the unmanipulated landscape.
To present other "digital viewpoints," the exhibition also shows ETAT's earlier works on video, including Yellow Submarine, a playful mingling of the real world and the world seen through a monitor.
What: Etat Lab 2002 Project, Middle in the Endless

Where: IT Park, 41 I-tong St., Taipei

When: Until Dec. 21
Comments will be moderated. Keep comments relevant to the article. Remarks containing abusive and obscene language, personal attacks of any kind or promotion will be removed and the user banned. Final decision will be at the discretion of the Taipei Times.