Movie: I am Sam 他不笨, 他是我爸爸
Rated G, directed by Jessie Nelson, with Sean Penn (Sam Dawson), Michelle Pfeifer (Rita Harrison), Dakota Fanning (Lucy Dawson), Lucy Dawson, Diane West (Annie), running time: 132 minutes.
Sam is a grown man and single father with the mental capacity of a 7-year-old. When social workers decide he is incapable of raising his daughter and move to seperate them, Sam gets himself a high-powered, highly caffeinated lawyer in the form of Michelle Pfeifer, who represents him in a court case that lasts the duration of the film. The filmmakers pull no punches with their audience by taking sides in the case. The social workers aren't made out to be monsters, but the voices of reason. Sam is shown as a loving father, but his liabities are obvious. But I Am Sam ultimately fails to be a great film -- despite Penn's remarkable performance -- because its main character is incapable of change, bringing the plotline to a standstill halfway through the film.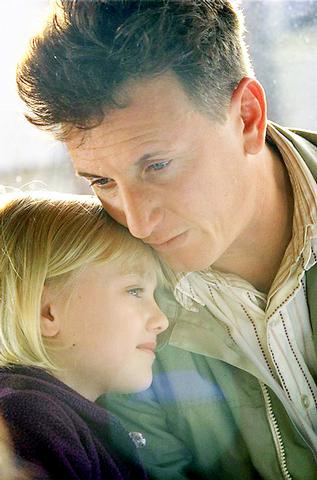 Sean Penn, right, and Dakota Fanning, left, star in I am Sam.
PHOTO COURTESY OF MATA
Comments will be moderated. Keep comments relevant to the article. Remarks containing abusive and obscene language, personal attacks of any kind or promotion will be removed and the user banned. Final decision will be at the discretion of the Taipei Times.