Restaurant of the week
Address: 127 Kunming St. (台北市昆明街127)
Open: 4pm to 2am daily
Average meal: NT$120
Details: Chinese menu written on the wall. Cash only
After a few months of living near Hsimenting, stopping in at the corner of Kunming Street and Neijiang Street has become a habit on account of a restaurant with the best and cheapest sashimi I have yet found in Taipei. Plates of five healthy slices of sashimi cost NT$90, and five pieces of nigiri (sashimi on top of rice with wasabi) cost only NT$80. Miso soup compliments the meal, or snack, for another NT$15. \nOne night I finally asked the food server guy, a permanent fixture between the service window and the dumb waiter, for the restaurant's name card so I could do a review. But he just looked at me for a moment, trying to figure out what purpose a name card could possibly serve, then said, "we don't have a name card." \nSo I pulled out a notepad and, because I had never noticed a sign out front, asked, "Well, what's your restaurant's name?" \nAgain, hesitation. "Uh, this restaurant doesn't have a name," he said, adding, as if to fill the awkward silence, "we've been here for 51 years. Maybe you should talk to the boss." \nThe boss told me that the restaurant had started off as a street stall following the end of Japanese occupation, and now was one of Hsimenting's two remaining authentic shoku do, a type of Japanese restaurant specializing in quick meals of sushi and a few hot dishes, all of which go with beer. The other such establishment is the much more famous Mei Guan Yuan (美觀園), which is located centrally in Hsimenting on Omei St. \nMei Guan Yuan is also a gem that began as a street stall, and though it's not as anachronistically cheap as its counterpart at 127 Kunming St., it is still very affordable. But because Mei Guan Yuan is smack dab in the middle of newly renovated Hsimenting, the decor is clean and contemporary, its menu has filled out, volume is high and the staff largely consists of perky teenagers. And there's nothing wrong with any of that, but the dining experience is quite different. \nThe remarkable thing about 127 Kunming St. is that it is the same local neighborhood restaurant it always was. The interior is completely open to two streets, and the wheeled glass case displaying sashimi, seafood and vegetables sits at the edge of the sidewalk facing the corner. Bottles of a sweet, ultra-red colored local ketchup -- used in the oddly tasty "red fried rice" are also stacked in front. You walk in through any number of faded, Japanese, half-length curtains, and the only menu is made of about 30 vertical inscriptions on a board high on the wall. In addition to sushi and sashimi, there is fried udong noodles, octopus salad, boiled prawns and roast chicken legs, all of which are delicious. \nOne last thing. When you order sashimi, make sure to ask for the mixed plate that includes tuna and salmon. It doesn't cost extra, but if you don't ask for it, all you get is swordfish.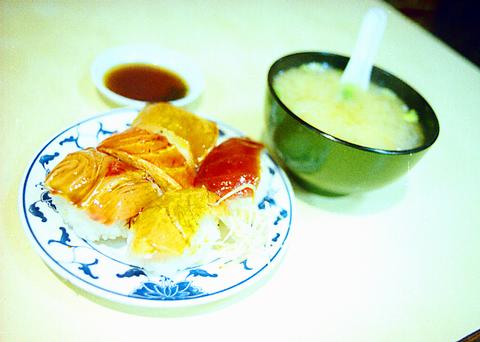 The restaurant has no name, but the sashimi can be described as delicious.
PHOTO: DAVID FRAZIER, TAIPEI TIMES
Comments will be moderated. Keep comments relevant to the article. Remarks containing abusive and obscene language, personal attacks of any kind or promotion will be removed and the user banned. Final decision will be at the discretion of the Taipei Times.