Shanghai's best bounds into town
The artistic director of the Shanghai Dance Company is trying to create a new language of dance for contemporary audiences
He is one of the youngest artistic directors of a major dance company in China. Huang Dou Dou (黃豆豆) currently leads the Shanghai Dance Company (上海歌舞團) and brings with him a program of dances that combine the elements of martial arts and dance -- a combination that gains additional appeal from the fact that the words "martial" and "dance" are homophones in Mandarin. Of the eight pieces that the company will be performing, three were created specifically for the current tour and will be performed for the first time.
Shouting from the darkened auditorium, Huang was making last minute adjustments to the show yesterday, after a difficult trip from Hong Kong.
"We almost didn't make it," he said. Two other performers from China failed to make it for performances in the Formosa International Arts Festival due to "visa problems," so Huang's presence has been organized by Taipei Arts International Association independently of the festival.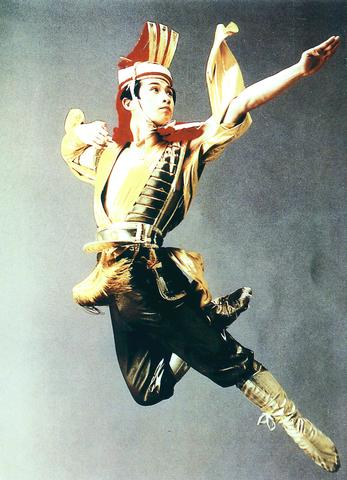 Huang Dou Dou takes to the air.
PHOTO: TAIA
Huang said that getting things happening in Taipei was equally problematic. "I guess we have different ways of doing things," he said, before getting back to sorting out stage positions.
The Shanghai Dance Company was founded in 1979 to perform folk and modern dance works and has received considerable acclaim for its creativeness with its material. Huang, who took over as artistic director at age 23, continues this tradition of innovation and the emphasis on youth. Huang brings with him to the troupe a background in martial arts and traditional dance that has made him particularly adept as an interpreter of the new language of Chinese dance.
"Of course, for young people like myself and my dancers, there are many western things that exercise enormous appeal," he said. "Many dancers I know have opted for developing as `contemporary' dancers, Technically, they are the equals of white or black dancers, but spiritually, it is very difficult for them to make any breakthrough. This is why I build my own dance on a Chinese foundation."
Huang emphasized that he is not trying to follow in the wake of traditional opera, but to create a new language, something that can be termed "contemporary Chinese dance."
"Take something like Tang poetry," Huang said. "In the modern world, you can't bring people to an appreciation of it simply by reciting it to them. There is a gap of understanding. The same is true of traditional dance. You must find a new language to express it to them."
Audiences can be in little doubt about the "Chineseness" of the show, especially when faced with dances based around topics such as the terracotta soldiers of Xian or on movement of black and white pieces on a Go chessboard. The conscious exoticism or use of stereotypical images might strike a jarring note for some, but Huang sees this as an important way of bringing audiences to an understanding of "what is Chinese."
Huang's own dancing has a virility and strength that is extremely attractive, and the show brims over with athleticism. The performance has an operatic grandeur even though Huang said that the show had already been stripped back to bare essentials. "After all this is an arts festival," he said, "so we focused on the dance elements. Audiences in Shanghai generally demand more in the way of spectacle."
For Taipei audiences, used to a diet of minimalist dance, there is spectacle enough, and the ostentatious colored lights and smoke machine might come over as a tad passe.
Whatever the outward form takes, with Huang's current status within the Chinese dance world at present, he has good claim to represent some of the trends in dance that are emerging with a new generation of dancers who are seeking new idioms in which to express themselves.
Publication Notes
Performance Notes:
What: A Dance Evening with Huang Dou Dou When 7:30pm tonight and tomorrow Where: Sun Yat-sen Memorial Hall Tickets: NT$400 to NT$1,500
Comments will be moderated. Keep comments relevant to the article. Remarks containing abusive and obscene language, personal attacks of any kind or promotion will be removed and the user banned. Final decision will be at the discretion of the Taipei Times.