A look inside the `Black Box Exercise'
In the cavernous entrance of Taipei Fine Arts Museum, visitors find clusters of black boxes stacked on top of each other and on cinder blocks. It looks a bit like the museum is in the midst of a renovation, but, in fact, the boxes are part of an installation art project called Black Box Exercise.
The project is an expanding, collective artistic exchange that began in Hong Kong in 1995 and has since traveled to Macau, Japan, Denmark, Germany and now Taiwan. Its purpose is to bring out the creative side of people from all walks of life by providing a box that measures a cubic foot, with one side that swings open on hinges, inside which people can make or do whatever they choose.
The Taipei show consists mostly of boxes made by Taiwanese junior-high and high-school students, but there are over 100 boxes drawn from the other countries that have participated in the project. Part of the fun of the exhibition is opening the boxes and trying to figure out where the artist is from. One, with cut-out newspaper pictures of Hong Kong landmark buildings and the words "dream home" written in cloud letters over them, is unmistakably from that city. Another with little figures playing a soccer match has an adjoining explanatory note on the door in German that gives away its origin.
A curious youngster, above, investigates the interior of a black box. At right, works by unknown artists.
PHOTOS: CHIANG YING-YING, TAIPEI TIMES
But what is remarkable about the vast majority of the boxes is that they don't offer clues to their origin and are completely unique.
The artists have used every imaginable material and come up with some intriguing conceptual installations that offer a look into the minds and private worlds of the artists, an impression reinforced by having to open the box door. That the interiors of no two boxes are even remotely similar captures the project's overarching thematic purpose, which is to display the individuality of each person in a uniform and systematized structure. In this way, the project rather bluntly picks up the theme, so common in contemporary art, that individuals are the building blocks of society and offers an innovative approach to revealing the differences as well as the underlying similarities between peoples on opposite sides of the world.
Black Box Exercise is also another step in the direction of the democratization of art, by taking average citizens, providing a space to create and exhibiting in a manner that adds weight beyond what we would normally attribute to the small manifestation of a single person's thoughts or motivations.
This original format works on a physical level as well. There are over 200 boxes, which makes it virtually impossible to peek into every one before the eyes begin to glaze over. It's possible to look into perhaps several dozen, but certainly not all. The rest remain a mystery, like strangers whom we see but never actually meet. This is maybe the longest-lasting impression that the project creates.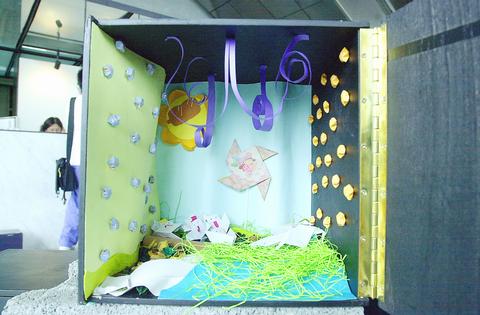 Publication Notes
Art Notes:
What: Black Box Exercise (黑箱作業)
Where: Taipei Fine Arts Museum, 181 Chungshan N. Rd., Sec. 3, Taipei (北市中山北路3段181號)
When: May 10 to May 26
Comments will be moderated. Keep comments relevant to the article. Remarks containing abusive and obscene language, personal attacks of any kind or promotion will be removed and the user banned. Final decision will be at the discretion of the Taipei Times.