Jay cleans up at Golden Melodies
The 21-year-old former music student was a strong favorite from the start with no less than 10 nominations
Call it a one-man show. Only these words capture how completely Jay Chou (周杰倫) overshadowed his Mando-pop peers at yesterday's 13th Golden Melody Awards in Kaohsiung. \nThere was little surprise in Jay winning four awards, including the coveted Best Album. After all, either he or his album were nominated in all seven categories that could possibly apply to him, and in one category his album was nominated three times, giving him a total of 10 shots at a prize. \nIn addition to Best Album, Chou also picked up Best Songwriter and Best Producer, and Vincent Fang(方文山) picked up Best Lyricist for a song included in Chou's album, Fantasy (范特西). \nThe annual Golden Melody Awards, held in Kaohsiung for the second year running, is the biggest event of its kind to recognize the year's highest achievers in the Chinese-language music industry. The event is typically seen as a chance for the industry's divas to show up in outrageous costumes and dazzle the teenyboppers that show up to scream at them. While female glam and glitz was certainly not in short supply, the 21-year-old former music student Chou stole much of the limelight from the female stars. \nIt is generally accepted that female singers outsell their male counterparts by two-to-one in the Mando-pop arena. But the last year has been an unusual one in a number of ways, and these were apparent at the show. This year's award ceremony was an obvious attempt to put a festive face on a deeply troubled industry. \nSales of Mando-pop releases have plummeted in the last year, with some blaming the economy but others pointing to a host of internal problems such as high marketing costs, label over-expansion and a perceived lack of creative releases. That didn't stop thousands of dedicated fans from waiting outside the Kaohsiung Chiang Kai-shek Cultural Center in the blazing sun through the afternoon to see the arrival of the stars. People started to line up outside the venue the previous night to get an up-close view of the stars. It was estimated that there were around 3,000 people on the scene. \nIronically, one of the most anticipated arrivals were the four members of the group F4, who were not nominated in the awards at all. "I don't care about the rest, I just want to see F4, and maybe A-mei too," said Li Huei-tse, one of the predominately female crowd outside the venue. \nThe arrival formalities established one of the themes that ran through the ceremony, namely that of Taiwan's rampant CD piracy, that some artists see as a major cause of the music industry's poor performance. Taotse (陶子), the main host of the show, picked up the theme when she hit the stage by saying that "practically all the labels lost money this year," which cast a serious tone over the proceedings. With fewer new artists coming out this year and fewer albums being produced, Jay was able to clean house with probably the best-produced album of the year. His style is slightly cutting-edge without alienating mainstream audiences. "Some people say my music is rough, but that's how I want it. That's why I'm called `Jay,'" he said in his acceptance speech for his Best Producer award. \nStruggling for a piece of the limelight were the other male artists like William So (蘇永康), Sky Wu (伍思凱) and Lee Hom Wang (王力宏). But these artists were completely shut out by their rival Chou. Harlem Yu (庾澄慶), who picked up Best Male Singer, was something of a dark horse, especially as he was in a crowded category and facing the evening's megastar Chou. \nBackstage, Yu was all choked up and wanted nothing more than to tell the good news to his wife by phone. \nChou, who seemed unmoved my much of the excitement that surrounded him throughout the evening, said that if he had not won the Best Producer, he would have stopped producing altogether. This was in response to a question regarding which of his four awards he regarded as the most important. Chou's self-produced Fantasy album, which was released in September last year, is estimated to have sold over 300,000 copies and has received an award from the IFPI, an international music industry organization, for its outstanding sales record. \nThe awards for the women were much more evenly distributed among the industry's stable of female divas. A-Mei picked up the award for Best Female Singer having been nominated on four previous occasions without getting an award. "On the last four occasions, I always felt that getting a nomination was enough, but winning this time, it was just incredible," she said backstage. \nSun Yanzi (孫燕姿), who commands a third of local CD sales along with Chou, was considered a likely winner of the Best Female Singer category but neither she nor her album was recognized this year. \nJudy Chiang (江蕙) made it clear she was not ready to be dethroned as the queen of Taiwanese pop with her third consecutive award in the Best Non-Mandarin Female Singer for a self-titled album. \nTwo of the few surprise winners were Labor Exchange (交工樂隊), who picked up Best Band, and the Aboriginal singer Biung (王宏恩) who won in the Best Non-Mandarin Male Singer category. \n"I owe all of my inspiration to my grandma," Biung said during an emotional acceptance speech. Biung is the first Aboriginal to win in this category. Backstage, Biung was totally overjoyed with his award and participated in lots of banter with the press. He said he did not want to overemphasize the Aboriginal angle but was delighted that "it was important for the music industry that it wasn't a Taiwanese-language artist who won" the award on this occasion. \nThe Aboriginal theme was nevertheless emphasized at the ceremony with an honorary award for recently deceased Ami tribe singer Difang (郭英男), who led the way for Aboriginal musicians with an important award when his music was recognized by the Golden Melody Awards in 2000. The award was accepted by his daughter Kuo Hsiu-lan (郭秀蘭). \nOn stage, Hakka folk-rock band Labor Exchange spoke about the influence of Chinese rocker Cui Jian (崔健) and Taiwan's singer-songwriter Luo Ta-you (羅大佑), both of whom have been important in bringing traditional Chinese instruments and sounds into the popular music mainstream. \nThe Golden Melodies have been good to Labor Exchange, who gained wide recognition after picking up two awards in traditional music categories in 2000. The move into the Best Band category is a major shift for them and is indicative of their broader appeal. Even so, Lin Sheng-hsiang (林生祥), the band's leader, emphasized their protest-band credentials during his award acceptance speech, saying that Labor Exchange is the microphone through which the voice of the workers and farmers can be heard. \nAs to the Best New Artist to come on the scene this year, the Golden Melodies gave the nod to Jeffrey Kong (孔令奇), an American-born Chinese rapper who is said to be a 76th-generation descendant of the sage Confucius, with whom he shares his surname.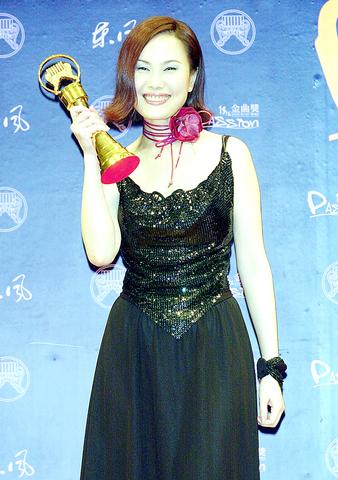 Jody Chiang confirms her position as the queen of Taiwanese pop, winning her third consecutive Non-Mandarin Female Singer award.
PHOTO: TAIPEI TIMES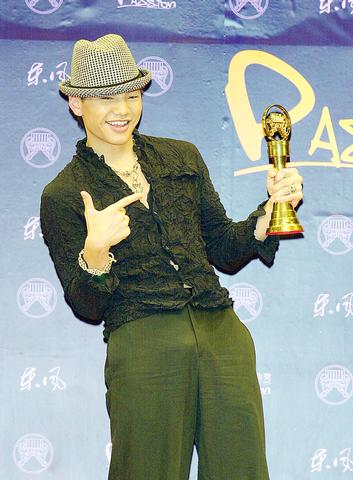 Jeffrey Kong shows off his award for Best New Artist. Jay Chou, top, is cool about his success.
PHOTO: TAIPEI TIMES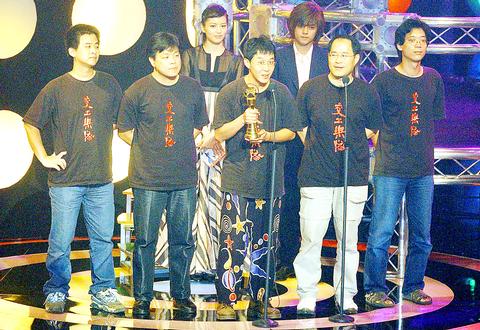 Labor Exchange picked up Best Band, having first made their mark in 2000 with two awards in traditional-music categories.
PHOTO: TAIPEI TIMES
Publication Notes
List of Winners
Best Album
Fantasy (周杰倫范特西), Jay Chou (周杰倫)
Best Pop Instrumental Album
Moonlight Frontier (月光邊境), Lin Hai (林海)
Best Video
Fleeting Time (流年) from Fleeting Time (流年) by Faye Wong (王菲)
Best Songwriter
Jay Chou (周杰倫) for Ai Cai Hsi Yuan Chian (愛在西元前) from Fantasy (周杰倫范特西)
Best Lyricist
Vincent Fang(方文山) for Wei Lian Ku Pao (威廉故堡) from Fantasy (周杰倫范特西)
Best Arrangement
Tung Hsing-min (鍾興民) for Shuang Jie Kun (雙截棍) from Fantasy (周杰倫范特西)
Best Producer
Jay Chou (周杰倫) for Fantasy (周杰倫范特西)
Best Mandarin Male Singer
Harlem Yu (庾澄慶), Tidal Wave (海嘯)
Best Non-Mandarin Male Singer
Biung (王宏恩) for Biung (王宏恩)
Best Madarin Female Singer
A-Mei (張惠妹), Truth (真實)
Best Non-Mandarin Female Singer
Jody Chiang (江蕙), Jody Chiang (江蕙)
Best Band
Labor Exchange (交工樂隊), The Night March of the Chrysanthemums (菊花夜行軍)
Best New Artist
Jeffrey Kong (孔令奇), 01
Comments will be moderated. Keep comments relevant to the article. Remarks containing abusive and obscene language, personal attacks of any kind or promotion will be removed and the user banned. Final decision will be at the discretion of the Taipei Times.