Rummage around at the fair
The Taipei Art Fair offers a wide selection of paintings without the hype of a gallery exhibit
In response to the light foot traffic that flows through Taiwan's art galleries, the Taipei Art Fair is a chance for these organizations to combine their strengths for a one-off major show at the World Trade Center. The result is not unlike a garage sale, where you can find a bit of everything, except the items here are sometimes priced in the millions of New Taiwan dollars. \nWith their differing specialties, the 26 participating galleries bring a dizzying range of artwork to the show, including works by early 20th-century Taiwanese impressionists, modern ink paintings by Zhang Da-qian (張大千) and Ou Hao-nian (歐豪年) and pieces from the famous Tai-chi sculpture series by Ju Ming (朱銘). \nOne of the quirky highlights of the show will be Shanghai conceptual artist Zhou Tiehai's (周鐵海) bathroom sink-shaped cakes. About 20cm long and presented in clear plastic containers, the cakes look as though lined up in a bakery's display case. "The idea is to twist the concept of what is appetizing. The sink shape makes it a bit gross, but you can actually eat these cakes," Zhou said. \nThe purpose of the show, beyond selling the galleries' works, is to liven up the art-viewing experience by inviting artists, such as Zhou and Max Liu (劉其偉) to talk about the creative process and the stories behind their work. There will also be a guided tour today at 1:30pm which, with the help of Zhou's work, will seek to stimulate not only the sense of sight, but also those of taste and smell. Expect the experience to be memorable, if not especially pleasant. \nThe show will also include a mini-auction described by organizers as being "for beginners" with low-priced items tomorrow and Sunday. As a first in Taiwan, the auction can also be accessed via the Internet at http://www.aga.org.tw. Outside the main venue will be a flea market selling a range of handmade decorative items, clothes and gifts. \nAnother step taken to bring art to a broader public has been to invite people to submit their collections of random items to be arranged by installation artist Chiang Yang-huei (江洋輝). The 16 collections are some of the most fascinating pieces on view at the show. One person has collected hundreds of toy dolls, with everything from Godzilla to Doraemon to Barbie. Another has spent a lifetime collecting LP records from the Japanese colonial era, while one person has assembled thousands of matchboxes. Other than the collectors themselves, few would see these items as little more than oddities. But when presented in the context of an installation, the overwhelming numbers and colors of pieces are truly impressive. \nThe fair is a unique opportunity to see many of the most recent works by some of Taiwan's leading artists. One of the most arresting new pieces is the massive Totem and Taboo by J.C. Kuo (郭振昌). Over 17m long and 2m high, the piece features huge portraits painted in grotesque Aboriginal face decoration and rimmed with smaller portraits of historical figures and average people with yellow halos. The dozens of faces seemingly staring at the viewer are at once haunting and captivating. \nIn an entirely different style, Ma Yuan's (馬元) The Top of the World Mountains is a stunning realist landscape of Tibet with a herd of yaks crossing a desert plateau. \nThe show also includes works by several prominent Western painters, including Paul Cezanne, Pablo Picasso and Pierre-Auguste Renoir. \nWith its wild mix of painters and styles, the Taipei Art Fair may leave viewers disoriented from the show's lack of theme, but its success is in saving the public the hassle of visiting each gallery individually. Here, the galleries' best pieces are assembled in one location in a festive atmosphere entirely unlike the typical museum exhibition.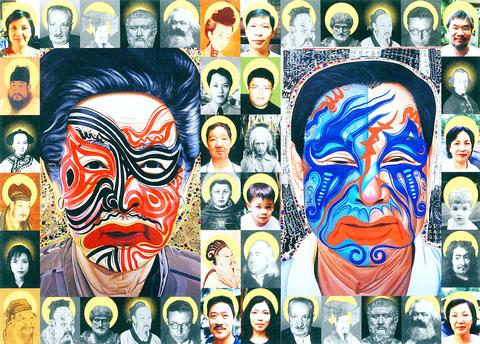 Above and at top, Totem and Taboo, by J.C. Kuo.
PHOTO COURTESY OF GALERIE PIERRE
Ma Yuan's The Top of the World Mountains.
PHOTO COURTESY OF SAN HSI ART GALLERY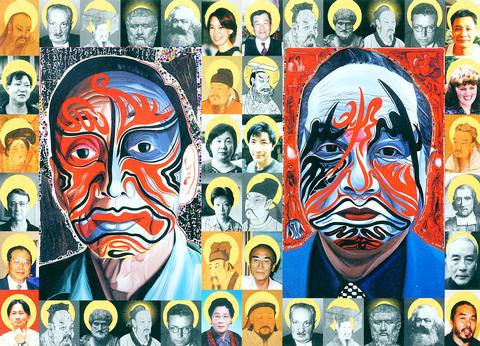 Publication Notes
Art Notes:
What: The Taipei Art Fair When: Until Monday. 10am to 6pm (tomorrow until 9pm)Where: World Trade Center II, 3 Songlan Rd. Taipei (台北市松廉路3號) Tickets: NT$150
Comments will be moderated. Keep comments relevant to the article. Remarks containing abusive and obscene language, personal attacks of any kind or promotion will be removed and the user banned. Final decision will be at the discretion of the Taipei Times.