Restaurants of the week
This week we take a look at three restaurants in Shenkeng.
Ko Cha Chu (古早厝)
130-132 Shenkeng St., Shenkeng township, Taipei County (北縣深坑鄉深坑街130-132號); tel:(02)2662-2534 Open:10am-8:30pm; Average meal:NT$400; no English menu; credit cards not accepted
For pungency, stinky tofu (臭豆腐) obviously ranks up there with blue cheeses, durian fruit and strong mints. "Fei-chang" stinky tofu (非常臭豆腐; extraordinarily stinky tofu), one of the house specialties, is four slabs of tofu served on a hot plate. The off-white bean curd bubbles in the orange, yellow and red-flecked chili juices and is garnished with thinly sliced spring onions. The broth is strong, almost disinfectant in its intensity. The tofu, steeped in these juices, has a soggy bread-like texture and taste.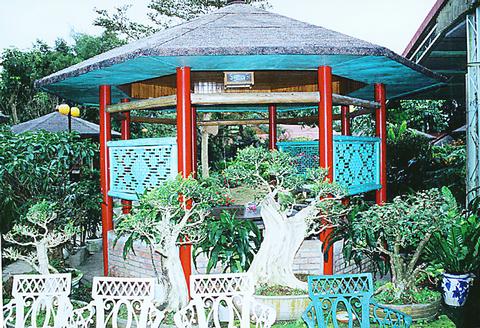 Grand Union has six pagodas for groups to enjoy tea and snacks.
PHOTO JULES QUARLY, TAIPEI TIMES
Tie-ban tofu (鐵板豆腐) is not as smelly and arrives on a hot plate smothered in peppers and gravy. Also on offer is pig innards soup (豬肚湯), which can be eaten sour, salty or hot. The taste is complex rather than strong and is given a boost with hearty doses of chili. The tripe starts off rather chewy, though some of it has virtually decomposed into the soup. This soup leaves an earthy, lingering aftertaste.
There is also a variety of soups, traditional stews and braised and smoked tofu. To wash it all down, the fresh, locally-made plum juice is a must, with its clean and slightly smoked taste. The restaurant is full even on dull weekday afternoons, but the staff will pack you in if necessary. The service is fast and the decor harks back to 1940s and 1950s Taiwan, with its antique furniture, wicker pots and posters of long-lost Taiwanese movies.
There are also classic advertising posters, Chinese opera masks and puppets, family snapshots, pictures of old Shenkeng and other Taiwanese towns, bakelite phones and roughly hewn marbles. The entrance to the restaurant is marked by three large vats of steaming tofu. It's hard to miss.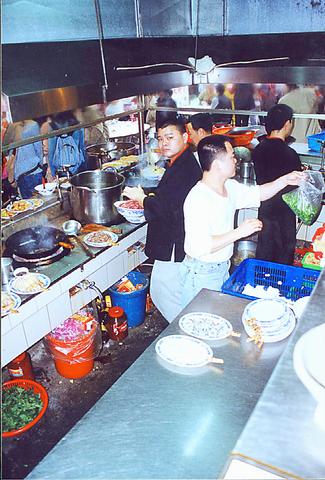 Six chefs man the kitchens of Under The Big Tree.
PHOTO JULES QUARLY, TAIPEI TIMES
Grand Union Recreational Restaurant
(大團圓休閒農園)
25-1, Ah-rou village, Shenkeng township, Taipei County (北縣深坑鄉阿柔村25-1號), tel:(02)2662-5328. Open:11am-10pm; Average meal:NT$350; no English menu; credit cards not accepted
Tofu is on offer in a major way, as it is in most places in Shenkeng, but there are three good reasons for the weary traveler to stop at the Grand Union Recreational Restaurant. First and foremost is the banquet menu. Second, the surroundings. Third, the tea.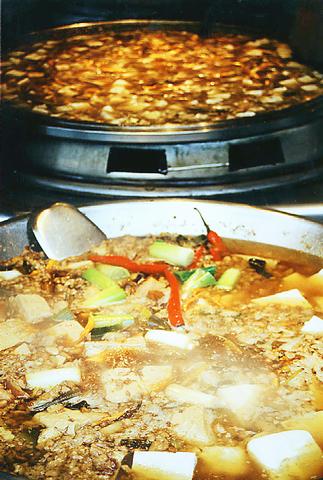 Hold your nose and dig in to spicy stinky tofu at Ko Cha Chu.
PHOTO JULES QUARLY, TAIPEI TIMES
The restaurant menu is adequate and features various hill district specialties such as small river fish and deep-fried shrimp, which are eaten dipped in salt. For vegetables, there is chuanchi (川七), a spinach-like, seaweedy vegetable, which is served with ginger. The three cup tofu (三杯豆腐) has a smoked flavor and is served with a peanut sauce to give it a very full flavor.
In addition to these standards are the banquet menus. The banquets are served in the restaurant's garden and are ideal for large gatherings. These multi-course meals are great value, priced at around NT$5000 and sufficient to feed 10 or 12.
Each banquet includes massive plates of local specialties with an abundance of tastes and smells. Check out the Longevity Medicinal Banquet (長生藥膳), which uses Chinese medical herbs in all the dishes.
Around the banquet area are paintings, sculptures, bonsais and small waterfalls. There are also six pagodas for drinking tea and admiring the fine gardens. The hills around Shenkeng and Mucha have long been renowned for their teas and the local paochung tea (包種茶) is particularly popular. Vases and teapots are on display and the restaurant also offers courses in ceramics and other crafts.
Under The Big Tree Restaurant (大樹下)
163 Shenkeng St., Shenkeng township, Taipei County (北縣深坑鄉深坑街136號), tel:(02)2662-5688. Open:9am-8pm; Average meal:NT150; no English menu; credit cards not accepted.
At the top of Shenkeng's tourist-oriented old street, to the left of the unmistakable big tree after which the establishment is named, is the oldest and one of the most popular small restaurants in town.
The menu is simple and offers both small and large portions for most dishes, including chicken, fish, fried noodles and various assortments of vegetables, as well as famous spicy stinky tofu.
The lower prices may come as a consolation -- a large plate of noodles, cabbage and tofu costs only NT$140 -- because the tofu is somewhat overrated. Nonetheless, this is a great place to eat with friends or family, with a wide variety of dishes, including fish, vegetables, soups, noodles and rice. A banquet meal for four costs NT$1,400.
Up to six cooks work the huge vats of tofu and tripe. Steam, flames and noise provide the most interesting diversion to the otherwise spartan decor.
The shop started out as a roadside stall 50 years ago and expanded to its present size about 10 years ago. There are seats for about 200 people and the restaurant is often full on weekends or holidays, having developed into a virtual pilgrimage spot for local tourists who flock to the town. Service is reasonable and the toilets are clean.
Comments will be moderated. Keep comments relevant to the article. Remarks containing abusive and obscene language, personal attacks of any kind or promotion will be removed and the user banned. Final decision will be at the discretion of the Taipei Times.