Jackie Chan comes down on bad guys
Jackie Chan is an undoubted master of physical comedy action, but his new film shows that he is also more accomplished at dealing with character and plot development
Despite a slew of indifferent films over the last few years, Jackie Chan has established himself as one of the few international superstars of Asian origin. \nFor those brought up on his early low budget action flicks, his ascendance to superstardom has done little to improve the quality of his recent pictures, which have ranged from such ill judged cross-cultural collaborations as Rush Hour (1998) to the final degeneration of the Policy Story series in First Strike (1996). \nAny film starring Jackie Chan revels in his physical comedy and the highly choreographed fight sequences that few people have been able to match. \nBut as Chan attempted to ape Hollywood with the truly awful Armor of God -- a slap-stick rip off of the Indiana Jones films -- Chan seemed a spent force as a cinematographic innovator. \nIt seemed that Chan had spread his resources too thinly, coming up with only the palest imitations of his former success. And then, US critics began to suggest that Chan was losing those lightening fast reflexes that made the first Police Story such a revelation. \nChan's physical humor, which was such an important part of being able to differentiate himself from conventional action heroes like Jet Li (李連杰), seemed to have gone off the rails, most notably with Rush Hour, where it looked like he was content to replay every Chinaman cliche that ever existed. \nBut with The Accidental Spy, Chan seems to be back in form, with what is probably his best film since Drunken Master II (1994). \nAlthough he hasn't lost his addiction to big budgets and exotic locations -- Spy is set in Turkey -- he seems to have realized that some form of plot and character are necessary to hold audiences for the 110 minutes of the film. \nMade at a cost of nearly US$25 million, which is huge for a Hong Kong production, the ostentatious destruction of brand-name products -- not least a BMW motorbike sent crashing into a small airplane, and a chase sequence between a brand-new Benz and an oil tanker in which both vehicles, in addition to a large number of lesser vehicles get totaled on the streets of Istanbul -- are part of the film's main appeal, at least if the promoters are to be believed. \nWhile there is little attempt at character building, some effort is made to give a little color to the cardboard cutouts -- which is all that anyone can ask for in a movie like this. \nChan plays the innocent who gets involved in an international conspiracy, a role he has returned to time and again in recent years. \nIn Spy he plays the somewhat improbably named Buck, an orphan who inherits clues to a fortune from a dying North Korean defector. \nThe fortune turns out to be a deal involving a deadly virus, anthrax II. \nThere are no points for guessing which recent movie this device has been shamelessly lifted from. \nIn the process of following the clues, Buck becomes involved with Carmen, a CIA agent, and subsequently with Wing, a drug addict and slave to the film's bad guy, Zen. \nOne of the great strengths of this film is that it was not over dubbed, with Chan showing off his much-improved English skills without being stilted. \nThe easy shifts between Mandarin, Cantonese and English give the film a spurious realism that may help us overlook the many other highly improbable aspects of the film. \nWhile most people will go and see this film for the truly spectacular stunts -- a fight scene in a Turkish baths and out onto the streets of Istanbul, in which Chan fights off a wide range of toughs while trying to cover his modesty, is a masterpiece of Chan's trademark physical comedy action -- Chan has not neglected to play the socially responsible role model for the young. \nAs in Crime Story (1993), he continues to preach against drug use, the terrible consequences of which are not unmovingly documented in the character of Wing. \nReferences to, or direct imitation of, Hollywood cinematography is so common in Hong Kong films that it seems churlish to gripe at Chan's attempts to emulate Tom Cruise in a motorbike duel (although, to take it one step further, the opponent is a twin engine airplane), or his extended remake of the bus rescue from Speed, all of which is redeemed by his innovative handling of this extended stunt sequence. \nWith Spy, it seems, Chan has worked out how to handle the increased resources available to him without smothering his own unique genius.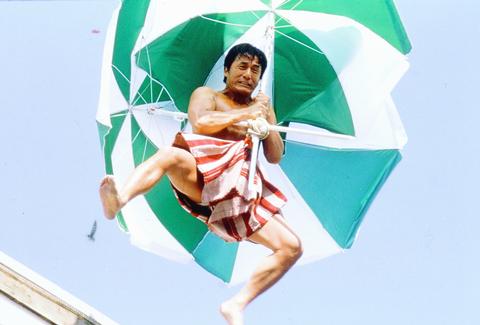 Jackie Chan jumps to safety wrapped in nothing more than a bath towel.
PHOTO: GOLDEN HARVEST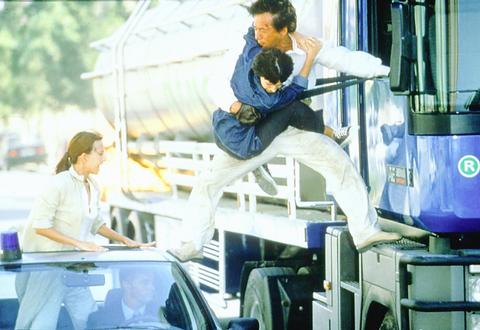 Jackie Chan works with Carmen (Kim Ming Jeong) to save the innocent victims of international espionage.
PHOTO: GOLDEN HARVEST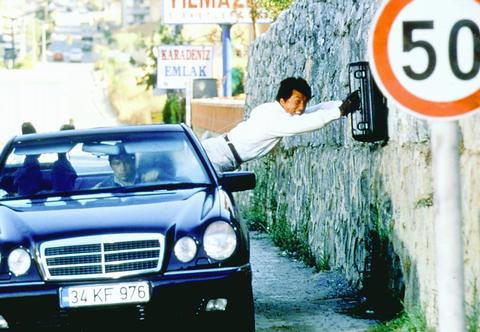 Unconventional driving is all part of the action excitement in Jackie Chan's highly choreographed fight scenes.
PHOTO: GOLDEN HARVEST
Publication Notes
Film Notes:
The Accidental Spy
Written and directed by: Teddy Chen
Taiwan release: Friday, Jan 12
Running time: 110 minutes
Rated: PG
Starring:Jackie Chan, Vivian Hsu, Wu Hsing-kuo, Kim Ming-jeong, Eric Tsong
In Cantonese, Korean and English; Chinese and English subtitles
Comments will be moderated. Keep comments relevant to the article. Remarks containing abusive and obscene language, personal attacks of any kind or promotion will be removed and the user banned. Final decision will be at the discretion of the Taipei Times.