Ready-to-wear Art
When Prada advertises in Artforum and Issey Miyake displays his wares at the Cartier Foundation for Contemporary Art in Paris, we know that fashion has been officially sanctioned as art.
The premise of "Second vs Third Skin" is to highlight fashion as art and vice versa. This intimate exhibition of eight artists and two fashion designers focuses on the seductive form that clothes us.
Purists may balk that there is no longer a clear separation between fashion and the fine arts; indeed, the two are more closely linked than ever before. Both rely on marketing, image (sexiness), status and commercial viability. Fortunately, this show veers away from the dictates of the market, allowing the artists and designers freedom to explore their fantasies through clothing.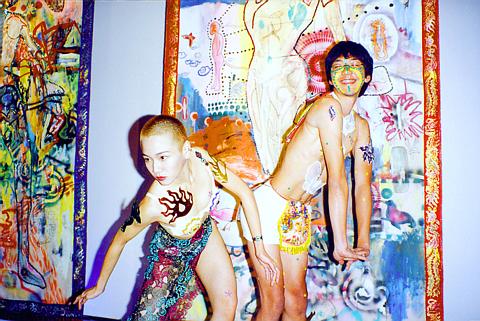 Two models in front of Liu Shih-Tung's painting wear outfits designed by the artist.
PHOTO: COURTESY OF KUO MU SHENG FOUNDATION
For the opening, an imaginative fashion show was held to a jam-packed room of 250 spectators. Installation artist Jun T. Lai stood out with her transparent dress made of pink inner tubes. While artist Liu-Shih Tung's scantily-clad and body-painted models seemed to be primordial creatures that had just emerged from one of his goddess paintings.
In the center of the space, several of the designs worn in the fashion show are suspended in a row from the ceiling. However, most of the fashion is displayed like sculpture, such as Yimeei Wang's felt pieces and Jia Rung Hsu's slide dresses, or painting, such as Tsun-Tsun Lin's collage.
Designer Isabelle Wen presents her work like a painter. Attached to a heavily-impastoed lime green canvas is an ethereal, transparent nylon and pink-sequined jacket with a large feathered wing fixed to the shoulder.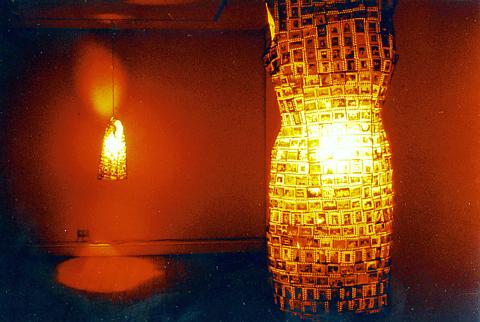 Hsu Jia-Rung's design titled "Happy Time."
PHOTO: COURTESY OF KUO MU SHENG FOUNDATION
Goji Lin, also a fashion designer, has put digital reproductions of well-known dynastic portraits from the National Palace Museum onto pieces of cloth, allowing his work to be washable. Layering the pieces together, Lin has created exquisitely crafted evening gowns that can function as walking pieces of art. The long train of one gown is attached to the wall and can be seen as a Chinese scroll painting that soon merges into the gown.
In a funny twist, the fashion designers had presented their work as fine art while many of the artists showed their resistance to commercialism and the pervasive influence that brand names hold over us.
Upon closer examination of Chuang Rei Yee's delicately stitched white "ABC" quilt for babies, one sees that each letter of the alphabet corresponds with a designer brand name: for example, B is for Boss, R is for Ralph Lauren.
Socialization begins early and even babies can learn to be proper consumers, it tells us. Chuang also does fun things with zippers that hint simultaneously at feminist imagery and art history.
Theresa Wang sees an affinity between the shape of the letter T and the human body. Her large T-shaped installation consists of separate labels of designer brand names, yet her meaning is ambivalent, leaving us to wonder whether the exhibit is an altar to high-fashion or a critique of commercialism.
Illustrating that you do not have to be a slave to fashion, Jacques Picoux fabricates witty collages from discarded socks and ties, making something new out of something old.
Comments will be moderated. Keep comments relevant to the article. Remarks containing abusive and obscene language, personal attacks of any kind or promotion will be removed and the user banned. Final decision will be at the discretion of the Taipei Times.