Into the Fold
Troubled youth are drawing strength from classical training at a Neihu temple with an innovative approach to juvenile reform
Tucked into a corner of Neihu, in a tile building surrounded by gritty industrial property, ten young boys with shaved heads work through their afternoon routine. In bare feet and baggy gray uniforms, they practice walking meditation, circling a small room as their teacher looks on.
Soon they break to prepare for a lecture on qi-gong, and two boys quickly face off in what appears to be an ongoing argument. Just as quickly, one throws a sharp right-hand jab that lands squarely on the other's nose. He cocks his arm for another blow when the teacher's voice -- quiet yet full of authority -- freezes him in mid-punch. He walks away, eyes wide, as if surprised by his own actions. The other boy, unhurt but embarrassed, turns toward the corner. The teacher gives the assailant a questioning look of disapproval.
Throw ten young boys together for long enough, and somebody's going to throw a punch eventually. The difference here is that these boys, aged six to 10 years, happen to be monks in training -- at least of a sort. They're the latest group to be taken into Master Chihhao's fold in a unique experiment in education and social work that brings troubled kids into the care of Buddhist monks.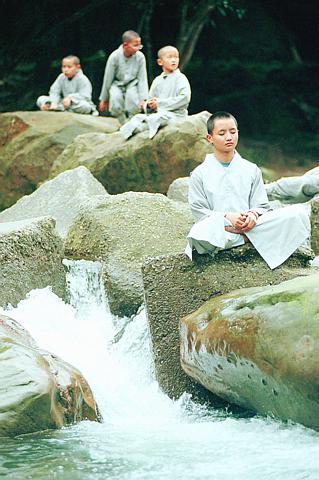 With long experience in social work, Master Chihhao, of the Tzu Kuang Temple, a few years ago began taking in troubled kids whose home life was lacking.
Some were victims of abuse. Others simply lacked proper supervision and were left to fend for themselves by parents too busy or too indifferent to care for them.
The kids attend regular public schools just like any other, but otherwise they live in the temple according to Master Chihhao's edicts and the principles, loosened a bit, of Buddhist monks in training. They are up at 4am for meditation, off to school by 6:30 and back by 4pm for martial arts classes, chores, prayer and study. They attend by agreement with their parents, and are free to leave any time they or their parents want.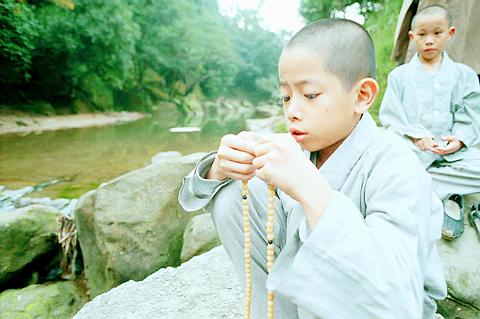 Student monks from the Tzu Kuang Temple in Neihu take part in a Saturday afternoon meditation retreat.
PHOTOS: GEORGE TSORNG, TAIPEI TIMES
The idea, Chihhao says, is to save at-risk kids from trouble before they get lost, before they turn completely away from family and school and the responsibilities of society.
"Kids need love from their parents," he says. "If they don't have this kind of love then in the future they will run down the wrong path."
Broken homes are becoming more common in Taiwan. As the island's economic boom has brought it up to speed with industrialized countries, it has also suffered some of the social ills that usually follow: rising divorce rates and incidence of child abuse, an increase in the number of single-parent families and a rise in the rate of teen crime.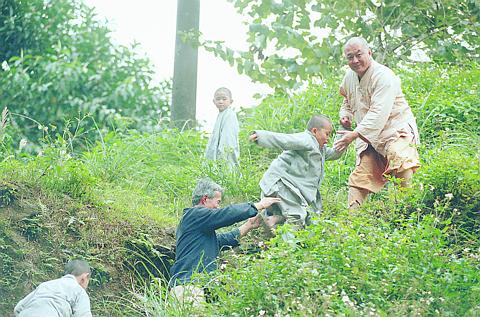 According to the Ministry of Interior, the divorce rate in Taiwan has quadrupled over the past 25 years, though at two divorces per 100 marriages .it still remains far below that of some Western countries, where as many as 50 percent of all marriages end in divorce.
The Department of Social Affairs reports a dramatic increase in the number of child abuse cases -- from 1,400 cases in 1993 to more than 4,000 in 1997. Of these cases, most involved physical abuse (26 percent), substandard parenting (20 percent) and neglect (8.5 percent.)
Overall juvenile crime has actually dropped a bit since peaking in 1992, when 17 percent of all crime suspects were between 12 and 18 years old. In 1997, the figure was 14 percent. But another troubling trend emerged. The median age of those 1997 suspects dropped as the number of 14- and 15-year-old suspects rose sharply.
All of these numbers are low compared to many Western countries, but Taiwan's ability to tackle these problems also has lagged behind. Master Chihhao, for one, believes government agencies are by their nature ill-equipped to handle these problems, which require the instillation of values beyond the scope of government programs. By bringing the kids into a caring, family atmosphere, he hopes to gain their trust and teach them what their parents won't and their schools can't.
"We hope to correct the kids' misbehavior first," Chihhao said. "Then we will make the kids more interested in our school and studying."
What they will be studying and practicing will be Buddhism and martial arts, especially qi-gong and Chinese kung-fu. Together, these disciplines will require the kids to mature and grow into solid citizens and human beings instead of petty criminals, Chihhao believes.
One of the people Chihhao has enlisted in this mission is Teacher Yang, the temple's Kung-fu instructor, who has made it his life's mission to spread the true meaning and practice of kung-fu, which he says has been grossly distorted by the movies. He began teaching at 14, and arrived at the temple in November.
Most of the kids come to the temple in poor health, and a little imbalanced mentally and emotionally, he says. But after a few short weeks of training "their health improves a lot and they gradually learn how to be patient and to tolerate others."
Teacher Yang takes a very hands-off approach to developing discipline and character in the boys. You'll find no taskmaster rapping students on the knuckles with rulers here.
"People think they are misbehaved," he says. "Adults try to force their own will into these kids. That's not going to work. We have to be friends with them first to know their good qualities and care for them and then start from there.
"If you show your love to them they will give their hearts to you. So we try to teach them step by step. Usually, they respond very well."
This unique approach has drawn considerable media attention in recent months, something that Chihhao grudgingly accepts. He tries to shield the kids from the attention. But eventually Chihhao hopes to open a full-blown private elementary school, and he hopes the publicity can generate support for his cause.
"We are hoping we can offer the kids three major classes: the concept of ethics and morality, martial arts and English," he says. "We hope that it will be a bilingual school to provide kids a global view."
Comments will be moderated. Keep comments relevant to the article. Remarks containing abusive and obscene language, personal attacks of any kind or promotion will be removed and the user banned. Final decision will be at the discretion of the Taipei Times.