Coffee, tea -- not me
Although the days of bias and sexism have lessened in the airline industry,flight attendants in Asia still face a host of challenges
Out on the tarmac of CKS airport, a line of 747s sit waiting for a berth. For every plane that peels off from the front of the line to head toward a gate, a new craft, freshly in from some foreign port, fills in the space at the back. This process, like the growing of shark's teeth, continues all day, plane after plane, seven days a week.
"Air travel has changed the way we look at the world," says Sharon Hsu, a stewardess for Taiwan's China Airlines. "Nowadays, passengers flying from Europe or North America to Asia are just as likely to be going for a few days, or even hours, of business meetings as for an extended trip."
On average, the CKS airport handles more than 300 flights a day -- roughly 150 incoming and the same number outgoing. In today's world of increased air travel, flight attendants like Hsu are called on more and more to walk the fine line between service provider, guardian of passenger safety and on-board constabulary. For the most part the old days of "coffee, tea or me" are long gone, but as air travel has gradually become less glamorous (somewhere near the equivalent of catching a train) flight attendants are facing an ever-changing and complex work environment.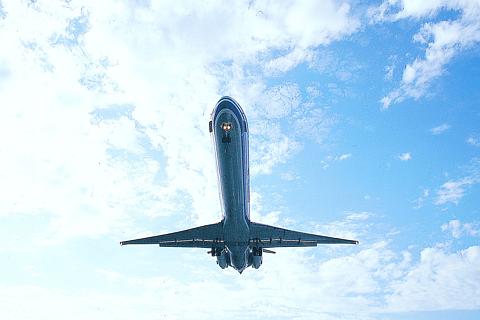 PHOTO: DAVID HARTUNG
It's true they still push carts up and down the galley aisles and pass out extra drinks and peanuts, but there's no doubt that the passenger-flight attendant relationship has evolved since the world's first flight attendants were hired back in 1930. Today, almost 20 percent of the 50,000 flight attendants represented by the Association of Professional Flight Attendants (APFA) are male. And since the US passed the Civil Rights Act in 1964, US-based flight crews have become less populated by unmarried twentysomethings and more populated by married men and women, the middle-aged and working mothers.
While some carriers in Asia have lagged behind, the past five years have seen major changes in the make-up of regional flight crews. Queenie Wu, a flight attendant for China Airlines, explains that just five years ago the airline had a strict policy of only hiring unmarried women under the age of 25. "Now there aren't really any restrictions in place at China Air," she says. "I work alongside a lot of men and middle-aged women."
The only restriction still in place, according to Wu, is that attendants must be under 25 when first hired. But unlike just a few years ago, pregnancy, marriage and getting a little bit older are no longer grounds for dismissal.
However, Un-yong, a married mother and United Airlines attendant based in Taiwan, still sees room for improvement among the many Asian carriers.
"Our union, the Association of Flight Attendants (AFA), at United is strong so we have a lot of protection as far as benefits and legal rights," Un-yong says. "But I have some friends who work for regional Asian carriers and the `beauty contest' mentality is still alive and well."
Wu says that the most difficult part of the job is keeping customers satisfied. "One of my routes is Taipei to Amsterdam and I find the European passengers on those flights to be very demanding," Wu says. "They drink forever -- from takeoff to landing -- so it keeps us very busy, not only bringing the drinks, but dealing with people who become drunk."
Almost every flight attendant has at least one passenger horror story and most can be traced back to one likely culprit -- alcohol. "We are trained to deal with difficult passengers," says Un-yong, who received her training during a nine-week period at United Airlines' flight attendant academy in Chicago. "But if the passenger is drunk the training is of little use."
A little known fact is that for those passengers who get out of hand, there is a remedy -- albeit one used in only extreme cases. Wu says that every airplane is equipped with a set of restraints and that if the problem is bad enough, passengers sometimes have to be shackled to their chairs.
Un-yong, however, advocates a more subtle approach to dealing with difficult passengers. "I try to listen to them," she says. "Most of the time difficult passengers just want to vent a little bit. If you ignore them it can get worse, but if you take a moment to listen, smile and nod, even if you aren't really listening, you can usually win them over."
A 10-year veteran, Un-yong understands that passengers are often stressed out and tired and that they can come to view flight attendants as their own personal whipping posts -- but that their rudeness is usually not personal.
Most flight attendants average about 85 hours a month in the air, in addition to pre-flight briefings and safety checks. Wu works about six or eight routes every month, spending about 70 hours in the air. With this schedule, one of the biggest challenges flight attendants still face is staying healthy.
"If I don't take vitamins, I'll get sick right away," says Wu. She explains that flight attendants are often in harm's way -- whether it be from pushing the 250-pound steel carts up a 5 percent grade, turbulence, falling luggage, recycled air, pressure drops, jet lag or repeated doses of cosmic radiation.
"If one person on a long flight is sick, chances are, everyone will catch it," says Wu. But she says that, other than taking vitamins and drinking lots of water to combat germs and taking melatonin to fight the ravages of jet lag, there's little she can do but go along for the ride.
"An instructor once told me that we should be like swans," says Un-yong. "Above water we should strive to be strong and graceful, but when we dive below the surface we must work like crazy to stay alive."
Comments will be moderated. Keep comments relevant to the article. Remarks containing abusive and obscene language, personal attacks of any kind or promotion will be removed and the user banned. Final decision will be at the discretion of the Taipei Times.