US prepares for coronavirus pandemic that some experts now see as likely
While the disease can cause severe cases that prove fatal, many of those infected only have mild cold-like symptoms, increasing the chance that they could pass it on before they are aware of the situation
Just a couple of weeks ago, scientists held out hope the 2019 novel coronavirus could be largely contained within China. Now they know its spread can be minimized at best and governments are planning for the worst.
"It is not a matter of if — it is a matter of when," said Amesh Adalja, a senior academic at the Johns Hopkins University Center for Health Security and a spokesman for the Infectious Diseases Society of America.
"There is not a doubt this is going to end up in most countries eventually," Adalja said.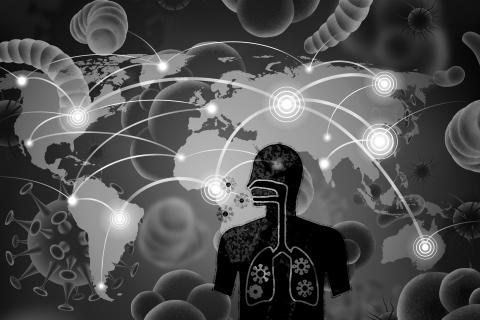 Illustration: Louise Ting
The US, with 12 confirmed cases so far, plans to quarantine at military bases potentially more than 1,000 Americans evacuated from China's Hubei Province. State health departments are activating emergency programs to isolate the potentially infected — a piecemeal approach that could range from specialized facilities to hotels. Some hospitals have tents in stock to use as emergency isolation wards.
"This is about mitigation at this point and keeping the global spread as minimal as possible," said Rebecca Katz, a professor and director of the Center for Global Health Science and Security at Georgetown University.
Other countries, including the UK and France, are also pulling some of their citizens out of China.
The WHO declared a public health emergency of international concern to guide developing countries that might not have robust healthcare systems to withstand the virus.
The outbreak has made more than 31,000 people sick in at least two dozen nations. The vast majority of cases — and every death but two thus far — have been on the Chinese mainland, concentrated primarily in Hubei.
Total containment is not in the cards, said Nancy Messonnier, director of the US Centers for Disease Control and Prevention's (CDC) National Center for Immunization and Respiratory Diseases.
"Given the nature of this virus and how it's spreading, that would be impossible. Our goal is to slow this thing down," she said.
Measures taken in the US have been criticized in China, where officials said that the US is stoking fear and overreacting.
The CDC has said that it has no choice.
The infection is spreading rapidly and humans have no protection against it, Messonnier said.
While most cases appear to be mild, the worry is that it will spread to a large number of people and turn deadly in those most vulnerable.
"This is an unprecedented situation and we are taking aggressive measures," Messonnier said. "We are preparing as if this were the next pandemic."
The CDC has developed a new test that would allow samples taken from patients to be tested locally instead of sent to CDC headquarters in Atlanta, Georgia, saving transportation time and getting results faster. The test was cleared for use by the US Food and Drug Administration on Tuesday.
In China, cases are exploding. By yesterday, more than 34,500 people in the country were infected and at least 722 had died.
Many Western researchers think the actual number of cases is many times higher. Overworked doctors at the epicenter face a shortage of testing kits and overcrowded hospitals, and cannot keep up with the number of cases.
"This is a horrible situation in China," Messonnier said.
The agency has been trying to get a team on the ground in China, although it has not yet.
Early on at the epicenter of an epidemic, "there is a fog of war experience where it is hard to keep track of things," said Thomas Frieden, a former CDC director who now heads Resolve to Save Lives, a nonprofit that works on epidemic prevention.
"So many people are coming in ill, it is hard to keep track of the numbers," Frieden said.
Epidemiologists are struggling to predict how the outbreak might evolve over time. The lack of tests to detect the disease, the potential for patients to be infected with only mild or no symptoms and the overwhelmed healthcare system in China has cast doubt on the accuracy of the numbers that the government is providing.
One set of researchers from the University of Hong Kong estimated in The Lancet medical journal that there were more than 75,000 cases in Wuhan as of Jan. 25, with cases doubling every 6.4 days.
Another group estimated that only 5 percent of cases in the outbreak's center in Wuhan have been identified.
This group, led by researcher Jonathan Read, from the Center for Health Informatics, Computing and Statistics at Lancaster Medical School in the UK, estimated that more than 100,000 people in Wuhan were infected by Wednesday last week.
The estimate was posted on the Web site medRxiv and has not been reviewed by other experts.
The likely higher number of cases is good and bad. Bad because more people have it and are spreading it, good because the case-fatality rare — now at about 2 percent, based only on confirmed patients — is likely to come down substantially as mild cases are accounted for.
What makes the new coronavirus hard to stop is that it is somewhat between the common cold, which is often caused by coronaviruses, and SARS in severity. The SARS epidemic — the first coronavirus to spark a deadly outbreak — started in China in late 2002, eventually infecting more than 8,000 people and killing nearly 800 worldwide before it burned itself out.
Like SARS, the new coronavirus sometimes causes severe case that can kill, although it appears to do so at a much lower rate.
Unlike SARS, many who appear to get the new coronavirus have mild cold-like symptoms. That makes it much harder to stop, as people might have passed it on before the realized what they had.
Of the confirmed cases in the US, most people contracted the virus in the Wuhan area. Illustrating how easily the disease spreads, two others — a man in Illinois and a woman in California — acquired it from their spouses after they returned from China. While some of these patients are being treated in hospitals, others have been asked to stay home and self-isolate, keeping the virus out of medical centers.
Hospitals are on alert. Providence St Joseph Health, a chain of 51 hospitals and more than 1,000 clinics in seven western US states, treated the first US coronavirus case at one of its hospitals.
"As soon as we got our initial patient it was our wake-up call," said Amy Compton-Phillips, chief clinical officer of Providence St Joseph Health.
The hospital system has set up alerts in its electronic medical records system, prompting staff to ask potential patients about travel to China, or if they have been in touch with somebody who has. The initial patient has been discharged, but remains in isolation.
"We are working very hard to prevent another flu-like illness from becoming endemic in the US," Compton-Phillips said.
Northwell Health, a 23-hospital system in New York with 800 outpatient facilities, began screening all patients for travel history to affected areas about two weeks ago, chief quality officer and deputy chief medical officer Mark Jarrett said.
Patients who have recently traveled to China are given masks, taken to airborne isolation rooms and evaluated by staff wearing protective gear. Northwell staff who encounter a suspected case of coronavirus have a central telephone line to connect with senior clinicians, who can help evaluate and make sure samples are sent to the CDC for testing.
In the event of widespread circulation, Northwell is planning "surge units" that would steer suspected cases to particular hospital wards, separated from others who might be vulnerable. It also has mobile tents that can be set up as field hospitals.
"If there's a sudden surge of patients because of the fact that it's that widespread, you clearly will never have enough airborne isolation rooms," Jarrett said. "There just aren't. No hospital has enough."
Comments will be moderated. Keep comments relevant to the article. Remarks containing abusive and obscene language, personal attacks of any kind or promotion will be removed and the user banned. Final decision will be at the discretion of the Taipei Times.