Japanese wave goodbye to UK as 'gateway to Europe' after Brexit
Japan is one of the UK's biggest investors, but many companies are thinking about moving or have already moved operations away from the country as a no-deal Brexit looms
After a February meeting between British Prime Minister Theresa May and 19 Japanese business chiefs, Japanese Ambassador to Britain Koji Tsuruoka warned what might happen if Brexit took an unfavorable turn for foreign investors.
"No private company can continue operations" in the UK if it becomes unprofitable, Tsuruoka told reporters on the steps of May's Downing Street residence, after she pledged to pursue frictionless trade with the EU. "It is as simple as that."
Eight months later, as the risk of a no-deal Brexit looms larger and nearer, Japanese companies are not waiting to find out whether May can deliver.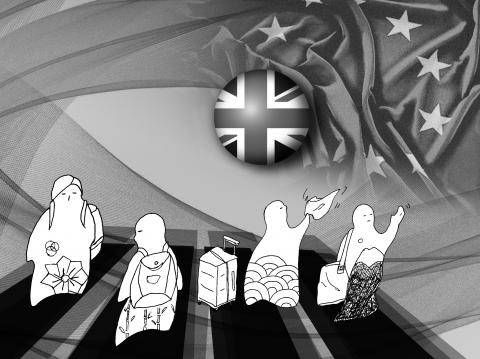 Illustration: Tania Chou
Instead, a growing number of them are heeding Tsuruoka's warning, shifting operations out of the UK or threatening to scale back if the nation crashes out of the EU without a deal.
Toyota Motor Corp on Saturday last week said that it might have to temporarily halt output at its plant in Derby, England, in the event of a "hard" Brexit.
Electronics maker Panasonic Corp has moved its European headquarters from near London to Amsterdam, while the Japanese retailer of Muji products is mulling a relocation to Germany.
Other companies, such as robot maker Yaskawa Electric Corp, are choosing continental sites for new operations to stay close to European customers if Brexit creates trade hurdles.
"A lot of Japanese companies, manufacturing companies in particular, have invested in this country as a gateway to Europe," Shinichi Iida, minister for public diplomacy and media for the Japanese embassy in London, said in an interview. "A no-deal Brexit in March next year will be nothing short of a cliff edge."
The stakes are high for both nations because of their close economic ties. The UK is Japan's second-biggest investment destination after the US, with US$153 billion committed as of last year, according to the Japan External Trade Organization (JETRO).
Japan is the biggest investor in Britain aside from the US and a handful of European neighbors. About 1,000 Japanese companies operate in the UK employing about 160,000 workers.
Many of these firms came to the UK in the 1980s as then-British prime minister Margaret Thatcher promoted the nation as a point of access to Europe.
That history has not been forgotten. A 15-page letter issued by Tokyo to the UK in September 2016, three months after the referendum, said that Tokyo trusts that the UK "will give due consideration to the context in which Japanese businesses have invested in" Britain.
Japanese business officials' blunt talk is unusual for a corporate culture in which confrontation is frowned upon and contrasts with many UK firms' reluctance to speak out about Brexit.
A survey in December last year by JETRO found that 47 percent of Japanese-affiliated companies in Europe thought leaving the EU would have a negative impact on them. Their main concerns were a UK economic slump and exporting from the UK to the bloc.
Now some of them are sizing up new sites in Europe. Japanese banks such as Nomura Holdings Inc, Daiwa Securities Group Inc and Sumitomo Mitsui Financial Group have opened Europe hubs in Germany. Mitsubishi UFJ Financial Group Inc has chosen the Netherlands as a base for its investment banking business in Europe, while Mizuho Financial Group Inc is bolstering its operations in both countries.
"There's a lot of choices," said Hiroaki Nakanishi, chairman of Japanese business lobby Keidanren and manufacturer Hitachi Ltd, told a news conference last week, where he warned of the "very serious impact" from a no-deal Brexit.
"It's not an easy answer," he added.
Hitachi moved the global headquarters of its rail business to London from Tokyo about four years ago and in 2015 opened a giant train factory in Newton Aycliffe, England.
In a nod to Japan's importance to the UK's economy, May visited the country in August last year, two months after her election, with a delegation of business leaders to discuss trade and investment opportunities.
At a news conference in Tokyo, she praised "the commitment from Japanese companies to a long-term presence in the UK," name-checking Nissan Motor Co, Softbank Group Corp and Toyota.
British Secretary of State for Foreign and Commonwealth Affairs Jeremy Hunt last month went a step further during an official visit to Tokyo, delivering a speech in Japanese.
Softbank bought UK chip designer ARM Holdings PLC for £24.3 billion (US$31.72 billion at the current exchange rate) about a month after the June 2016 Brexit vote.
Assurances by May's government to Nissan later that year spurred the automaker to invest in making new models at its plant in Sunderland, England.
Two years later, the government's promises to the automaker have still not been disclosed, and Iida said he does not know what was pledged.
The British government might hope that its close relationship with Japan over the past four decades will at least help when it comes to negotiating a post-Brexit trade deal. The fact that Britain was a key player in the creation of an EU-Japan agreement, signed in July after nearly five years, might count in its favor.
"We don't think that after Brexit the competitiveness, the characteristics of the UK will soon disappear," said Taku Miyazaki, deputy director-general of JETRO in London, because the nation's economic attributes would be difficult to replicate elsewhere.
However, "I can't say that there is no impact," he added.
Comments will be moderated. Keep comments relevant to the article. Remarks containing abusive and obscene language, personal attacks of any kind or promotion will be removed and the user banned. Final decision will be at the discretion of the Taipei Times.