The rise of a cashless Britain is sinking the nation's poor
As banks and ATMs close, consumers are nudged toward card payments, but it is Visa or Mastercard that benefit the most
Last year, at the start of the summer, the last bank in the Dorset seaside resort of Lyme Regis closed. The only way for its 3,600 residents and thousands of tourists to get hold of their money was to join the lengthy line at the post office or via a single ATM, which regularly ran out of bank notes.
Those who needed an over-the-counter service had to make the 9.65km commute to the nearest bank, in Axminster.
Residents with no access to a car or online banking have been left stranded and even ice-cream sellers have been forced to invest in card-payment technology.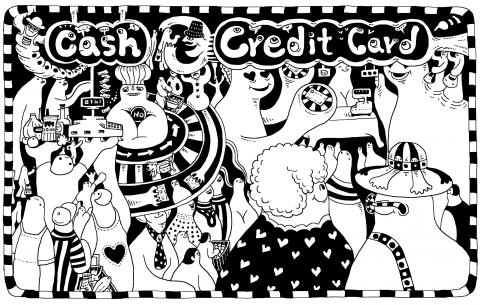 Illustration: Mountain People
"It's caused real hardship," said Arthur Fordham, a spokesperson for the local ironmongers. "If you didn't accept card payments, you faced going out of business because customers couldn't get cash, but card payments are more expensive to process."
A year on, the shop has agreed to host an ATM to get cash flowing through the town again and the lines to use it often stretch down the street.
Lyme Regis has become an involuntary forerunner of the cashless society. Nearly 3,000 bank branches have closed across the UK since 2015 and ATMs disappeared at a rate of 500 a month in the first half of this year, according to a survey by the consumer group Which? — a sixfold increase since November last year.
More than 130 communities, many of them in poor areas, now have no ATM and the 2.7 million Britons who rely entirely on cash are being increasingly shut out of essential services.
Cash is still the most popular form of payment in the UK, accounting for nearly half of all transactions.
However, few of those who prefer plastic realize we are all footing an invisible bill for the convenience. Credit and debit card payments cost traders on average three times as much as cash because they have to pay a service charge to the bank that processes the payment.
Part of that, the interchange fee, is passed to the card issuer and most of the rest, the scheme fee, goes to Visa or Mastercard.
The EU capped interchange fees in 2015 and, this year, banned traders from recouping the cost through a surcharge on card transactions.
However, Visa and Mastercard have diverted the savings into their coffers by quietly doubling their scheme fees. Businesses now pay nearly £1 billion (US$1.3 billion) a year more in these charges than in 2015 and small businesses, such as cafes and corner shops, are disproportionately hit.
"The costs that come with processing card payments stifle small firms across the country," Federation of Small Businesses national chairman Mike Cherry said. "If the war on cash is successful and card providers end up with a monopoly over the payments market, scheme fees may rise even more. Now that small firms are prohibited from directly passing on the costs of processing cards, some have no choice but to raise prices."
As Visa and Mastercard consolidate their grip on our purses, their profit margins have soared to more than 50 percent, much of it thanks to the fees levied on every card transaction across the world.
Small wonder then that Mastercard chief executive Ajay Banga has declared "my enemy is cash," while Visa chief executive Al Kelly told an investor conference last year that "we are focused on putting cash out of business and getting more and more consumers into the payments market through more and more transactions on Visa cards."
Last year, Visa announced plans to launch a cashless challenge in which small traders would be invited to explain the benefits of eliminating cash. The winners would receive a lump sum and free contactless technology. It has completed a similar initiative in the US.
According to Cherry, it could cost those who accept the challenge dear.
"Paying by cash makes life straightforward for small businesses and consumers alike, as they don't have to worry about broadband speeds, transaction or interest charges, and they can keep a clear eye on what's being spent," he said. "Card payments mean reliance on a digital infrastructure which has been known to fail."
Meanwhile, critics are blaming Visa and Mastercard along with the banks for squeezing out free-to-use machines by ensuring they become unprofitable.
In the UK, the payment giants run two of the three ATM schemes that banks and building societies sign up to so that their customers can withdraw money from any cashpoint. The arrangement is funded by an interchange fee paid by the customer's bank to the company that owns the ATM, and by a scheme fee paid by the card issuer and the ATM operator to Visa, Mastercard or the largest of the ATM schemes, Link.
Visa and Mastercard have been accused of undercutting the interchange fees set by Link by 30 percent, while increasing the sum paid to themselves each time a withdrawal is made using their scheme.
The fee they pocket is now 30 times that charged by Link.
In response, Link announced last year that it would cut its own interchange fees by 20 percent to prevent member banks defecting to its two rivals.
The move threatens to drive ATM operators out of business, as the fee they are paid for each transaction is cut and the fees they have to pay are increased, and create cash-machine deserts across the country. After a campaign by Which?, Link agreed in July to freeze the cut at 10 percent, pending a review, and to protect ATMs in remote areas with subsidies.
"Visa and Mastercard's main objective isn't to win ATM market share from Link, but to drive consumers away from cash by killing off ATMs," said Mark Falcon, former director of regulation and strategy at the British Payment Systems Regulator (PSR) and founder of financial consultancy Zephyre.
"This is because card payments generate much higher fees than cash and ATMs," he said.
Visa and Mastercard claim their motives for eliminating cash are altruistic, since poor countries are disadvantaged by the costs of handling cash.
However, it is the poor who are paying the price of an increasingly cashless society.
According to the British Financial Inclusion Commission, 1.5 million adults in the UK do not have a bank account — some, like recently arrived immigrants, because they lack the paperwork to open one.
More than half of the 2.7 million people who rely mainly on cash have a household income of less than £15,000.
They are being increasingly penalized as the best deals for utilities, telecoms and even train tickets are only available online to cardholders, while universal credit will only be transferred to a bank or building society account, without the previous option of cash checks redeemable at post offices.
And, whereas before the ban on card surcharges only customers who chose to pay with plastic bore the cost of the transaction, now the poorest and the unbanked have to share the bill.
Last month, Europe's central bankers warned that the mission to create cashless societies posed a grave risk to the financial system, as cyberattacks could paralyze digital-payment systems.
Information-technology failures could also shut down a nation's finances.
In June, a technical meltdown at Visa caused chaos across Europe as card payments failed.
The PSR, which is responsible for regulating the ATM market, has been accused of inertia as pressure from big business leaves swathes of the UK without cash machines.
It told the Observer it proposes to use its powers to oblige Link to maintain any ATM that is more than 0.8km from its nearest neighbor, but has no plans to require the same commitment from Visa and Mastercard, because their ATM scheme is far smaller.
"We are aware that cash will continue to be an important method of payment for millions of people in the UK in the years to come," a PSR spokesperson said. "That is why we are continuing to explore the long-term sustainable solutions to accessing cash."
However, British lawmaker Nicky Morgan, chair of the House of Commons Treasury Select Committee, has said that its intervention may be "too little, too late."
Visa says it subsidises interchange fees for ATMs in vulnerable areas and sees its role as giving "consumers a choice in how they pay," while Mastercard says that it is up to consumers to choose how they pay.
"However, it's our mission to provide consumers with simple, safe and secure ways to pay, which offer advantages over cash," a Mastercard spokesperson said.
Inaction by the regulator has left the UK payments industry at the mercy of US monopolies, according to David Clarke, head of policy of campaign group Positive Money.
He, along with the chief executives of prominent charities and unions, is lobbying for the PSR to be given a statutory duty to ensure access to cash, and a level playing field between rival ATM schemes.
"Given a choice, millions of us will continue to use cash for decades to come, but Visa and Mastercard are determined to take that option away," Clarke said. "Banks and card companies stand to make greater profits if cash disappears and their moves to slash funding for the cash network have seen machines close at an alarming pace. With cash gone, Visa and Mastercard's stranglehold would intensify, leaving them free to hike charges on our day-to-day payments."
There are about 70,000 ATMs in the UK, but the number is decreasing rapidly. An analysis by Which? estimates that cash machines are closing at a rate of 300 a month.
This rate of closure — which has accelerated since 2015 — has particularly hit rural communities where some of the most significant cuts have taken place.
Which? and the Federation of Small Businesses have launched a Save Our Cashpoints campaign, calling for a review to fully evaluate the impact that the cuts will have on communities and on consumers' ability to use cash.
However, Link has said the current network — with 80 percent of machines within 300m of another cashpoint — was unsustainable as the use of cash plummeted. It claimed cash payments had fallen by 33 percent over the past 10 years, but ATM numbers had grown.
In Europe, Sweden leads the way in terms of a shift toward a cashless society. Recent figures indicate that just 19 percent of payments there are made using cash. The European average, meanwhile, is almost 80 percent.
Comments will be moderated. Keep comments relevant to the article. Remarks containing abusive and obscene language, personal attacks of any kind or promotion will be removed and the user banned. Final decision will be at the discretion of the Taipei Times.