As typhoons get stronger, Asia must build better, experts say
With the destructive power of storms increasing by 50%, incorporating resilience into infrastructure is critical to reducing typhoon damage
Population growth, rapid urbanization and unfettered development of coastal areas in the Asia-Pacific region are increasing the risk of heavy damage from powerful typhoons, experts say.
They have urged governments and the private sector to collaborate on improving urban planning, protecting mangroves and developing "sponge cities" that can absorb water and prevent flooding.
"[Cities] need to move from unplanned urbanization to planned urbanization," Loretta Hieber Girardet, chief of Asia-Pacific at the UN International Strategy for Disaster Reduction in Bangkok, said on Friday last week. "They need to plan urban growth — and that's not happening in Asia to the extent that it needs to happen."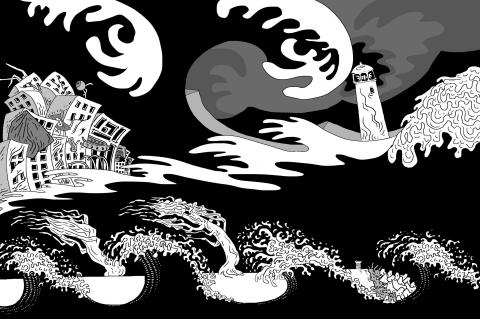 Illustration: Mountain People
Over the past 40 years, natural disasters have cost the Asia-Pacific region about US$1.3 trillion, according to UN estimates, with China, the Philippines, Vietnam and Japan worst-hit by typhoons.
The latest major storm, Typhoon Mangkhut, left a trail of destruction in both rural and urban areas of the northern Philippines, Hong Kong and southern China last week.
Asia has to deal with an average of 29 to 30 typhoons each year, but fatalities have fallen with better weather forecasting, early warning systems and public awareness campaigns.
However, since the late 1970s, storms making landfall have become 15 percent more intense and their destructive power has increased by about 50 percent, Hieber Girardet said.
"Exposure is increasing and intensity of the hazard is increasing, and combined — these two — mean that the risk is increasing," she said.
This year, more than half of Asia-Pacific's population would be urban for the first time in history and that figure would rise to two-thirds by 2050, the UN estimates.
The damage from typhoons can be mitigated through improved urban planning, which would draw upon available data on recurrent natural disasters, mapping and understanding the risks to cities, experts said.
Both the private and public sectors can build resilience into infrastructure and developments to ensure they are able to withstand the impact and aftermath of typhoons, including flooding, damage to structures and high winds.
The region will need to invest US$26 trillion from 2016 to 2030 in infrastructure in order to maintain its economic growth, tackle poverty and respond to climate change, according to the Asian Development Bank (ADB).
Incorporating resilience into infrastructure projects pushes costs up by only 2 to 4 percent, Hieber Girardet said, adding that the increased cost should be seen as an investment in the future.
Technology can also play a role in tackling problems like excess rainfall — as seen in a pilot "sponge city" project in Wuhan, a flood-prone metropolis in central China.
Arcadis, a Dutch engineering and consultancy company, began the decade-long project in 2016, which incorporates sustainable drainage systems into infrastructure development. These include a type of water-absorbing asphalt, as well as green spaces to help stop water from pooling.
City authorities should also build more parks, bolster flood defenses and levees, and develop berms in flood-prone areas, said John Batten, an Arcadis director in Hong Kong.
The berms can have the added benefit of creating green spaces where people can enjoy leisure time, which also pay for themselves as developers are more likely to invest in such areas and boost tax revenues, he added.
"In the old days there would be a bunch of ugly gates or dikes built and they're not places where people want to hang out," Batten said, adding that "now they are landscaped attractions."
It is also important to improve building codes to ensure that structures can withstand strong winds, while banning poster and electronic billboards on the top of buildings.
"Resilience is a lower priority in Asian cities and urbanization is the higher priority," Batten said.
Rural and poor communities, such as subsistence farmers or minorities, are usually worst hit by typhoons.
After fleeing a storm, residents often return to find their homes and livelihoods destroyed, and they fall into debt and poverty due to the costs of rebuilding, experts said.
Typhoon Mangkhut caused about US$265 million of damage to the agriculture sector in the Philippines, according to the UN Food and Agriculture Organization (FAO), with at least 281,000 farmers directly affected.
Early warning systems — like text messages or water level markers on rivers and houses — and establishing evacuation routes and drills, can help rural communities and give farmers the option of early harvesting, experts said.
Where that is not possible, crop insurance schemes should help farmers recover, they said.
Authorities should prevent developments and illegal settlements in risky areas like hillsides, and they should assist communities in such places to relocate, said Hang Thi Thanh Pham, senior resilience officer at FAO in Bangkok.
Farmers can also diversify their crops to ensure that all is not lost when a typhoon strikes, experts said.
Natural buffers that defend rural and urban areas against typhoons — such as wetlands, mangroves and forests — should be protected and maintained, they said.
They can also be incorporated into urban developments, said Steven Goldfinch, a disaster risk specialist at the ADB in Manila.
"As we see more intense storms, obviously it will have a greater impact on those assets that are exposed," Goldfinch said, adding that the long-term losses of failing to mitigate risks would outweigh the initial investment.
"You are going to see increases in economic losses," he said.
Comments will be moderated. Keep comments relevant to the article. Remarks containing abusive and obscene language, personal attacks of any kind or promotion will be removed and the user banned. Final decision will be at the discretion of the Taipei Times.