Battle to save EU looms and a line is drawn at an Alpine pass
Resurgent nationalism and the rise of Euroskeptic politicians threaten the unity of the bloc while Austria mulls initiating border controls at a pass that connects Italy with lucrative markets in northern Europe
Austria built a steel canopy over the northbound lanes of the highway through the alpine Brenner Pass about a year ago, ready to reimpose border controls with Italy. The shelter has yet to be used and Stefan Pan for one wants to keep it that way.
"The Brenner Pass is Europe's main north-south artery," said Pan, vice president of the main Italian business association, Confindustria. "Block the border, and it could cause a heart attack."
The crossing symbolizes Europe's past and present, though the question troubling Pan is what it will mean for the future.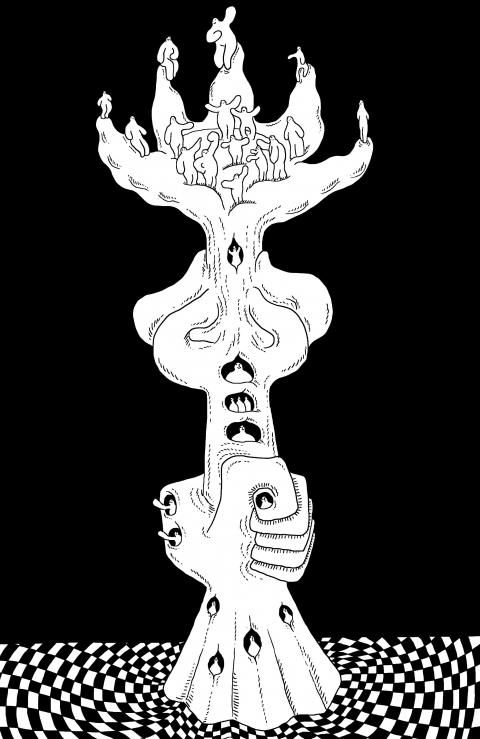 Illustration: Mountain People
Italian fascist leader Benito Mussolini and Adolf Hitler cemented their partnership in World War II there. As the EU helped foster post-war peace, customs and immigration checks melted away.
Now the busiest pass through the Alps encapsulates what is shaping up as the continent's defining challenge this year: Should governments respond to the frustrations that boosted populists in elections last year with more EU integration, or less?
Economies are growing again, the flow of refugees has abated, yet a nationalist undercurrent still threatens to submerge the Franco-German vision for the European project.
French President Emmanuel Macron has taken the lead in pressing to recapture the political initiative and strengthen the EU so it can start solving the problems that have prompted voters to turn to extremists.
Key areas he has identified for deepened integration include intelligence sharing and defense, control of the bloc's outer borders, and a budget for the euro area.
Germany might be getting on board. A preliminary coalition deal reached between German Chancellor Angela Merkel's Christian Democratic Party and the center-left Social Democrats puts "a new start for Europe" at the top of its list of priorities.
Last week, Portuguese Minister of Finance Mario Centeno, the new group head for the eurozone's finance ministers, said that the coming months offer a "unique window of opportunity" to strengthen the common currency.
He called for agreement by the EU's June summit to unify banking and capital markets regulation, and to increase fiscal burden sharing.
However, persuading the EU's 28 nations to agree on game-changing projects is likely to be tough, even with the perennially awkward British heading for the exit door.
Euroskeptic nationalist politicians run Hungary and Poland. In March, Italy is expected to hold elections that could produce a less pro-European government in Rome.
Meanwhile, the far-right Freedom Party of Austria has joined a coalition government in Vienna. Its party members or affiliates head the foreign, interior and defense ministries.
Last week alone, Austrian Chancellor Sebastian Kurz told Germany's Frankfurter Allgemeine Zeitung that he was "much more skeptical" about creating a common budget for the euro area, while Austrian Minister of the Interior Herbert Kickl said infrastructure was needed to "concentrate" asylum seekers.
In an interview published on Friday, he also announced the creation of a "standby force" ready to staff checkpoints on Austria's frontiers within hours of getting the order.
Just how awkward the divisions can be was on display at the last EU summit last month.
A two-hour debate on immigration went so badly that EU President Donald Tusk said it was proving "hard to even find common language."
He too gave leaders until June to come to an agreement.
Even the center-right Dutch Prime Minister Mark Rutte has said that Europe's project of "ever closer union" is a threat, rather than a solution for liberal democracy.
"No more institutions or even further integration," Rutte last month told the European Parliament's grouping of liberal parties. "Look and you will see that the people of Europe are screaming to us through the ballot boxes. They are not wrong. You are wrong."
In Brennero, the village on the Italian side of the Brenner Pass, Pan and others from the German-speaking South Tyrol region are disturbed by the prospect of an EU that becomes fractured by a return of 20th century nationalism or stops integrating further.
Immigration is at the heart of it. As more than 1 million refugees from Syria, North Africa and elsewhere landed by sea in Greece and Italy in 2015 and 2016, many made their way north to Germany through the Brenner Pass.
The then-Austrian minister of defense at one point said that he had readied tanks and troops to block the pass if need be.
However, there is the economic hit. Last year, about 2.2 million trucks barreled through the mountain crossing. Steady streams of freight and passenger trains run on tracks either side of the highway, carrying goods and people north and south.
Pan's Italian company is one of the world's largest producers of strudel, baking 35km of the tubular German pastry every day. Most of his customers are not in Italy, but to the north.
"Look at German cars. A year's production uses 4 billion euros [US$4.9 billion] worth of components from Italian manufacturers," he said, describing the Brenner Pass as part of a Europe-wide assembly line. "Macron's plan is the way we have to go."
Of course, the European economy managed healthy growth for decades before the visa-free Schengen area began in 1995, despite internal border checks.
However, going back would be harder.
If border guards were put to work under the canopy over the Brenner Pass, "we'd have 15km to 20km tailbacks," said Peter Mock, commissar of the highway police based in Sterzing, a small town 17.7km into the Italian part of Tyrol.
The number of trucks crossing the pass has increased by at least eight or nine times since 1995, he said.
There is a political worry, too. South Tyrol is a land of schnitzel and beer, more than pasta and wine. It was part of Austria until 1919, when Italy annexed it. Only the negotiation of substantial autonomy from Rome and an increasingly lax border with Austria enabled nationalist passions to subside.
The flow of refugees coming to Europe has fallen dramatically since last year. Still, soldiers wearing the distinctive raven-feathered caps of Italy's Alpini brigades patrol the short streets around the Brenner Pass outlet mall. It is the same regiment that accompanied Mussolini to his meeting with Hitler in 1940.
Fritz Karl Messner, the mayor of Sterzing — Vipiteno in Italian — said that for now locals in the little snow-covered ski resort are coping fine with the handful of asylum seekers who have settled there to work.
On a recent visit, two African migrants were handing out fliers at either end of the town's medieval high street.
Speaking at his offices in the regional capital Bolzano — Bozen in German — Governor Arno Kompatscher described the two parts of today's Tyrol, Austrian and Italian, as a model for the kind of integration the EU needs more of.
Support for rejoining Austria is marginal, but hardened borders and resurgent nationalism could change that, he said: "This is a little Europe within Europe."
Comments will be moderated. Keep comments relevant to the article. Remarks containing abusive and obscene language, personal attacks of any kind or promotion will be removed and the user banned. Final decision will be at the discretion of the Taipei Times.