'This isn't Europe': life in one of Greece's worst refugee camps
Patience is running out on Lesbos, where thousands live in the packed Moria camp, but the government is finally taking action
High in the hills of the Greek island of Lesbos, in a former military camp filled with containers and tents housing refugees and asylum seekers, the onset of winter has elicited particular dread.
In the countdown to its official arrival, protests have become louder both inside and outside the facility, whose wall is graffitied with the menacing message: "Welcome to Moria prison."
For the men, women and children forced to call Moria their home, the refugee camp is a daily battle for survival in conditions so desperate that even Greek Minister of Immigration Policy Yiannis Mouzalas has said they could be life-threatening.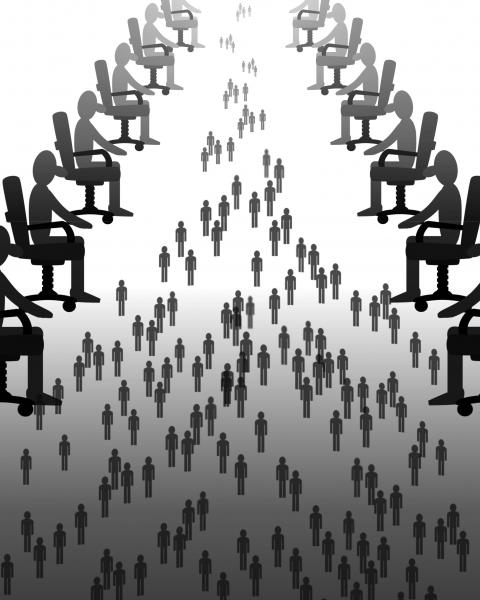 Illustration: Yusha
For human rights groups, who have long sounded the alarm, the vastly overcrowded camp is a tragedy waiting to happen and an embarrassment for Europe.
Now, as the rains begin to fall, authorities in Athens are taking action, pledging to transfer 5,000 asylum seekers to the mainland.
For the first time in more than a year, Moria's population has dipped beneath 6,000, it was announced last week.
The camp, originally built as a temporary measure at the height of the refugee crisis in 2015, was designed to accommodate 2,000. Most of its occupants live in flimsy tents whose only preparation for winter has involved using wooden pallets to elevate tarpaulins above the mud.
At all hours the air is pungent with thick, acrid smoke — the result of plastic bottles being burned by detainees to keep warm in the absence of readily available wood.
Mounds of litter lie along pathways of slush and excrement, the latter spillover from lavatories unable to cope with a population that for the past 18 months has been three times more than the camp's capacity.
"Moria [is] very bad," said Saleh al-Hussein, a Syrian refugee, adding that it took days before a doctor could properly attend to a wound on the head of his baby son, Mohammed. "There are holes in our tent. This isn't Europe."
After last year's accord between the EU and Turkey — a landmark agreement intended to curb the number of people attempting to make the perilous journey to Europe — an estimated 15,000 migrants and refugees came to live on Greece's eastern Aegean islands, the vast majority marooned by the complexities of an overwhelmed asylum service that condemns them to remain there until requests are processed.
Lesbos is not alone. Similar settlements exist on Chios, Leros, Samos and Kos, all within sight of smuggler networks on Turkey's western coast.
However, none is worse than Moria.
Lesbos Mayor Spyros Galinos has for months been issuing increasingly panic-stricken appeals for the camp to be decongested.
Officially, inmates are free to come and go.
Unofficially, Galinos said, it is a "national disgrace," a giant detention center where drug dealing, alcohol abuse and prostitution are rampant, and clashes between rival ethnic groups rife.
"I've run out of ways of describing conditions that are beyond deplorable," he said. "I recently compared what they are doing here to Guantanamo, but of course I've never been to Guantanamo. Perhaps a concentration camp would be better."
Those considered "vulnerable," including pregnant women and unaccompanied minors, are among those being moved to the mainland as the operation to relieve pressure on islands steps up.
Greece's leftist-led government had previously resisted such transfers, fearing they could encourage traffickers.
Galinos exudes calm, despite facing mounting criticism from both the left and right in a country still reeling from economic crisis. The mechanics of frustration are in overdrive.
Refugee anger is spiralling, but so too is exasperation among locals who at the height of the refugee drama saw more than 800,000 people traverse the island.
Foreigners now constitute a third of the population of Mytilene, Lesbos main town, Galinos said, and he knows many who are afraid to venture out at night.
"This is an emergency situation that requires emergency solutions," he said. "Since the summer we have been saying: 'Do something in Moria.' People are going to die if something isn't done, if the infrastructure isn't improved."
Last week, the Greek government rushed in emergency aid in the form of containers — enough to house between 200 and 300 refugees.
With EU member states still wrangling over their duty to accept mandatory refugee quotas, Greece and Italy remain on the frontline of migration routes to Europe.
Though the numbers are far lower than they were at the height of the crisis in 2015, boatloads of people continue to land on Lesbos' shores. Most are fleeing areas that were Islamic State group-controlled strongholds in Syria and Iraq.
For Moria, their arrival means further pressure — on space, resources and goodwill.
The camp's workers and volunteers said it is now more packed than Manila, the most-densely populated city in the world.
There have been outbreaks of scabies, but there is nowhere to isolate people. With space at a premium and clashes frequently erupting at night, women have taken to wearing adult diapers because they are too fearful to venture from their tents.
Standing beside the camp's razor wire-topped inner courtyard, where asylum requests are processed, Said Asidi attributed the explosive mood to the frustration of waiting for a notoriously slow-moving system.
The 45-year-old Afghan acts as the interface between his community and authorities and has spent almost two years waiting for an answer to his asylum request.
"I have no idea why," he said. "I've had three interviews — my last six months ago — but still no decision."
For many, Moria has come to embody policymaking at its worse — almost three years into a refugee crisis that has prompted the most expensive humanitarian response in history.
Volunteers, such as Jeremy Holloman, said the conditions on the Greek islands are comparable to emergencies in Haiti and Honduras.
Surrounded by mounds of rubbish, the American describes how the drain behind him erupted when a pipe in the camp's overloaded sewage system burst last week.
"If this is the best Europe has to offer, I am shocked," he said. "In 2015, it was an onslaught [in terms of arrivals] and very difficult to respond to, but two years later in 2017, we should know better."
As well as transfers to the mainland, the Greek government is pinning its hopes on Turkey accepting more deportees following a landmark visit by Turkish President Tayyip Erdogan to Athens earlier this month.
However, the intricacies of diplomacy mean little to those holed up in Moria.
Andrew Foley, an Irish volunteer, is is far from optimistic.
"It will [still] be a case of damage limitation, with NGOs [non-governmental organizations] struggling to meet needs that far exceed their capacity," he said.
"Moria undermines everything Europe stands for. If you keep people in conditions like this, if you rob them of hope and condemn them to suffer, nothing good will come of it," he said.
Comments will be moderated. Keep comments relevant to the article. Remarks containing abusive and obscene language, personal attacks of any kind or promotion will be removed and the user banned. Final decision will be at the discretion of the Taipei Times.