Mexico's program to protect journalists struggles to work
With a staff of only 30 and no security forces, the program is incapable of protecting its nearly 600 enrollees nationwide, as the death of Candido Rios shows
After years of threats and attacks that Candido Rios blamed on a local mayor furious over his reporting, Rios' home in Mexico's deadliest state for journalists was encircled by a fence topped with coils of barbed wire and surrounded by a half-dozen surveillance cameras he monitored on screens in the living room.
None of that mattered the afternoon that he stopped, just like every other day on his way home from work, at a highway gas station store that is also a community meeting place of sorts. As Rios was chatting with a local rancher, armed men abruptly pulled up and opened fire, killing them and a former police inspector who had just come over.
Rios, a hard-nosed crime reporter for Diario de Acayucan, had been in Mexico's federal protection program for journalists since 2013, its first full year.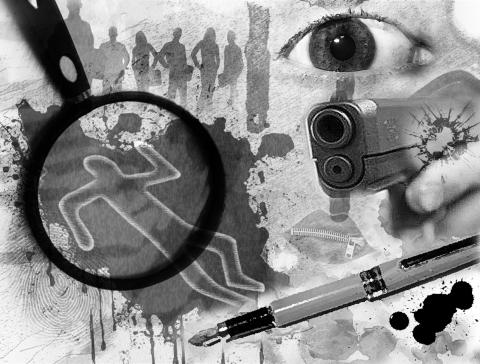 Illustration: Kevin Sheu
On Aug. 22 at the gas station in the Veracruz state town of Covarrubias, he became the first reporter enrolled to be slain, sending a chilling message to anyone else relying on the program to stay safe.
Journalists and activists say the killing made it abundantly clear that the Mexico City-based program known as the "Mechanism" is incapable of protecting the nearly 600 enrollees working nationwide. The program has a staff of only about 30 and it has no security forces of its own.
Protective measures boil down to such things as home security and panic buttons on cellphones, and reporters say that still leaves them dangerously exposed if they continue to work. They say seeking safety in exile or by hunkering down in safe spaces is no way to practice journalism.
"The measures they provided were effective for a time, but inside the home," said Cristina Rios Nieves, the slain journalist's daughter. "My father didn't work from home. His profession was to be outside the home working, walking, looking for stories."
Plagued by drug gangs and corrupt officials who are often in cahoots with cartels, Mexico has become one of the world's deadliest countries for journalists of nations not in open war. Nine reporters have been slain so far this year, and the free-speech activist group Articulo 19 counts more than 100 since 2000 in what observers call a full-blown crisis for freedom of expression.
The Mechanism for the Protection of Human Rights Defenders and Journalists was set up to try to stem the bloodshed. It evaluates threats to journalists and offers them help in the form of things like panic buttons, home fortification and, in rare cases, bodyguards. As a last resort, it will help them and their families relocate.
Rios, who covered crime just like most Mexican journalists who end up dead, had been under the Mechanism's protection longer than just about anyone. Based in a rural area of eastern Veracruz that is dominated by ranching and sugarcane farming, he ran afoul of a local mayor in 2001 for his reporting about the disappearance of a town councilman and the reporter's conclusion that the mayor was responsible.
That began what Rios described as years of harassment, beatings and detentions that he alleged were orchestrated by the former mayor of Hueyapan, Gaspar Gomez. Rios suffered broken ribs in one attack and walked with a cane.
Days before his murder, Rios posted a video in which he called Gomez a "psychopath."
Gomez responded with his own video pledging to beat Rios up if he saw him.
Gomez also said he did not have it in himself to kill Rios, but suggested that if the reporter was slain, he would be blamed. Calls to two numbers obtained for Gomez went unanswered this week.
Authorities have said they believe the real target in the attack was the former police inspector, who was said to have had ties to organized crime. He was running for local office at the time and was shot as he tried to flee, and a police bodyguard assigned to him was wounded.
State investigators did not respond to requests for comment on the case.
Cecilio Perez Cortes, Rios' editor, and relatives say they do not know if Rios was the intended target, but they criticize government officials for discounting that possibility in less than 24 hours.
Perez said the murder scene was not simply sprayed with gunfire — Rios was aimed at and shot.
Regardless, Patricia Colchero, head of the Mechanism, said the killing illustrated how Mexico's gangland violence limits the program's effectiveness — especially in places like Veracruz.
"A protection measure in the face of this violence is not enough," Colchero said. "We have to achieve prevention, because with protection the moment is going to arrive when it's not enough."
In August last year, the northern border state of Chihuahua became the first place where the Mechanism tried a different tack, going beyond mere protection to address underlying causes of danger for journalists and human rights workers.
The plan seeks measures "that reduce the risk factors that favor attacks," with more than 50 proposed actions from a working group on peacefully resolving land disputes to self-defense workshops.
However, it is a single pilot program in a single state, and would likely take time to have a significant effect.
Critics also say a federal program based in the capital is ill-suited to protect people who might be more than 1,600km away. However, a proposal to take it to the state level is seen by many as problematic, since in about half of cases where an aggressor against a journalist has been identified, it is a public official.
Acknowledging the wave of journalist killings, Mexico created a special federal prosecutor to take on such cases, but no one yet is serving a sentence.
"The generalized context of impunity, which allows so much violence to take place, is something that the Mechanism has very little control over," said Jan-Albert Hootsen, Mexico correspondent for the New York-based Committee to Protect Journalists. "They respond to emergencies. They don't uphold the law themselves."
Miguel Angel Diaz, the founder of the online news site Plumas Libres, enrolled in the Mechanism in August 2015 after another Veracruz journalist, photographer Ruben Espinoza, was slain in Mexico City.
Diaz had faced harassment and threats under the state's former public safety chief. He was given a panic button and the phone number for a federal police officer, but he felt the people running the program did not understand the demands of a working journalist and he fled to Argentina that October.
He returned a few months later after it seemed things had cooled off, but he is no longer in the program, relying on self-defense training to protect himself, and on meditation and tai chi to ease stress.
"Only you can defend yourself to be able to survive this massacre," Diaz said. "We have to invent ways to protect ourselves and a way to do journalism [while] surviving."
Balbina Flores, Mexico representative of Reporters Without Borders, said her organization recommends journalists enroll in the Mechanism despite its flaws, and the group's goal is to push for improvements rather than to have people abandon it.
"It is the only way they have protection from the state, and the state has to assume this responsibility," Flores said.
In the first seven months of this year, 63 more journalists joined the program in a surge partly attributed to high-profile killings such as that of Javier Valdez, cofounder of the newspaper Riodoce and a legendary chronicler of drug trafficking in Sinaloa state.
Rios, 59, meticulously documented aggressions and reported them to authorities.
Mechanism analysts reviewed his case regularly, including in February, when he came to Mexico City. The threat against him had remained unchanged for four years, and he feared an attack on his home so that is where the protective measures were focused, Tavera said.
However, any report from Veracruz state officials about Rios' complaints against the mayor, which had been pending for years, was not available for them to analyze.
"There was not anything to say that he was at imminent risk," said Pilar Tavera, one of nine civil society advisers to the Mechanism.
The killing in March of Cecilio Pineda, the founder of La Voz de Tierra Caliente who reported on organized crime and corruption in the southern state of Guerrero, was another case in which state authorities were of little help.
Pineda had escaped a 2015 attempt on his life and officials had known since then who was after him. He was gunned down while lying in a hammock at a car wash in Ciudad Altamirano.
The Mechanism offered to relocate Pineda in 2015 and last year, but he declined because he would not have a way to support his family. The program suspended his case.
Program officials conceded they had not found a way to protect Pineda without moving him away.
"You totally understand the journalist when he is in front of you and says: 'I can't accept extraction because it means the end of my career,'" Tavera said. "You create a bubble for a journalist and he stays alive, but he ceases to be a journalist."
Comments will be moderated. Keep comments relevant to the article. Remarks containing abusive and obscene language, personal attacks of any kind or promotion will be removed and the user banned. Final decision will be at the discretion of the Taipei Times.