Pro-EU Britons urge tactical voting to limit Brexit
'Tactical voting' is quickly becoming a buzzword for the UK's June 8 elections, with groups calling for strategic alliances and for EU supporters to vote for the least-worst option available
Gina Miller says she receives online death threats most days, thanks to her legal case that forced Britain's government to consult lawmakers over its plans to leave the EU.
However, Miller — an investment fund manager and the lead claimant in the successful case centering on the procedure for invoking Article 50, the legal mechanism for leaving the bloc — has entered another fight that could bring her more recrimination.
This time, she is leading a tactical voting campaign called Best for Britain, which aims to help pro-European candidates in the UK general election on June 8 in the hope that their influence could soften the effects of Brexit.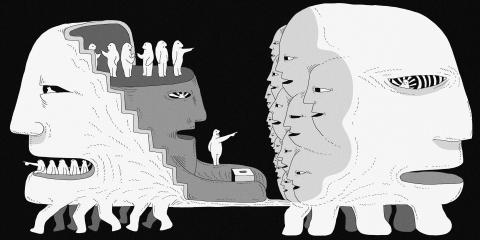 Illustration: Mountain People
The group wants to restrict the scale of British Prime Minister Theresa May's probable victory — May has said she wants to secure a large parliamentary majority in order to strengthen her hand as she negotiates Britain's divorce.
The Best for Britain campaign hopes to weaken her hand and prevent a so-called "hard" Brexit, or clean break from the bloc, if that is the strategy May pursues.
She has, for instance, ruled out retaining membership in the EU's single market.
"This is the last chance saloon," Miller said, sipping coffee in a London restaurant and reflecting on speculation that the elections will deliver a big majority for May.
Miller's campaign is urging electors to vote not for the party they prefer, but for candidates opposed to the hardest form of Brexit.
With the main opposition Labour Party trailing in the opinion polls, it is just one of several initiatives for tactical, or strategic, voting that are fast becoming buzzwords of Britain's election campaign.
In essence, the argument is that voters opposed to May's priorities should hold their noses and vote for the least-worst option available, thinking of the greater good.
Some pro-European groups hope that British lawmakers would be able to stop a hard exit — or maybe even Brexit itself — if a deal that emerges from May's talks with the rest of the EU would be economically damaging to Britain.
Others want to form a broader alliance of left and center parties to compete with her Conservative Party.
Singer-songwriter Billy Bragg, a veteran of left-wing causes, was among the millions of Britons on the losing side of last year's vote to quit the EU.
A longtime advocate of tactical voting and of changes to Britain's winner-takes-all electoral system, he welcomes efforts to create a "progressive alliance" to take on the Conservatives.
He calls it "a new development in the whole process of tactical voting."
Yet most polling experts believe that tactical voting will have limited impact.
In Britain, political loyalties run deep, making it hard to organize campaigns that cross party lines, even when parties have internal divisions over issues like the EU.
Although a substantial number of Britons voted against quitting the EU in last year's referendum — about 16 million, while 17.4 million backed it — both May, who leads the Conservatives, and Labour leader Jeremy Corbyn want to proceed with Brexit.
After Britain withdraws from the bloc, Labour would want to retain closer ties than the Conservatives might, but Labour's approach remains fuzzy.
The clearest pro-European position comes from the Liberal Democrats, who want another referendum on the outcome of Brexit negotiations, but they hold only nine parliamentary seats out of 650.
Tactical voting is a response to a British electoral system in which minority voices tend to be drowned out, even if they number in the millions.
Candidates run in 650 parliamentary constituencies. The person with the most votes in each is elected to parliament, and the party with the most lawmakers normally forms the government, but only about 100 seats tend to change hands in general elections, deciding the outcome.
As part of their strategy, the Best for Britain campaigners are taking inspiration from France, where many voters rallied to elect Emmanuel Macron as president not necessarily because they supported him, but because they opposed his rival, Marine Le Pen of the National Front.
Former British prime minister Tony Blair has joined calls for voters to opt for candidates who would deny May a "blank check."
Miller said that Best for Britain was also drawing lessons from the election of Canadian Prime Minister Justin Trudeau, which was helped by tactical voting among supporters of three center and left parties.
Another organization, Compass, argues that "only a Progressive Alliance can stop the Tories and cocreate the new politics," while More United — a movement set up after the killing last year of the Labour lawmaker Jo Cox — aims to increase the number of lawmakers "elected to fight for a more united, less divided Britain."
However, Colin Rallings, a professor emeritus at Plymouth University, says evidence suggests that tactical voting "doesn't work en masse."
"When it comes down to it, there are few people who are aware of the tactical situation in their constituencies and have sufficiently strong views to follow that through," Rallings said.
Even advocates of tactical voting admit that the odds are stacked against those who voted to remain in the EU, a group nicknamed "remoaners" by their critics.
Because this is a snap election, Miller's group would have time to target only about 50 constituencies, but she said a good result would be to limit May's parliamentary majority to about 30 lawmakers. Electoral law limits the financial help that can be channeled to favored candidates.
If this fails and Labour loses badly, there might be a need for a new party to occupy Britain's political center ground, Miller said.
John Curtice, a professor of politics at the University of Strathclyde in Glasgow, Scotland, said quite a lot of tactical voting already took place, which means there is limited scope to increase it. It works best when the supporters of the third-most-popular party in a constituency are convinced that their candidate cannot win, and so opt for the next best thing.
However, at the moment, the third-party vote in many areas of Britain has been reduced because the Conservatives are riding high in the opinion polls.
The difficulties of organizing cross-party votes were laid bare when several relatively pro-EU Conservatives resigned from Open Britain, a pro-European group, after it encouraged supporters to try to unseat pro-Brexit lawmakers, mainly from their party.
Another problem for Miller's group: The main political parties feel obliged to contest all constituency seats and are reluctant to stand down to give a like-minded rival a free run at defeating a Conservative or a Brexit hard-liner. (One exception is in the seat of Brighton Pavilion, held by the Greens, which the Liberal Democrats do not plan to contest.)
The Liberal Democrats and Labour hold different positions on Brexit. That puts many "remainers" in a quandary, and might make them reluctant to vote for Labour, particularly if they do not sympathize with Corbyn's brand of leftist politics.
Meanwhile, many Labour voters remain angry with the Liberal Democrats for joining a coalition government with the Conservatives in 2010.
Among them is Bragg, who wants to vote against May, but lives in an electoral district in southern England that is so solidly Conservative that it would take an electoral earthquake to shake it from the party's grip.
"I might as well throw my vote in the bin, for all the difference it makes down here," he said.
Bragg, who began a tactical voting campaign in 2001, said he believed that by urging people to vote for the Liberal Democrats rather than for Labour, he had helped weaken the Conservative Party in Dorset, his part of southern England, in earlier elections.
This time, he would like Labour to have an electoral pact with the Greens in Brighton, like the Liberal Democrats (though there is little sign so far of this happening), and urges voters to "look to their conscience" when they cast their ballots.
However, he said he will not vote tactically in his own region for the Liberal Democrats this time, preferring to stick with Labour.
"We were voting for the Liberal Democrats specifically to keep the Tories out," he said, recalling 2010, when the two parties ended up sharing power.
"That was such a betrayal that it's very, very hard to expect Labour voters to vote tactically for the Lib Dems," he said.
Comments will be moderated. Keep comments relevant to the article. Remarks containing abusive and obscene language, personal attacks of any kind or promotion will be removed and the user banned. Final decision will be at the discretion of the Taipei Times.