Cataloguing atrocities in Syria
While justice remains elusive for the thousands of victims of the Syrian government's security apparatus, groups around the world are preparing for the day the perpetrators can finally be brought to justice
The evidence is staggering.
Close to 3 tonnes of captured Syrian government documents, providing a chilling and extensive catalog of the state's war crimes, are held by a single organization in Europe. A Syrian police photographer fled with pictures of more than 6,000 dead at the hands of the state, many of them tortured. The smartphone alone has broken war's barriers: Records of crimes are now so graphic, so immediate, so overwhelming.
Yet six years since the war began, this mountain of documentation — more perhaps than in any conflict before it — has brought little justice. The people behind the violence remain free, and there is no clear path to bring the bulk of the evidence before any court, anywhere.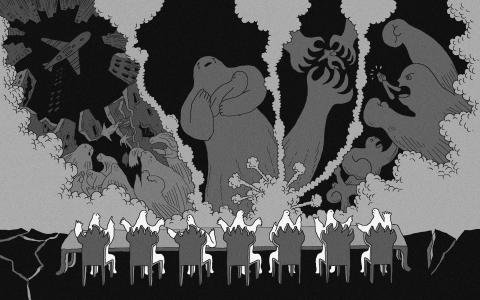 Illustration: Mountain People
More than 400,000 people have been killed in the Syrian war. Half the nation's population has been displaced. Syrian human rights groups list more than 100,000 people as missing, either detained or killed. Tens of thousands languish in government custody, where torture, deprivation, filth and overcrowding are so severe that a UN commission said they amounted to "extermination," a crime against humanity.
However, so far there is only one war-crimes case pending against Syrian officials, filed in Spain, over a man who died in government custody.
No cases have gone to the International Criminal Court. Syria has never joined it, so the court's chief prosecutor cannot start an investigation on her own. The UN Security Council could refer a case to the court, but Russia has repeatedly used its veto power to shield Syria from international condemnation. And even if the council were to take action, Syrian President Bashar al-Assad and his top officials are battened down in Damascus, making their arrests difficult, to say the least.
Earlier this month, the outside world was jolted by a chemical attack that killed more than 80 people. The US government attributed the attack to al-Assad's forces based on flight data and other information. In response, US President Donald Trump launched 59 Tomahawk missiles and called al-Assad an "animal."
As al-Assad has consolidated his control of Syria's major cities, some countries that have long opposed him have signaled a new willingness to accept his rule as the fastest way to end the war, encourage refugees to go home and accelerate the fight against jihadists. As bad as al-Assad may be, some argue, Syria would be worse without him.
al-Assad's opponents counter that keeping a head of state with so much blood on his hands perpetuates the war.
The chemical attack was just his most recent atrocity, after years of torture, forced disappearances, siege warfare and indiscriminate bombing of civilian neighborhoods and hospitals. The violence will continue as long as al-Assad and his security apparatus remain, his enemies say.
"This is not some abstract human rights issue," said Laila Alodaat, a Syrian human rights lawyer at the Women's International League for Peace and Freedom. "This lies at the core of this conflict and of any possible solution or reconciliation. Hundreds of thousands of victims and their families need justice, remedy and assurance that the future will be free from such violations."
Syria's war has seen atrocities on all sides. Rebels have shelled civilian neighborhoods, and the militants of al-Qaeda and the Islamic State group have deployed suicide bombers, tortured enemies and executed prisoners, often on video.
However, the largest number of violations by far has been by the Syrian government and its allies, investigators say, because they wield the apparatus of the state, including a formal military with an air force, extensive security services and networks of prisons.
The Syrian government portrays the conflict as an international conspiracy to destroy the nation and equates all opposition with foreign-backed terrorism. It denies that its forces have used chemical weapons or committed atrocities.
In an interview last year, al-Assad said in response to a question from the New York Times that all prisoners are dealt with according to the law and dismissed the accounts of thousands of families who say their loved ones have disappeared without a trace.
"These are allegations," al-Assad said. "What are the facts?"
IMPUNITY
The Syrian uprising began with detention and torture in March 2011: A dozen boys were held after one of their friends wrote on a wall, "It's your turn, Doctor," suggesting that al-Assad, a former ophthalmologist, would be the next Arab leader to fall.
They were arrested, beaten, tortured and forced to sign confessions, one told the New York Times.
As demonstrations spread, so did arrests. Syria already had a well-documented network of prisons where torture and forced confessions were common, but it expanded to what a UN Commission of Inquiry and human rights groups have described as an industrial scale, holding tens of thousands at any one time. Thousands have been executed in just one facility, Saydnaya prison, near Damascus, Amnesty International found.
The UN commission, in a report last year, quoted a defector from an intelligence agency as saying officers had orders to arrest male demonstrators between the ages of 16 and 40; another defector described his training in techniques that detainees have described, like beatings with cables, hanging by the wrists and electrocution.
Dozens of people over the years have told the New York Times in detail about their arrests and detentions and the disappearances of their relatives into the maw of the security system, from early 2011 to this month.
The arrests cut across political and socioeconomic lines. Yahya and Ma'an Sharbaji, two brothers, were arrested with a friend, Ghiath Matar, in Sept. 2011, after leading protests in Daraya, a Damascus suburb. They had been part of a Muslim student group arrested years before for activities like holding discussions on liberalizing Islam and working for peaceful change.
Matar's body was returned to his family with signs of torture; the Sharbaji brothers have not been seen since, according to the family.
In September 2012, Abdelaziz al-Khair, a leftist dissident, disappeared with his stepson Maher Tahan while leaving Damascus airport, having flown in from abroad for an opposition conference.
His wife, Fadwa Mahmoud, has teamed up with Sharbaji's sister, Bayan, and other women with missing family members to fight for the rights of the detained and disappeared.
About 100,000 Syrians are still detained or missing, Mahmoud said in an interview, which affects perhaps a million family members. When men disappear, women, in a society with laws that privilege male authority, are left in limbo.
"They cannot grieve, they cannot remarry, they cannot sell property, the family has lost their breadwinner," she said.
It is rare to meet a Syrian refugee family that does not have a detained or disappeared member, and rarer still to find a former detainee who has not been tortured, said Sareta Ashraph, until recently the chief analyst for the UN commission.
K.K., a lawyer, was arrested in 2014, two years after he participated in a demonstration — with government permission — in Aleppo. He had also represented detainees, acidly commenting one too many times on a court system that finished trials in minutes and gave lawyers no access to their clients or the supposed evidence against them.
He described his eight-month ordeal in hours of interviews: Daily beatings, a cell so packed that there was no room to lie down. He spent three months, he said, with personal space smaller than the size of a manhole.
In one of his first interrogations, he said, he was forced to count the blows, reaching 80 before he passed out.
Doused with cold water, he awoke to be hung for hours by his wrists, bound behind his back with handcuffs. Later, he saw a young detainee get doused with kerosene, and set on fire. It took him 20 days to die, untreated, of infection.
The torture went on until K.K. signed a confession of financing "terrorist" demonstrations — entirely fiction, he said, dictated by his captors.
Now K.K. works with other Syrian lawyers and former detainees to compile lists of victims, hoping their records will someday make a difference.
Other alleged war crimes take place in full view.
By 2013, bombings of rebel-held neighborhoods by artillery and warplanes had become routine. Hundreds of videos showed mutilated civilians, including women and children, pulled from rubble.
Hundreds of thousands of Syrians have lived under government siege, according to the UN, which has been repeatedly denied permission to deliver food and medical supplies. The chemical attacks of 2013, which killed more than 1,400 people in several Damascus suburbs, struck besieged areas like the town of Moadhamiyeh, making treating victims more difficult.
There have been dozens of cases of starvation, many of them children, and ill and elderly people.
The conflict has also seen what a recent paper by The Lancet and the American University of Beirut have called "the weaponization of health care" — citing the arrest of doctors and systematic attacks on medical facilities.
Nearly 800 medical personnel have been killed, more than 90 percent by the government, according to studies by Physicians for Human Rights.
In the days before the chemical attack this month, the main hospital in the area was hit by an airstrike. And a hospital several miles south was hit by another chemical attack — one of what medical groups working in opposition areas say have been dozens since Syria's government promised to give up its chemical weapons in 2014.
Since this month's chemical attack, residents have reported several attacks with incendiary weapons in Idlib and neighboring Hama provinces, uploading videos that show blinding fires typical of weapons like thermite and white phosphorus. They cause severe burns, similar to napalm, and their use is prohibited in civilian areas.
Many who have suffered lost hope of redress long ago.
A Syrian man who did four stints of detention and torture for taking humanitarian aid to wounded protesters and rebels recounted his experiences, but then expressed despair that anything would come of it.
"Countries don't need this evidence — they already know what's happening," said the man, Abu Ali al-Hamwi, using his nom de guerre because his mother is in government-controlled Syria.
"We are just pawns on a chessboard. I have women friends who were detained, raped, got pregnant, were tortured with acid," he said.
He shrugged.
"There is no justice," he said. "And because there is no justice, there is no hope."
STEPS
As the war has dragged on, groups of activists, lawyers and others in Syria and beyond are documenting atrocities in hopes of one day bringing perpetrators to account.
Some film the aftermath of attacks and compile lists of the dead. Others are experienced war-crimes prosecutors who have begun building cases against al-Assad and other government officials.
The most systematic effort is by the Commission for International Justice and Accountability, a nonprofit group that has spent years taking captured government documents out of Syria.
The group, funded by Western governments, has more than 750,000 Syrian government documents that contain hundreds of thousands of names, including those of top players in Syria's security apparatus, according to William Wiley, the group's executive director.
So far, the group has prepared eight detailed case briefs against ranking Syrian security and intelligence officials, Wiley said, seven of them directly implicating al-Assad.
"Obviously, President al-Assad figures prominently in certain of the case files," Wiley said via Skype from his office in a European city that his organization keeps secret for fear of being targeted by the Syrian government. "Pretty much the entire military and intelligence security infrastructure of the regime is now featured in one or more of the prosecution briefs."
Strengthening these efforts are more than 50,000 images smuggled out of Syria in 2013 by a police photographer codenamed Caesar, which show the dead and tortured bodies of thousands of detainees inside government security branches.
The photos have been verified by the FBI and determined to contain images of 6,700 individuals, according to Stephen Rapp, who served as ambassador-at-large for war crimes during former US president Barack Obama's administration.
More than 700 of the people in the photos have been identified by name, opening other avenues for potential prosecution. Indeed, one of those photos led to the most concrete legal action yet against Syrian officials.
In 2014, Amal Hag Hamdo Anfalis, a Spanish-Syrian hairdresser, received a text message from her niece containing a photo of a body she had seen on Facebook. She immediately recognized her brother, a truck driver who had disappeared at a Syrian government checkpoint a year earlier.
"As soon as I saw it, I completely collapsed and my children were wondering why I was crying," she said by phone from Madrid. "My children recognized him right away. They looked at the photo and said, 'That's our uncle.'"
The image was from the Caesar archive, parts of which activists had been posting online to identify victims.
Last month, a Spanish judge agreed to open an investigation into alleged state terrorism, accusing nine Syrian security and intelligence officials of using government institutions to commit mass crimes against civilians.
The defendants include Syrian Vice President Farouk al-Sharaa; National Security Bureau head Ali Mamlouk; General Jamil Hassan, head of air force intelligence; and senior officers at the prison where Hamdo believes her brother was detained and killed.
"To me, success in this case will be to keep it alive, to make these people's lives as complicated and miserable as possible," said Almudena Bernabeu, co-founder of Guernica 37 International Justice Chambers, which filed the case.
Other groups are preparing cases or pushing for investigations by domestic courts in France, Britain, Germany and elsewhere.
However, even those working for war-crimes prosecutions face substantial barriers during a conflict.
The road to the International Criminal Court appears blocked and European courts have trouble getting access to the accused. The best-case scenario is often an international warrant that could lead to the suspects' arrests should they set foot in a nation willing to cooperate.
Kevin Jon Heller, a law professor at SOAS, University of London, said the evidence collected for Syria could be nearly as strong as that used in the Nuremberg trials after World War II.
"The problem as I see it is not so much what mechanism one can use to bring accountability, but how you actually get your hands on the people you want to prosecute," he said.
The limited prospects for prosecution have led some to pursue other kinds of justice.
"I don't think criminal prosecution alone is going to solve what has happened in my country," said Mohammad Al Abdallah, a two-time political prisoner who directs the Syria Justice and Accountability Center in Washington. "Institutional reform is more important than prosecution because it is what will have the longer-term impact on the country."
Harvard law professor Alex Whiting said accountability is a matter of politics and so far Syria has not been high in the world's priorities. Yet he has been surprised, tenuously, since the latest chemical attack.
"Suddenly there is a turn in the world against al-Assad, which could lead to him being pushed from power, opening a space for accountability in the future," Whiting said. "I'm not going to say it's likely, but it certainly seems more possible."
Additional reporting by Hwaida Saad, Karam Shoumali and Somini Sengupta
Comments will be moderated. Keep comments relevant to the article. Remarks containing abusive and obscene language, personal attacks of any kind or promotion will be removed and the user banned. Final decision will be at the discretion of the Taipei Times.