US Congress headed to another government shutdown
Opposition to the White House's budget proposals across both aisles of the US Congress means a government funding shutdown may be a fact by the end of the month
Ten legislative days before funding would run out, the US Congress is heading toward another government showdown. Democrats and many Republicans are likely to refuse to go along with US President Trump's request for money for a border wall, financed in part by outsize cuts to medical research. And the specter of another fight over Planned Parenthood funding is also in the offing.
Fresh off the humiliating implosion of the US House of Representatives healthcare bill last week, Trump appears to be courting another disaster. To help pay for his proposed border wall between the US and Mexico, Trump has asked for US$18 billion in cuts to domestic programs, including many with broad bipartisan support, and an additional US$1.5 billion in funding as part of the spending bill to keep the government open for the rest of the year.
Among the cuts, the administration proposes a US$1.2 billion reduction to the National Institutes of Health — which the US Congress enriched last year in a bill to fight cancer and other diseases — and a US$2.8 billion reduction to the State Department and other international operations, as well as major cuts in grants for transportation, infrastructure and housing.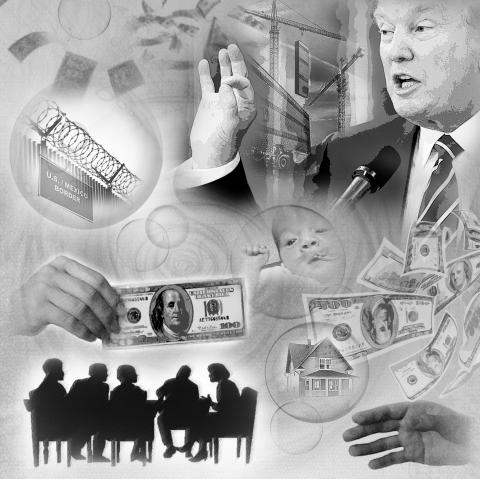 Illustration: Kevin Sheu
Democrats said such a plan would arrive dead at the doorstep of the US Senate, and Republicans on Tuesday sounded no more enthusiastic.
"We just voted to plus up the NIH," said Senator John Cornyn, an Alaska Republican, who has also been lukewarm on the border wall plan. "It would be difficult to get the votes to then cut it."
Republican Senator Susan Collins was more blunt.
"I think it is too late for this year," she said about the proposed cuts, echoing several Republican colleagues. As for a border wall, which is not well supported by American voters, "that debate belongs in the next fiscal year," she said.
Congressional Republicans are desperate to avoid another legislative failure and demonstrate their ability to effectively govern with one-party control of Washington. Another fight over funding to keep the government open would do little to advance their cause.
Trump's proposals also run counter to House of Representatives and Senate appropriators, who have been working in a bipartisan manner for weeks, trying to come up with a series of spending bills that could be bundled together in some form to avoid a government shutdown.
The spending talks could also be threatened by pledges of House Republicans to stop funding Planned Parenthood, a proposition that has little chance of success in the Senate.
For now, House Republicans are pressing ahead to attack Planned Parenthood through either a revived healthcare bill or a bill to overhaul the tax code, both of which would require only 51 Senate votes to pass, known as reconciliation.
"We think reconciliation is the tool, because that gets it into law," House Speaker Paul Ryan said Tuesday.
However, if that process seems to lose steam — it is going to be difficult for the House to put together another healthcare plan or any other budget plan that would defund Planned Parenthood before next month — some House Republicans may once again wage the Planned Parenthood fight, which would spell trouble for the measure.
"There is a path to a positive outcome, which I define as a bipartisan omnibus," said Representative Nita Lowey, the top-ranking Democrat on the House Appropriations Committee, referring to a collection of appropriations bills cobbled together as one.
"It's going to require Republican leadership to reject poison-pill riders like defunding Planned Parenthood and wasting billions of dollars on a border wall," Lowey said.
The current funding bill expires on April 28, and Congress is set for a two-week recess just before that deadline.
Senate Majority Leader Mitch McConnell saw the sticky path forward from the day Trump was elected, and pushed for a longer-term spending bill, an idea the White House rebuffed.
In the interim, the House Republicans' failure to get a bill to repeal the healthcare law passed — or even voted on — complicates the process. Some of the more conservative House Republicans, who helped bring down the bill, may want to show that they have muscle to flex on the spending process, but others may be eager to build confidence among voters and have a spending bill pass quickly.
However, it remains unclear if the debacle of last week will bring House Republicans closer together in the interest of producing something or make them more factionalized. For now, they have to clear the way forward on a spending bill, tax reform and an infrastructure plan, all made more difficult by failing on healthcare.
In the Senate there is more unity among Republicans, but not in ways that are favorable to the White House. "I'm not going to spend a lot of money on a wall," Republican Senator Lindsey Graham said.
"I'm not going to support a big cut to the NIH. I'm not going to support big cuts to the State Department."
Democrats on the other hand feel emboldened. They say Republicans will need their votes to pass a measure to keep the government open, and they will continue to fight against Trump's proposed cuts and the border wall.
"The administration is asking US taxpayers to cover the cost of a wall — unneeded, ineffective, absurdly expensive — that Mexico was supposed to pay for, and he is cutting programs that are vital to the middle class in order to get that done," Senate Minority Leader Chuck Schumer said. He did not see that happening, Schumer added.
Comments will be moderated. Keep comments relevant to the article. Remarks containing abusive and obscene language, personal attacks of any kind or promotion will be removed and the user banned. Final decision will be at the discretion of the Taipei Times.