Gun rights advocates push for guns in US schools
Attempts to allow more guns in schools were defeated in 15 US states last year, but Second Amendment campaigners are encouraged by US President Donald Trump's election
Missouri state Representative Andrew McDaniel is a rural legislator from a gun-loving US state. However, when he heard that then-US secretary of education nominee Betsy DeVos had suggested that schools might need guns to protect children from grizzly bear attacks, the self-described "country boy" laughed.
"In my state, I don't believe we have grizzly bears," he said.
However, McDaniel does agree with DeVos that there are good reasons for local schools to allow gun carrying, or even have guns on hand. His reasoning — not "potential grizzlies," but the US constitution.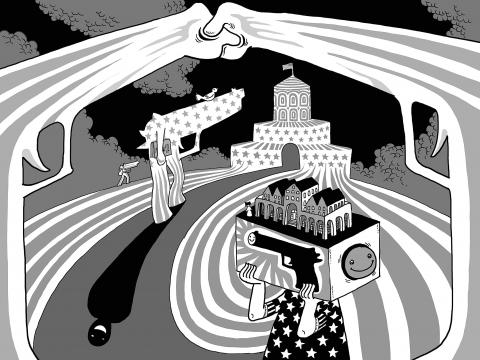 Illustration: Mountain People
"If taxpayer dollars are funding a facility you should be able to exercise your Second Amendment right to carry," he said.
Elementary schools and college campuses have become the new front in the US' battle over gun laws. A series of devastating school shootings, including a 2012 attack at Sandy Hook Elementary School that left 20 first-graders dead, has only propelled efforts to make it easier to carry guns at school and on campus.
Last year, gun control advocates defeated legislation in 15 states that would have allowed more guns into K-12 [kindergarten through 12th grade] schools, according to a national group, Moms Demand Action for Gun Sense in America.
Already this year, nine states have introduced new legislation, the group said.
The fight over guns in schools is now heating up in Washington too.
"We haven't had to worry about guns in schools at the federal level for the last eight years, because we knew we had a president in office who did not support this," Moms Demand Action founder Shannon Watts said.
Now that reassurance is gone.
One year ago, then-US presidential candidate Donald Trump pledged: "I will get rid of gun-free zones on schools."
He later partially walked back that pledge and his campaign Web site made no mention of eliminating gun-free zones in schools as part of his otherwise expansive gun-rights platform.
Some gun rights advocates in US Congress have already moved to eliminate federal restrictions on guns in schools.
US Representative Thomas Massie, a Republican, last month introduced a bill that would roll back the Gun-Free School Zones Act of 1990, arguing that barring guns from schools "makes people less safe by inviting criminals into target-rich, no-risk environments."
Despite the intense anxiety over school shootings in the US — and the argument that schools need more guns to keep them safe — it is extremely rare for US children to be killed at school for any reason. Data suggest that they are much more likely to be shot to death outside of school, in their homes or neighborhoods.
School safety expert Dewey Cornell has calculated that the typical US school can expect to see a student homicide about once every 6,000 years.
A fight over a federal law to allow more guns in public schools would probably galvanize strong opposition, Watts said.
"Putting guns in schools — it makes guns look like the solution to gun violence. It normalizes a younger generation to have guns everywhere," she said.
She called guns in school laws a "marketing tool" for firearms, "not a public service announcement."
Whether the Trump White House would actually embrace the fight to make it easier to carry guns in schools is not yet clear.
Asked last week when Trump would keep his campaign promise to get rid of gun-free school zones, Trump's press secretary Sean Spicer said the president has "been very active in terms of getting executive orders out" and promised "further updates."
Asked at a confirmation hearing whether she would back a proposal to ban gun-free school zones, DeVos said: "I will support what the president-elect does."
"I think that's best left to locales and states to decide," she said, suggesting that a school in Wyoming might have a gun to protect kids from grizzly bears.
PolitiFact.com determined that the Wyoming school in question did not have a gun, just a fence to keep the bears out.
Whatever happens in Trump's Washington, the fierce fight at the state level will continue.
McDaniel is one of the gun rights supporters in at least nine states who have introduced new legislation this year to make it easier to bring guns to school.
Gun control advocates say they expect even more bills to be filed later this spring and they are already rallying the opposition.
On Wednesday last week, more than 200 activists from Moms Demand Action showed up at the state house in Jefferson City, Missouri, to talk to their legislators about the dangers of McDaniel's bill, which they dubbed a "guns everywhere" policy, said Becky Morgan, the chapter leader of Missouri Moms Demand Action.
Parents came from across Missouri, and some had woken up as early as 4:30am to make it to the state house, Morgan said.
Some supporters brought babies, toddlers, or their elementary-school children.
"There are lots of sensitive places that we don't think guns make sense," said Morgan, a St Louis resident.
McDaniel's bill would allow guns not just in schools, but also in bars and churches.
"The guns in bars idea is pretty crystal clear, I think to most people, why that is a bad idea," Morgan said.
McDaniel said he had an interesting conversation with Moms Demand members on Thursday last week.
"Their way of keeping kids safe is different from my way of keeping kids safe," he said. "They don't want guns around their kids at school, where I do."
At schools in rural Missouri, it might take 20 or 30 minutes for law enforcement officers to respond to a school shooting in progress, said McDaniel, a former deputy sheriff.
Even in everyday situations, expanding gun carrying in and around school makes sense, he said.
"A lot of my people are extreme gun people like myself," he said.
When they pick their kids up from school, they do not want to have to worry about putting their weapon back in their car because they are not supposed to be carrying it, he said.
Missouri state Representative Jered Taylor has introduced an alternative piece of more moderate gun rights legislation. Taylor's bill would erase government restrictions on carrying guns in churches and bars and allow campus carry at public colleges and universities, but would not change the law for carrying guns in schools.
Comments will be moderated. Keep comments relevant to the article. Remarks containing abusive and obscene language, personal attacks of any kind or promotion will be removed and the user banned. Final decision will be at the discretion of the Taipei Times.