Why won't the world tackle the refugee crisis?
Two major summits this week, called by the UN and the US president, will try to tackle the problems caused by unprecedented refugee flows, but they are under fire from relief groups before talks have even begun
It is now the greatest movement of the uprooted that the world has ever known. About 65 million people have been displaced from their homes, 21.3 million of them refugees for whom flight is virtually compulsory — involuntary victims of politics, war or natural catastrophe.
With just less than 1 percent of the world's population homeless and seeking a better, safer life, a global crisis is under way, exacerbated by a lack of political cooperation — and several states, including the UK, are flouting international agreements designed to deal with the crisis.
This week's two major summits in New York, called by the UN General Assembly and by US President Barack Obama, came under intense criticism before the first world leaders even took their seats.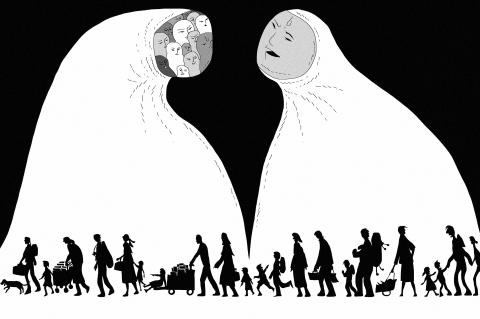 Illustration: Mountain People
Amnesty International, Human Rights Watch and refugee charities were among those accusing both summits of being "toothless" and saying that a declaration ratified by the UN imposes no obligations on the 193 General Assembly nations to resettle refugees.
The Obama-led summit was designed to extract pledges of funding, which critics say too often fail to materialize.
"Funding is great and very much needed, but it's not going to tackle the central point of some sharing of responsibility. The scale of imbalance there is growing, and growing with disastrous consequence," said Steve Symonds, refugee program director at Amnesty.
He said nations were sabotaging agreements through self-interest.
"It's very, very difficult to feel any optimism about this summit or what it will do for people looking for a safe place for them and their families right at this moment, nor tackle the awful actions of countries who are now thinking: 'If other countries won't help take responsibility, then why should we?' and are now driving back desperate people," he said.
"Compelling refugees to go back to countries where there is conflict and instability doesn't help this awful merry-go-round going on and on," he said.
Human Rights Watch executive director Kenneth Roth attacked the UN summit as a missed opportunity, adding that "millions of lives hang in the balance."
He said there were now huge concerns that the foundations of refugee protection were under threat from forced repatriation, border walls and aggressive policing by nation states.
The world's newest country, South Sudan, saw its 1 millionth citizen flee on Friday last week — something which might threaten the progressive, welcoming policies of neighboring Uganda, where refugees are given land and encouraged to contribute.
The figure also represents a miserable milestone for another neighbor, Kenya, where hundreds of thousands of other refugees from the Somalian conflict and famine are already living in camps. The east African nation is threatening to close down the largest, at Dadaab, and is coming under fire for its efforts to start trying to push back refugees into their war-torn countries of origin.
Pakistan is facing the same criticism for its efforts to forcibly return a number of its 2 million Afghan residents, some of whom have been in the country for years. A clampdown on refugees from Syria coming into Jordan — a country which already hosts 1 million Syrians — has left 75,000 people stranded in a desert no-man's land between the two countries.
Turkey, Bulgaria and Greece have cited a lack of support from other countries for forcing them to take restrictive action on Syrian and Afghan refugees.
German Chancellor Angela Merkel's open-door policy in Germany now looks unstable, because of other European countries reacting to the crisis by firmly closing their doors instead of following the German lead, as she had hoped.
In Britain, both Liberal Democrat leader Tim Farron and Labour's Yvette Cooper have called on British Prime Minister Theresa May to do more while in New York. Just one-sixth of the cash pledged at a summit hosted by former British prime minister David Cameron in London in February to tackle the refugee crisis in Syria has materialized.
Cooper said May needed to show leadership, especially on the situation in Calais, France.
"She must go to this summit to galvanize support for refugees and show that Britain can and will meet our commitments. Right now the decisions parliament and our country have taken are being mired in red tape and [the ] government is foot-dragging. Britain has always done its bit to help those fleeing persecution: We have to live up to those values again," Cooper said.
Farron said he welcomed Obama's initiative, but added: "I am doubtful that anything more substantial than warm words will materialize from this high-level meeting. The thousands of desperate people still drowning in the Mediterranean are testament to the failure of the international community, especially our own government and states across Europe, to safely and fairly deal with refugees fleeing Syria and Iraq, as well as those escaping the poverty of failed states in Africa."
However, it is the very lack of cooperation that makes the UN summit vital, said Mukesh Kapila, a professor of humanitarian affairs at Manchester University and a UN adviser.
"We live in an age where even established principles of humanity and decency are under constant threat," he said. "In an age where politicians can be elected to power on platforms of lies and established norms are under threat, there is something to be said for even anodyne statements reiterating our principles."
"Even if world leaders have been forced to turn up by the clever move by Obama to have his own second summit even if it results in yet more jobs created in New York — it's still a red line," Kapila said.
"The humanitarian organizations are rubbing their hands in glee at being able to patronize and criticize. I challenge their self-serving leaders to propose practical solutions, because a safety valve of free movement which only helps those with the capacity and strength [to travel] is no solution," he said.
"My worry is that this summit will not do refugees a favor because it doesn't distinguish between refugees and migrants. The big numbers allow governments to use fear and make bad policies," Kapila said.
"The number of true refugees is minuscule: It's a few days of flights into Heathrow. I have sympathy for people fleeing illegally for a better life — one can't blame them — but the people facing real poverty cannot put one foot in front of another, let alone migrate across oceans and desert. You only do that if you are fleeing real persecution, or are young and strong and your family have gathered the money together," he said.
The UN came into being at the time of the last great refugee crisis, when 40.7 million people were displaced from their homes across post-World War II Europe, and more in Africa, China and Asia. In that war-battered world, legal and organizational efforts were mounted, 2 million Soviets were returned home — some forcibly — and millions of concentration-camp survivors, forced laborers and others oppressed by the Nazis were settled in countries such as France, Belgium and Greece.
That post-war chaos gave birth to the Universal Declaration of Human Rights of 1948, which guaranteed a "right to seek and to enjoy in other countries asylum from persecution," and forbade the arbitrary deprivation of nationality.
The Geneva Convention of 1951 defined refugees, accorded them specific rights and prohibited their forcible return from countries of refuge.
However, problems remained.
"We have always had enormous difficulty in persuading countries to behave in an international way, but we need now to concentrate on root causes of large population migrations, celebrate those with the ability and courage to stay where they are, when they can, and help solve the myriad causes of unhappiness in the world," Kapila said.
"I have no expectations of the summits so I won't be disappointed," he said.
UN Refugee Agency (UNHCR) spokeswoman Ariane Rummery said that the UN declaration was a "miracle."
The UN General Assembly formally adopted a declaration agreed on Aug. 2, reaffirming the rights of refugees and migrants, and pledging support to the countries most affected by large movements of people.
"The sheer number of people forced to flee today means we cannot have 'business as usual,'" Rummery said. "UNHCR sees the summit as an extremely positive event — a historic opportunity to garner the political will of world leaders to save lives, protect rights and share responsibility on a global scale."
"The criticisms overlook the significance of this summit in the current context. The fact that the text of the New York declaration was agreed by 193 member states of the UN represents a significant achievement — if not a miracle — in the current context of increased displacement, uncertainty, significant pressures on hosting countries and divisive politicized discussions at the national, regional and international level," she said.
"We need to convert this political will into action to address the drivers and causes of displacement, while helping refugees and communities hosting them," she said.
"The declaration reaffirms key legal principles of refugee protection, including the institution of asylum and the principles of non-refoulement, which prohibits sending people back to countries where they face danger. Importantly, the summit builds upon these key legal instruments to meet the challenges of refugee crises in today's world, and garnering more global cooperation and responsibility-sharing," she said.
Comments will be moderated. Keep comments relevant to the article. Remarks containing abusive and obscene language, personal attacks of any kind or promotion will be removed and the user banned. Final decision will be at the discretion of the Taipei Times.