Why 'chatbots' are the talk of the town
Software programmed to interact with humans is hot property in Silicon Valley, with potential benefits for businesses, consumers — and even the bereaved
Chatbots are the new apps, Microsoft chief executive officer Satya Nadella said earlier this year.
He was not the first senior technology executive to make this claim.
"Threads are the new apps," Facebook's head of messaging products David Marcus said in January, referring to the threads of conversation in apps such as Facebook Messenger and WhatsApp.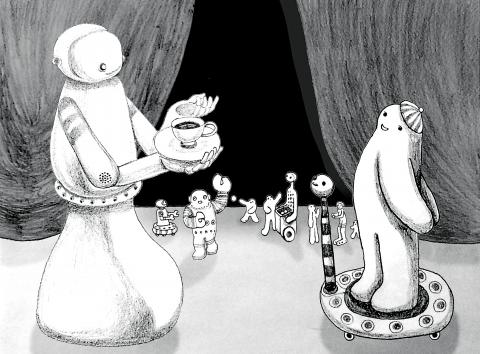 Illustration: Mountain people
Nadella and Marcus see "chatbots" — computer programs that you interact with by "chatting," for example in threads in messaging apps — as an important new human/machine interface. Both of their companies have launched tools to help developers create these bots, and from April to this month, more than 30,000 were made for Facebook Messenger alone.
Chatbots are not a new technology. The shopping and breaking news bots in Messenger's ancestors are chatbots, such as artificial intelligence (AI) "psychotherapist" Eliza from the mid-1960s and Parry, a bot mimicking a human with paranoid schizophrenia, in the early 1970s. In 1972, they were thrown together for a bot-to-bot conversation, which Parry quickly steered down a rabbit hole of corrupt horse racing gambling.
Since 1991, the chatbot equivalent of the Olympics has been the annual Loebner Prize, which challenges bots to converse with responses indistinguishable from a human's. Questions this year included: "What does Brexit mean?"; "Would you like a cup of tea?"; "What do you know about the Turing test?"; and — a neat touch — "Do you dream of electric sheep?"
However, the chatbots on Facebook Messenger and other apps, such as Kik, Telegram, Slack and WeChat, are not dreaming of electric sheep. Rather than trying to pass for human, they are unashamedly artificial, and focused entirely on providing information and/or completing tasks for the humans they interact with. If they have views on Brexit, they are not letting on.
Talking to these chatbots works just like messaging a friend, once you have added them as a contact. Kik has its own "bot shop" to browse bots in categories, including entertainment, lifestyle and games, while business messaging app Slack has a "brilliant bots" list for its corporate users.
Expectations of these bots are high, and immediate. As veteran developer and Twitter hashtag inventor Chris Messina wrote in his blog in January: "2016 will be the year of conversational commerce. You and I will be talking to brands and companies over Facebook Messenger, WhatsApp, Telegram, Slack and elsewhere before year's end, and will find it normal."
"I'm less interested in whether a conversational service is provided by a human, bot, or some combination thereof. Over an increasing period of time, computer-driven bots will become more human-feeling, to the point where the user can't detect the difference, and will interact with either human agent or computer bot in roughly the same interaction paradigm," he added.
This vision — text chatting to brands and companies, as well as to friends and family — is what is driving the chatbot excitement this year.
"I'm excited about conversation as an interface, because for certain applications, it feels like the most natural way to engage with a product or service," said Danny Freed, founder of a start-up called Joy, whose chatbot helps people to track their moods.
It might also be accessible to a wider range of people. Pete Trainor is director of human-centered design at Nexus, a digital agency that created an AI assistant called Luvo for the bank RBS. He is enthusiastic about chatbots reaching people who might struggle with other digital products.
"Just in terms of engaging audiences who can't handle complex user experiences, they're absolutely brilliant," he said. "My mom won't use apps or Web sites, but she does text message and use WhatsApp to keep in touch, because it's conversational and thus very human by design."
A similar argument is made by Nitin Babel, cofounder of Indian start-up Niki, whose chatbot can book taxis, pay bills and order takeaway food among other tasks.
He says that in India, less than 2 percent of its billion-plus mobile users are transacting online, yet there are more than 10 times more users of messaging apps there.
"A similar trend exists globally. Chatbots have the potential to bridge this gap and enable users who are currently on the mobile Internet just to converse with their friends and family to start utilizing the platform for a much wider range of services," Babel says.
One of the key services would be customer service.
Tony Wright, strategist at marketing and technology agency DigitasLBi, says that even if chatbots can handle simple interactions between businesses and their customers, they will have an impact.
"Waiting hours on the end of a line to give your energy supplier a meter reading could one day be as simple as tapping a few numbers into a tab within Facebook Messenger," he says.
Jo Allison, consumer behavioral analyst at research firm Canvas8, which has published several reports on chatbots, agrees.
"The potential chatbots have to improve customer service is exciting because it's very real," said Allison, who sees the technology as an alternative to the "almost universally unpopular" interactive voice response (IVR) technology used by many companies' customer service operations now.
Chatbots might be a logical next step for companies that already have humans talking to customers on social networks such as Twitter — from rail companies to travel firms and consumer goods makers — but who might struggle to deal with an influx of questions and complaints.
Allison cites a recent study suggesting that almost 90 percent of messages for brands on social networks are ignored, while replies to the other 10 percent come after an average wait of 10 hours.
"Consumers expect a reply within four," she said.
Chatbots, backed by machine-learning technology, would be able to remember past conversations and learn from new ones, building up a stash of data over time to respond to a greater range of incoming queries.
Technology firm IPsoft has built an "AI worker" called Amelia that is designed to automate customer services. Enfield council in London has already struck a deal to use "her" to help residents find information and complete the initial steps in standard applications such as planning permission.
"She determines how to resolve a problem based on knowledge of the topic and process involved," IPsoft's European chief executive officer Frank Lansink said. "If Amelia cannot answer a question, she will alert a human colleague, observe the following interaction and learn how to respond to comparable questions in the future."
While people involved in developing chatbots stress the positive aspects of this, it does raise two concerns. First: the privacy aspects of collecting, analyzing and using all this data. Chatbots would need clear privacy policies just like apps do, but would the chatty mode of interaction distract us from that?
"A number of existing bots — and bot platforms — are not designed with user privacy and security in mind," said Alan Duric, chief technology officer of Skype rival Wire. "Rather than users having to check to make sure that adequate precautions are inbuilt, security is a requirement that should be considered a mandatory part of design."
Second, there is the impact on the humans working in customer service. In the shorter term, as Lansink's comments indicate, those "human colleagues" will still be essential. Further out, chatbots are part of the wider discussion about how software might displace humans in the 21st-century workplace.
Some firms see chatbots as helping us get more done in our own jobs. Business messaging service Slack, for example, has its built-in "Slackbot" and a range of bots being developed by third parties.
"Bots are becoming part of our everyday working lives. We see bots scheduling meetings, helping salespeople access CRM [customer relationship management] information, managing to-dos, reporting on key business metrics and more," Slack's head of developer relations Amir Shevat said. "There's a lot of focus on consumer bots right now, but bots that solve for work will be where the real success will happen, because there's a clear set of problems to address."
This is a time of experimentation for the technology: Many of those 30,000-plus Facebook Messenger chatbots are awkward to interact with, spammy and/or not useful at all. It is hardly surprising at this stage, but it should be a warning against grand claims of a chatbot revolution.
"It got really overhyped really quickly," David Marcus said last week. "This is a long journey, and you have to start somewhere."
Experts agree that an awareness of chatbots' weaknesses and their strengths is important.
"Receiving scripted conversations, being directed to self-service channels or automated help can feel frustrating in particular instances when customers need help and support," Rachel Barton of consulting firm Accenture Strategy said.
"My take on chatbots is always: 'what do customers want?' My answer to that is: 'a quick, correct and complete answer to their question'. Until AI is able to do that, humans are the best respondents," said Dylan Bourguignon, chief executive officer and founder of insurance start-up So-Sure.
Pete Trainor said that Nexus spent about six months working on the personality of RBS' Luvo assistant before coding any tech to minimize the risks of frustration on the part of the humans it chats to.
"I think the developers need to spend a lot more time focusing on the personality and psychology of their bots," he said. "We wanted to ensure the profile was right and the language was approachable. Implementation is relatively straightforward: It's the words in the chats and the sentiment analysis of the conversations — there's where the real magic lives."
Lawrence Wu, developer of a chatbot called Jarvis, which acts as a reminder service for its users, also uses the "magic" word, but suggests that it comes from the combination of bots and humans behind the scenes.
"The most exciting thing about chatbots, as a medium, is allowing humans to step in when needed," he said. "Chatbots in themselves aren't revolutionary — we've had phone trees and robotic dialogues for a while — but when paired with human intelligence for tasks AI hasn't quite gotten to yet, these bots seem like magic."
Sometimes the combination of humans and bots can be toxic, as Microsoft found out earlier this year when it launched a chatbot called Tay on Twitter. Designed to mimic the linguistics of a late teenage girl and learn from the humans it interacted with, Tay was manipulated by mischievous Internet users and managed to praise Hitler, deny the Holocaust and accuse former US president George W. Bush of the Sept. 11, 2001, attacks before being taken offline by Microsoft within a day of launching.
Your energy company's Facebook Messenger bot is unlikely to be as outrageous, but experts think Tay is a valuable reminder that there is more work to do around AI and chatbots.
"AI-driven programs have huge potential so long as they can get better at understanding language contextually," Allison said. "And learn to avoid being tricked into promoting genocide."
Other experts warn of the risks of getting carried away with the chatbot hype.
"Not all services can be shoehorned into a chat-based dialogue," said Tim Rea, chief executive officer of messaging app Palringo, which has a number of bots.
"Sometimes a conversation is just not the best interface suited for the task," Wu said.
"Don't build a chatbot just to follow a trend; build a chatbot if it helps you solve a problem better, or get to market faster," Freed added.
Developers are enthusiastic about how the current generation of text-based chatbots will evolve. Voice-based technologies such as Apple's Siri and Amazon's Alexa — soon to make its UK debut in the Echo speaker — show one path forward.
"Right now, the interface for chatbots is text and buttons. Eventually it will be voice, like with Amazon Alexa or Siri," said Syd Lawrence of We Make Awesome Sh, the studio that recently created a Facebook Messenger chatbot for musician Hardwell. "It will be like having a virtual personal assistant helping them with all parts of their life."
That said, "it's important to remember that consumers want less, not more, interaction," said Daniel Hegarty, chief executive officer of Habito, which has just launched a chatbot mortgage adviser in the UK. "If Alexa can order my shopping while I shout it out across the kitchen, that's great, but the second it takes longer to say than to type, the utility is destroyed."
Tony Wright thinks that chatbots will also appear in digital services beyond messaging apps.
"It could be interesting to see how chatbots might be built into the likes of Netflix and Spotify," he said, suggesting that bots could build on the current recommendation features these services have.
"You might want to quickly establish who directed something or what else a particular actor's been in," he said, before delivering a warning that chatbots must not be gimmicks.
"The likelihood of a chatbot becoming popular depends on how entertaining or useful it is. Does it really serve a purpose or enhance someone's experience?" Wright said, before making a comparison that might give Microsoft's Nadella pause for thought.
"There's a reason why the personified paperclip in the corner of Microsoft Office isn't around anymore," he said.
Comments will be moderated. Keep comments relevant to the article. Remarks containing abusive and obscene language, personal attacks of any kind or promotion will be removed and the user banned. Final decision will be at the discretion of the Taipei Times.