How 'Brexit' is affecting Britain's eastern Europeans
Britain's vote to leave the EU has left many from Romania, Poland or elsewhere feeling anxious; for groups who never previously saw themselves as victims of racism, a perceived spike in hate crimes has come as a shock
Father Ioan strolls the aisle of the Romanian Orthodox church in Redcliffe, Bristol, England, chanting in Romanian, English and Church Slavonic while wafting a censer of incense among the faithful. By day, he works in construction; on Sundays, he tends the flock. Families and individuals come and go, among them Orvida, an IT worker who came for three months and stayed for six years; a pediatric surgeon, who described himself as a "remain Euroskeptic," although he did not have a vote; and Horatio, a former bank manager who found a job in the UK as a care worker and now runs his own business employing about 20 people.
Every Sunday, opposite the church, a bus bound for Bucharest waits for passengers. The journey to eastern Europe takes the best part of two days. However, many just send cargo. Big boxes, bound together by thick tape and a prayer, are weighed and paid for, so that a family can pick them up at the other end.
Since Britain voted to leave the EU, some eastern Europeans are now wondering if they should be hitching a ride.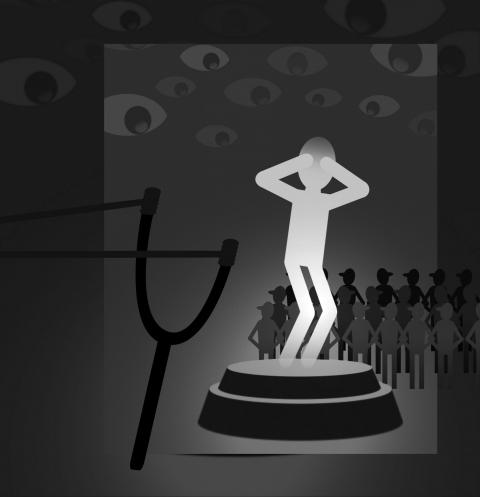 Illustration: Yusha
One man across the street, who declined to give his name, is waiting for a minivan, also going to Bucharest, that will take him home for good.
He said life has become too stressful since the referendum.
At the coach, two young women whose boxes are being weighed have received worried calls from their families back home.
"They heard news about a Romanian shop that has been broken into in some city in the UK and vandalized," one said. "And also about people being sworn at, told to go home, generally being treated badly."
The women have experienced none of this and have no intention of leaving.
"No, I'm fine," one said. "In Bristol it's OK."
Even though Bristol voted overwhelmingly to remain, it has not been immune.
In mid-July, Alex Raikes, director of Bristol-based group Stand Against Racism and Inequality, told me: "We've had eight referrals in the last 11 days, so that's nearly a referral a day of an eastern European family or individual. It's ranged [upward] from verbal abuse, and nearly all of those people have been told to go back to where they come from, or 'go back home,' and I haven't heard that kind of language in quite a long time. They've had eggs thrown at them, windows smashed, cars vandalized. We've had people being verbally abused on the bus, we had a horrible case of a family being attacked in a park — the adults and children threatened to set their hair on fire and even kicked them."
As well as animosity, there have been expressions of solidarity.
Friends of Arkadiusz Jozwik — a Polish man killed in a suspected racist attack — held a unity march through Harlow, Essex, in his memory on Thursday last week.
In Bristol, the Playfull toyshop offered a rose and an apology to all immigrants — a gesture that made the news around the world.
"My friend just thought: 'I want to do something small, something local,'" said owner Kerstin Price, who was away when it happened.
She did not think that it would be a "mega, mega response."
In Kopernick, a Polish shop in Sunderland, its shelves stacked with herring, hams, vodka and dried mushrooms, Marina said things have been fairly quiet.
Sunderland might have voted leave, but the only response she has encountered has been people coming in to commiserate.
"They came to say sorry because they voted to stay, and they're sorry for us, but I didn't hear anything nasty. Not yet," she said.
However, bad news travels fast and far.
Marina has heard that things are worse in the factories and everyone coming out of the Romanian church in Bristol knows someone who has faced it.
"Statistically, of course you know this isn't happening to everyone, but it's not just the statistics, right?" Bristol University senior sociologist Jon Fox said. "My wife is Hungarian. We speak Hungarian at home. We were in a playground last weekend and I half jokingly, half not-jokingly, said to her: 'Can we speak Hungarian here?' We've been to that playground loads of times, but there's ... a heightened sensitivity, which is reflected in the reporting of the crime statistics. There is more hate crime now, and there's more reporting of it too, because people are tuned into it."
And alongside the visible "other" of race, there is now the audible "other" of language.
Kuba Jablonowski, who came to Britain from Poland a decade ago, was reluctant to leave his house in Bristol after the vote. He worried the country he had come to love was a mirage and that he would now have to face a reality he had not reckoned on.
"I went to my local Polish shop and they said they had three people come in and report racial abuse and ask what should they do. They said it was absolutely unprecedented. And the guy there said that when he was going down the street to work he was looking at people and thinking: 'Was it you who voted out? Was it you who voted out? Was it you who voted out.' Everything changed and nothing changed, all at the same time; it is all about perceptions," he said.
In this climate, it is not surprising that many eastern Europeans have started to ask themselves if they want to stay here. However, another question mark hangs over whether they will even be allowed to.
When running for the Conservative party leadership, British Prime Minister Theresa May would not guarantee the rights of EU citizens to remain in Britain post-Brexit.
On a recent trip to Slovakia and Poland, May suggested this right to remain would hinge on whether British citizens have reciprocal rights in their countries. There is no official position. However, there are human consequences.
So, for all EU citizens in Britain, anxiety about their future fills the void.
"I'm redecorating my kitchen at the moment," said Kinga Goodwin, a Polish-born academic who lives in London. "And every now and then, even though I'm married to an Englishman, I keep asking myself if it makes sense."
At an eastern European women's group meeting at the Wellspring Healthy Living Centre in Bristol's Bexton Hill, Anja tells me that her daughter, who had planned to put down roots here, is having second thoughts.
"She was hoping to buy a house with her fiance but the day after Brexit, he was approached on the street by a British person saying it was time for him to go back to Poland.
The next day they were supposed to be going to see a house they planned to buy, but they canceled the visit ... they don't know what to do because of the Brexit situation," she said.
In Sunderland, the referendum result was less of a shock.
Daniel Krzyszczak, a manager at the International Community Organisation of Sunderland, which works mostly but not exclusively with eastern Europeans, noted the rise of the UK Independence Party over the past few years and said that anti-immigrant sentiment simply intensified following the Brexit campaign.
Brexit did not introduce xenophobia or racism to Britain, but it has complicated our understanding of both. Like immigrants from former colonies after World War II, eastern European migrants thought they were coming for a short time, stayed longer, did work others would not and started families. There is also much in the nature of the hostility that chimes with previous scripts. In keeping with the tropes of prejudice and bigotry, they have been depicted simultaneously as welfare scroungers and as workers who "steal" jobs from local people and refuse to integrate.
This is not the first time white people in Britain have been racialized on account of their distinct religious, national or cultural affinities.
Jews, Catholics, the Irish and Gypsies have all been, and can still be, discriminated against because of who they are.
In the wake of the Brexit vote the distinction between racism and xenophobia blurred.
"It's not just eastern Europeans facing the abuse," Raikes said. "I had a dual-heritage family with a mum and her 11-month-old baby going past the pub the day after the referendum and a load of guys shouted at them and said: 'Now we're leaving the EU, go back to where you came from,' and spat on them."
And if bigots were not making the distinction, neither black Britons nor eastern Europeans were necessarily seeing the commonalities between their experiences either. Examples of Black and Asian voters complaining about eastern European immigrants in the run-up to the referendum were legion. One of the reasons so many eastern Europeans were shocked by the response post-Brexit is because they thought racism did not apply to them.
"European groups who live here don't necessarily see race equality organizations as representing them," said Omar Khan, director of race equality thinktank the Runnymede Trust. "They don't necessarily frame their experiences as racism. Often they think they're white and Christian and so are British people and aren't we all European. I think also we have to be frank in saying there are real tensions between these groups sometimes. Black British groups can feel that, compared with when they came over, Europeans have better access to benefits; they may also feel that eastern Europeans are more racist than white British people. Obviously, to the extent that they feel that way, it's a barrier to working together to eliminate discrimination."
One of the most egregious attacks in Newcastle was against a young black Polish woman who was harassed on a bus.
When she got on, a person shouted: "I've never seen a monkey on a bus."
Then they started talking about Europe.
"Something about stealing jobs and things like this," the woman said.
Then she started talking to her friend in Polish. The boys carried on shouting. When she ignored them, one of them set her hair on fire.
"Do you think that was about you being black or Polish?" I asked her.
"How would I know?" she said.
Comments will be moderated. Keep comments relevant to the article. Remarks containing abusive and obscene language, personal attacks of any kind or promotion will be removed and the user banned. Final decision will be at the discretion of the Taipei Times.