Liberal magazine girds for battle against Beijing
The Yanhuang Chunqiu's founding publisher said they would rather shut the magazine down than see it hollowed out by the authorities who want to install pro-Beijing editors
The cluttered offices of a history magazine in Beijing have become an unusually public battlefield in China's ideological wars.
For 25 years, the monthly magazine Yanhuang Chunqiu (炎黃春秋) has survived the ire of censors, protected by moderate-minded retired officials who used it to call for limited political liberalization, market overhauls and an honest reckoning with dark periods in the Chinese Communist Party's (CCP) past.
However, the magazine's survival is in doubt as the authorities try to install editors who would march more closely to the political tune of Chinese President Xi Jinping (習近平). That would end the magazine's relative independence and editors have said they would rather let it die than continue compromised.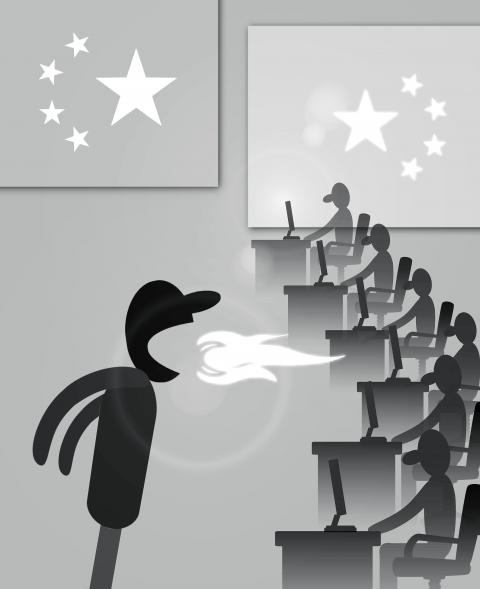 Illustration: Yusha
"It's better to be shattered jade than an intact tile," Du Daozheng (杜導正), the founding publisher of the magazine, said in an interview.
He was using an old saying that means perishing with integrity is preferable to unprincipled survival.
"With the way that they've treated Yanhuang Chunqiu, we no longer have the conditions for survival," said Du, a former head of China' General Administration of Press and Publication. "We've been forced into a corner."
Editors resisting the changes said the upheaval reflected the party's intensifying offensive against unorthodox ideas. Yet they have chosen open resistance, using a lawsuit, a standoff at the magazine's offices, and gestures of support from academics, writers and some senior retired officials.
Quarreling erupted at the magazine's office on Tuesday, when Hu Dehua (胡德華) — a son of the reformist CCP leader Hu Yaobang (胡耀邦) and a deputy publisher of the magazine — tried to enter with journalists and was blocked by plainclothes guards who refused to say for whom they worked.
"This is our office," Hu told a man in a blue shirt who was directing the guards. "What are you doing here? This is our office. Who told you could be here?"
CHANGING POLITICAL SCENE
The guards eventually let Hu in to deal with the magazine's tax affairs, provided journalists remained outside.
If Yanhuang Chunqiu dies, or becomes a ghost of its old self, it will be another signpost of how limits on expression have tightened under Xi.
"What has happened shows the big changes in China's political environment," Wu Wei (吳偉), the executive editor of the magazine, said in an interview. He took up the job only a month or so ago.
"I don't know whether we'll be able to resume publication or stop entirely," said Wu, who once served as an aide to Zhao Ziyang (趙紫陽), the CCP leader purged during the political upheavals of 1989. "Ending Yanhuang Chunqiu would take away a voice for reformists inside the party."
The magazine, whose title roughly translates as "China Annals," has survived many run-ins with censors. However, the worst threat yet came this month, when the government-run Chinese National Academy of Arts, which officially oversees the magazine, announced it would install a new editorial lineup.
In China, magazines must have a sponsoring government-linked unit, and the academy has sponsored Yanhuang Chunqiu since 2014, when it took over from an association more sympathetic to the periodical. Growing friction between the academy and editors culminated in the academy's saying it would remove Du, demote other longtime editors and install its own editors.
However, staff members and supporters of Yanhuang Chunqiu have been unusually energetic and open in resisting.
They have refused to hand over keys to many rooms in the magazine's offices, and they have also kept hold of financial records and the official chop, needed to stamp documents, Wu said.
Protesting editors last week also announced a halt to publication and they disavowed any new issues that came out without their approval.
The publisher, Du, 92, and his supporters have also tried to sue the academy for breach of contract, claiming that the changes violated an agreement reached in 2014 that promised the magazine autonomy over personnel, finances and editorial choices.
However, a court in Beijing has so far refused to accept their case and is still considering what to do, said Ding Xikui (丁錫奎), one of the lawyers representing the aggrieved editors.
The rift over the magazine's future has also become a physical standoff, with separate parts of its premises, behind a small hotel in western Beijing, held by the two rival groups.
On Tuesday, the distribution office was still run by staff members loyal to the longtime editors, while nearby, an editor's office and meeting room were held by people apparently loyal to the academy that has tried to impose control over the magazine. So far, the police have not moved against the protesting editors.
Since it started in 1991, Yanhuang Chunqiu has made an art of staying in the bounds of censorship while challenging orthodoxy. Du said the magazine's motto was "democracy and rule of law, and market economics."
Its print run has been about 190,000 copies each month, according to Du. However, it has won an outsize influence because it has served as a platform for retired senior party officials who want China to pursue measured liberalization.
Many of its backers were reformers whose influence peaked in the 1980s. And many also served, and suffered, under Mao Zedong (毛澤東), and believed China must confront its legacy to move forward.
"From 1949 up to reform and opening up, over 100 million people were persecuted across the country," Li Rui (李銳), the former secretary of Mao, who became an advocate for political liberalization and a supporter of the magazine, wrote in it in 2007. "This was the harrowing and malignant result of a failure to establish democracy and checks and balances on power."
FRIENDS IN HIGH PLACES
Another of the magazine's patrons was Xi's father, Xi Zhongxun (習仲勳), a former party leader who praised the magazine in 2001. And when the younger Xi came to power in 2012, some people held hopes that his family background and experiences of suffering under Mao would encourage him to tolerate, if not heed, more liberal voices in the party.
However, Xi Jinping has instead adopted a staunchly traditionalist political line, warning against political liberalization and defending Mao's revered status.
Senior party officials have not publicly commented on the magazine, and editors said it was unclear whether Xi Jinping or other leaders had had a direct hand in the recent changes.
However, Maoist Web sites and conservative party scholars have long abhorred Yanhuang Chunqiu and have been celebrating its possible demise.
A month ago, a court in Beijing ordered a former editor of the magazine to apologize for questioning the veracity of a story of communist heroism against Japan during World War II.
At the same time, liberal party veterans who have helped ward off pressure from critics have been dying out, said Wu Si (吳思), a former editor-in-chief of Yanhuang Chunqiu.
Precedent suggests that the defenders of Yanhuang Chunqiu's autonomy have little hope of winning. Other magazines and newspapers brought to heel by officialdom have either closed down or survived as tepid replicas.
However, this time, the editors appear determined not to go quietly.
"This is a magazine that speaks the truth," Hu, the deputy publisher, told several reporters outside the Yanhuang Chunqiu offices, while guards recorded videos on their smartphones. "There's an old Chinese saying that even a rabbit will bite when it's riled."
Comments will be moderated. Keep comments relevant to the article. Remarks containing abusive and obscene language, personal attacks of any kind or promotion will be removed and the user banned. Final decision will be at the discretion of the Taipei Times.