By Russian plagiarism standards, Melania Trump's line-stealing pales
A study published in the newspaper Novaya Gazeta found that out of 450 lawmakers, about 200 claimed advanced degrees and at least 49 had been accused of plagiarism, including the speaker
By Russian standards, the few lines that Melania Trump used from Michelle Obama for her speech at the Republican National Convention this week would barely tip the plagiarism scale.
A parade of government ministers, lawmakers, senior judges, medical doctors, academics and others in Russia hold advanced degrees seemingly based on purloined work.
In one notorious example, a lawmaker appeared to have copied a lengthy study of the chocolate industry verbatim — except he replaced the word "chocolate" with "beef" — to earn a doctorate in economics.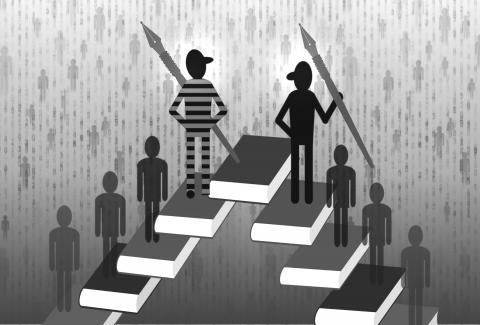 Illustration: Yusha
"There would have been no scandal here at all," said Andrei Rostovtsev, a founder of Dissernet, a grassroots coalition of academics and others trying to fight what they consider a plagiarism epidemic washing across Russia.
"If she had stolen the whole speech, that would be a case for Dissernet," said Rostovtsev, 56, a physicist.
Blatant plagiarism — sometimes involving more than 100 pages — is not uncommon among those holding sweat-free doctoral degrees. Anyone caught rarely faces consequences: The vast majority of plagiarists keep their degrees and certainly their jobs. Few express contrition.
Russian President Vladimir Putin, for example, never responded to accusations from overseas about plagiarizing material for his 1996 doctorate in economics.
"Our project is proof of the general state of the Russian establishment," said Andrei Zayakin, another Dissernet founder, also a physicist, who is running for parliament. "Anyone found violating any ethical, professional or legal norms will not be held responsible if that person is part of the establishment."
The most famous cases have involved half a dozen federal ministers or agency heads, including Russian Minister of Culture Vladimir Medinsky. Dissernet research suggested that at least 90 out of 134 pages in his thesis on Russian foreign policy for a doctorate in political science contained borrowed material.
Medinsky was dismissive in a 2014 interview on the radio station Ekho Moskvy, saying that experts had found no plagiarism in his work. His defenders accused liberals of seeking to smear his reputation because of his critical view of the West.
"I think that the whole fuss around theses is disgusting," Medinsky said. "It is usually people incapable of writing anything longer than 140 characters on Twitter who dabble and poke around in this, but they persistently look for a speck in their brother's eye."
The fairly strict, centralized control over degrees in the Soviet system fell apart, like much else, in the 1990s. A doctoral degree — common for lawmakers, much like law degrees are for members of the US Congress — suddenly ranked with an imported car and a summer house in Italy as a must-have accessory for the newly rich.
"Your friends can buy you a doctoral degree for your birthday," said Ararat Osipian, an academic based in Ukraine who focused on academic corruption in the former Soviet Union for his doctorate from Vanderbilt University. Good friends, that is: The going rate for a fake degree online starts at about US$1,400.
A study published in the newspaper Novaya Gazeta found that out of 450 lawmakers, about 200 claimed advanced degrees and at least 49 had been accused of plagiarism, including the speaker. (He denied it.)
Dissernet started work in 2013 after a political appointee with a limited academic record was tapped to lead a prestigious mathematics school. Academics began poring over his history dissertation line by line, which inspired Rostovtsev to write software to automate the process.
The Dissernet group knew that an electronic synopsis of every doctoral thesis was posted online in Russia. Its software selects a thesis and compares it with all others in the system. If there is more than a 50 percent overlap, the computer flags the material and a volunteer compares both full works manually.
The software makes comparisons 24 hours a day, seven days a week, and a band of about 50 volunteers does the rest. The results are published on Dissernet.org.
Given that Russian organizations that try to play public watchdog are often shut down under the pretext of being foreign agents, Dissernet was established with a purposely low profile. It has no staff and no central office, and it relies largely on crowdfunding.
In April last year, someone shot bullets through Rostovtsev's apartment windows. While he cannot prove that it had any connection to his Dissernet work, the group had just published an analysis of a Moscow councilor's thesis.
There is an official method of challenging doctoral degrees in Russia, so even when the group publishes page-by-page analysis showing all the copied material, it is considered an allegation until the Russian Ministry of Education and Science investigates the matter.
Russian Minister of Education and Science Dmitry Livanov has said that the group lacks the expertise needed to render judgements in so many fields. Other government critics have called the software flawed.
Dissernet members described some plagiarists as so lazy they did not bother to change any text; they just substituted the cover page with their name as author.
As for simple word changes, the most infamous case is that of Igor Igoshin, the lawmaker who crafted a thesis on the Russian meat industry by changing most of the references in someone's dissertation about chocolate. (He forgot a few.)
Where the original said "chocolate," he put "beef," according to Dissernet. Where the original said "dark chocolate," he wrote "domestic beef"; where it said "white chocolate," he wrote "imported beef"; and where it said "chocolate with nuts," he wrote "meat on the bone"; The graphs, statistics and analysis were otherwise unchanged.
Igoshin called the accusation "absurd," suggesting it was part of a smear campaign against him for his work on a procurement law.
Still, Dissernet members think they are having an effect. One senior Moscow official the group accused of plagiarism recently withdrew his thesis and asked to do it again. In a few cases, the Russian Ministry of Education and Science organized a special investigative panel that voted to revoke the degree in question.
Parliament also passed a law that stretched the period of time allowed to challenge a thesis to 10 years from three, but included an assurance for its members — making all doctorates received before January 2011 off-limits.
Comments will be moderated. Keep comments relevant to the article. Remarks containing abusive and obscene language, personal attacks of any kind or promotion will be removed and the user banned. Final decision will be at the discretion of the Taipei Times.