Teenager with letters rattles Thai junta amid growing crackdown
With a referendum on a new constitution only months away, the junta is going to extreme lengths to silence any opposition to its rule
When Thai politician Watana Muangsook was being held at a rural army camp for defying the military government, the junta decided there was a new threat: His teenage daughter, who should leave the country.
The 18-year-old had been visiting foreign embassies last month with the media in tow to deliver letters complaining that the military had taken her father away for a fifth time. After a telephone call from a senior member of the junta, her family decided to send her into temporarily exile.
"They didn't want my daughter to go to the UN," Watana, a former commerce minister, said in an interview. "When I got out of prison, my daughter in Hong Kong cried. She apologized: 'Daddy I didn't want to come here.'"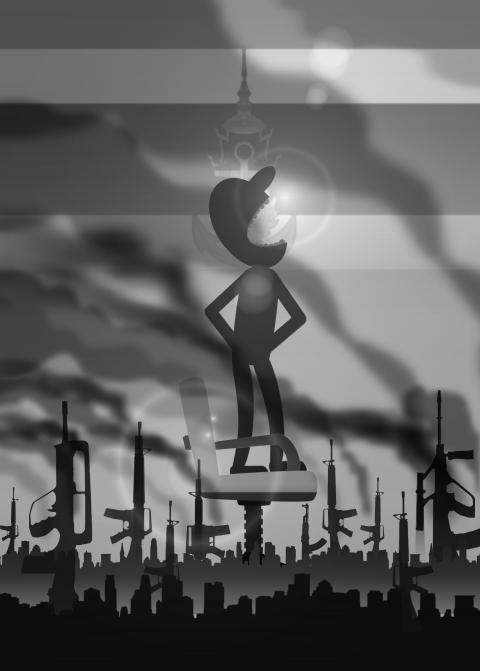 Illustration: Yusha
The episode highlights the measures the junta is taking to muzzle dissent ahead of a referendum in August on a new constitution that would extend its hold over Thai politics. The vote will be the first since coup-maker-turned Thai Prime Minister Prayuth Chan-ocha seized power two years ago and has taken on broader significance as a gauge of public support.
The junta has not said what will happen if voters reject the draft charter, but it could lead it to delay an election slated for late next year. It could also hamper efforts to kick-start an economy that is growing at a slower pace than its biggest Southeast Asian rivals, including Indonesia and the Philippines.
The World Bank forecasts the Thai economy will expand 2.5 percent this year, less than the about 4 percent pace it averaged in the decade before the coup.
"Dissent and regime crackdowns have been intensifying since the beginning of this year because of the escalating siege mentality of the increasingly phobic regime leaders," said Paul Chambers, director of research at the Institute of Southeast Asian Affairs in Chiang Mai. "Thailand is definitely entering a more dangerous phase, which could see growing junta violence against the populace, but also more resistance."
The junta did not respond to a request for comment, but has said public dissent is being whipped up by former Thai prime minister Thaksin Shinawatra, whose ouster in a 2006 coup set off a cycle of military intervention, protests and counter protests that the country remains trapped in. Thaksin, who lives abroad to avoid a jail sentence for a graft conviction he says was politically motivated, has denied this.
The draft charter has been criticized by academics, rights groups and the nation's largest political parties — particularly over sections that would allow for a non-elected prime minister to turn the senate into an appointed body that included sitting members of the military and give extra power to the courts and bureaucrats.
"I find the draft constitution illiberal, unacceptable," former Thai foreign minister Kasit Piromya, whose Democrat Party has long been in opposition to Watana's Pheu Thai Party, said in Bangkok last week. "With that guided democracy, I only foresee more trouble for Thai political life into the future, because there will be incessant demands for more participation."
The junta's legislature has passed a new law that outlaws campaigns for or against the charter, with violators risking 10 years in prison. Prayuth has used a clause in the interim charter — one that makes all his actions lawful and final — to grant soldiers the power to arrest civilians and detain them without oversight.
There have been recent high-profile arrests, including eight people charged with sedition for connections to a satirical Facebook page that mocked Prayuth and the mother of a prominent activist charged for not disavowing a private Facebook message sent to her that allegedly insulted the monarchy. Authorities detained small groups of people who gathered in Bangkok to protest those arrests.
The cases — along with more than 1,600 others brought since the coup — are to be tried in military courts.
The Nation newspaper warned in a May 13 editorial that increased repression was eroding support even among those who initially cheered the coup.
"As a new constitution was pursued in earnest, it became increasingly apparent that the generals were intent on retaining much of the power they unlawfully seized and that citizens have been allowed precious little say in their country's political future," it wrote. "So the murmur of dissent has grown louder."
Watana is among the more than 1,300 politicians, activists, academics and journalists who have been summoned since the coup for temporary detention in what the junta calls "attitude adjustment."
"They want you to stop talking, to stop making any comments," Watana said. "Once you make a comment they arrest you. They just want to intimidate you."
Watana was detained for four days last month before being taken to a military court, charged with disobeying the junta and released on bail. His daughter returned from Hong Kong just a few days after the call, which the military government declined to comment on.
While Watana said he has never been mistreated in detention, it is not something anyone should be subjected to.
"I fear no one," he said. "But everyone when they are under detention worries — even me."
Watana said the junta has failed to follow through with its pledge to reconcile the country and it remains as divided as ever.
However, if people from all sides band together against the new charter, they could finally push the military from power, he said.
"It's called divide and rule," Watana said. "Once the people can unite, you cannot stay. Certainly tomorrow you are out."
Comments will be moderated. Keep comments relevant to the article. Remarks containing abusive and obscene language, personal attacks of any kind or promotion will be removed and the user banned. Final decision will be at the discretion of the Taipei Times.