Amid drought, California building boom refuses to slow
With the US state in the grip of a four-year dry spell, how much more development can the region handle?
Evert Palmer has a vision for Folsom, California, a city famous for its state prison — 10,200 new homes spread across the rolling hills to the south, bringing in a flood of new jobs, new business and 25,000 more people.
Yes, Palmer, the city manager, is well aware that Folsom Lake — the sole source of water for this gold rush outpost near Sacramento — is close to historically low levels and stands as one of the most disturbing symbols of the four-year drought that has gripped the state. Also, that Folsom is under orders to reduce its water consumption by 32 percent as part of statewide cutbacks.
However, Palmer, like other officials who approved the ambitious plan to expand the city, said he is confident that there is enough water to allow Folsom's population to grow to nearly 100,000 by 2036. It would be economic folly to run things any other way, he said.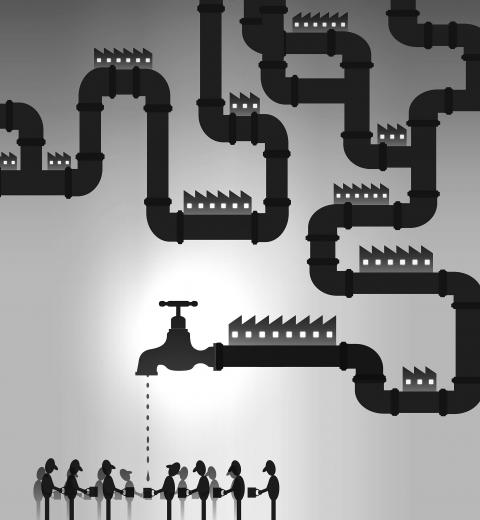 Illustration: Yusha
"That would create unnecessary economic hardships here to benefit others, and while I am a citizen of the planet, I am also paid to manage the home team," Palmer said.
The drought that has overrun California — forcing severe cutbacks in water for farms, homeowners and businesses — has run up against an economic resurgence across much of the state. It is forcing communities to balance a robust demand for new housing with concerns that the drought is not cyclical, but rather the start of permanent, more arid conditions caused by climate change.
At a time when California Governor Jerry Brown has warned of a new era of limits, the spate of construction — including a boom in building that began even before the drought emergency was declared — is raising fundamental questions about just how much additional development California can accommodate. The answer in places like this — and in other parched sections of the state, from the Coachella Valley to Bakersfield to the California coast — is, it seems, plenty.
"They say we cannot stop building and developing because weather is cyclical," Folsom planning commissioner Jennifer Lane said last month as she drove around Folsom Lake, where expanses of lake bed were exposed to the sky and recreational boaters had been ordered to get their vessels out of the water.
"I say we are looking at this whole new world here," she said. "Global warming. Where are we going to get the water? As a planning commissioner, I say let us be prudent. Is this the new normal?"
While state authorities can set some requirements on how things get built, such as recent restrictions on the size of lawns permitted for new homes, decisions on land use are left largely to local city councils and planning commissions, and water consumption is not necessarily the first concern of local officials as they approve development plans.
"It is very hard to be a local elected official and say: 'No,'" said Max Gomberg, senior environmental scientist for climate change at California State Water Resources Control Board, the agency with primary responsibility for regulating water supply. "All the reasons to say: 'Yes' are very powerful, starting with tax revenues."
California has a population of about 38 million; it is projected to hit just less than 50 million by 2050. More than 280,000 housing units have been approved for construction across the Sacramento region alone, where Lake Oroville, a major source of water for the region, has also fallen to alarmingly low levels. As has been the case in previous droughts, there is no evidence that falling water supplies have resulted in any decline in construction.
"We are in the fourth year of a millennial drought, and yet our urban economy continues to grow faster than the national economy," Association of California Water Agencies executive director Timothy Quinn said. "We cannot unplug our economy every time we get a dry year."
However, many local officials and scientists argue that these are different times; that because of climate change, the state is witnessing not another cyclical drought, but a new normal in which there is to be less water.
As Brown said when announcing the mandatory water restrictions: "You just cannot live the way you always have."
Accordingly, the question of economic growth versus the environment is not as clear as it once was — reflecting a changing technological landscape, increased oversight by state water officials, and Californians' increasing awareness of conservation. Homes now have low-flush toilets and restrictive shower heads, and they are surrounded, most critically, by less grass.
A recent report by the California Homebuilding Foundation, an industry group, found that new three-bedroom homes built for four people needed 176,000 liters of water per year for indoor use, half of what was used by homes built in 1980. That did not account for water savings that would be presumably realized with mandates for drought-tolerant landscaping.
"I do not think they should hold back building at all," said Alex Martinez, senior consultant at John Burns Real Estate Consulting, which conducts research for housing developers. "You look at who uses the most water: It is largely agriculture, and on the residential side, it is the old houses that use more water."
The central question is whether water savings technologies in new housing, as well as some applied to old housing, such as new requirements for water meters and leak reduction efforts, can achieve what would seem an improbable result: No corresponding increase in the use of potable water from a significant population growth.
"This generation of water managers are committed to knocking down per capita demand," Quinn said. "We have enough water to build in California if we change how that translates into demand for water."
So it is that state officials who are trying to manage the drought — seeking at once to carry out immediate reductions, but also to cultivate long-term changes in behavior to accommodate increasingly dry times — have stopped short of suggesting that new building be curbed statewide.
"It is concerning to us at the state policymaking levels that there may be areas of the state where development is putting an increased strain on water resources at a time when we know we are experiencing more droughts and more severe droughts... In certain parts of the state, that is really problematic," Gomberg said.
"On the other hand, new developments are, by and large, pretty darn water efficient," he said. "The developments taking place are not the old-school developments with a house on a … pretty large lot and an irrigation system that just blasts water. The new development is not going to be the straw that breaks the camel's back."
While the state can set long-term planning goals and study how population growth affects water consumption and air pollution, it is largely limited from imposing development limits or telling communities what kind of building they should allow.
"The state has not gotten into determining where growth should and should not occur," California Department of Water Resources head Peter Brostrom said. "We are not trying to reduce California's population or hold it in check as a water-saving measure."
Comments will be moderated. Keep comments relevant to the article. Remarks containing abusive and obscene language, personal attacks of any kind or promotion will be removed and the user banned. Final decision will be at the discretion of the Taipei Times.