Flag fever gives way to fatigue
New Zealand Prime Minister John Key wants a new flag, but the shortlist of 40 designs has been met with apathy and active opposition
In asking whether it should change the national flag, New Zealand's government sought to start a conversation about what the nation "stands for." In so many joke designs, New Zealanders responded: Their right to take the piss.
In May, the government put out an open call for alternatives to the current flag, which pairs Britain's Union Jack with the Southern Cross constellation. In a little under two months, members of the public — many if not most of whom had no more design experience than that afforded by Photoshop and an Internet connection — put forward almost 10,300 submissions for consideration by an independent panel.
The panel might have come to regret the low barrier to entry. As long as a design did not feature offensive or copyrighted imagery, or an individual's face, its upload was approved. The 10,292 submissions were a mishmash of New Zealand's past, present and potential futures: Some giving the Union Jack even greater prominence; others boosting traditional Maori culture; one with a kiwi shooting lasers from its eyes.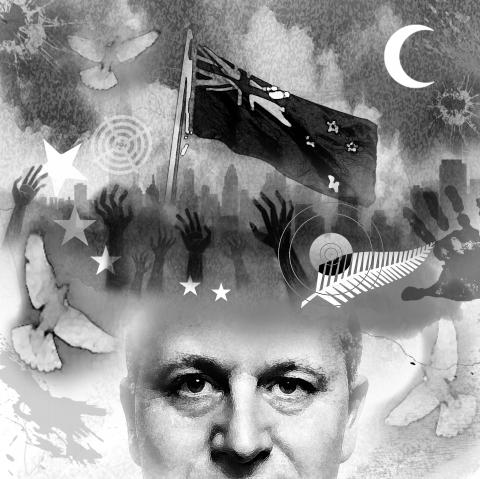 Illustration: Kevin Sheu
The government had made it clear that, at that point in the process, there was no such thing as a bad idea — not even those that were patently, gleefully daring it to call them out as such. A childlike line drawing of a "deranged cat raking its garden"; a crude scrawl of a man on a bicycle; the Southern Cross reimagined as a pentagram; most egregiously, a quick response (QR) code. A spokeswoman for the panel said it was "great to see such a high level of engagement."
Needless to say, none of these blatant trolls of the public consultation process made the shortlist of 40 finalists published on Monday. All are variations on the silver fern, the koru, the Southern Cross constellation and combinations of the three, in blue, red, white, black and green.
The 12 people on the panel — none of whom is a designer — are now set to whittle the finalists down to the four that "best represent New Zealand," which the public are to be asked to rank in a binding postal referendum scheduled for later this year. The favorite is to be deemed the preferred alternative to the existing flag, and — if the current timeline is observed — a second referendum in April is to ask voters to pick between the two.
If a new design is voted in, it would take effect six months to the day after the results are declared. However, if public opinion persists, there is a strong likelihood that the result could be an anticlimax, with voters accepting the "status quo" as an easy way out of a conversation that they never really wanted to have.
As Australian republicans follow the debate from across the Tasman Sea with envy, there is a sense in New Zealand that there is no real impetus to change the flag, especially without an associated debate about whether to become a republic, and that the NZ$26 million (US$17.01 million) spent on the process could be put to better use. Nevertheless, the flag debate has also apparently sparked "growing calls" for a change of anthem.
Since the process got under way in earnest, the public response has ranged from apathy — 25 nationwide meetings on the issue were attended by a total of 739 people, an average of only 29 — to hostility. Days after it put out a call for submissions, the Flag Consideration Panel published a word cloud that suggested many New Zealanders wanted the flag left alone.
"The moment seems to have passed," said Matthew Hooton, a political commentator who called for the flag to be changed to a silver fern on black at the time of the Rugby World Cup in 2011.
"It just seemed like the moment to do it. But four years later, the momentum is lost and the flag change idea seems too closely associated with the prime minister of the day rather than the national sentiment," he said.
Gareth Morgan, a businessman and philanthropist who has been vocal in his dislike of the existing design, tried to breathe life into the debate by running his own competition with a cash prize of NZ$20,000 for the design that best met his brief. It was not the first time Morgan has offered a financial incentive to community participation: In a short-lived bid to protect New Zealand's native birds, he put up a NZ$5 bounty for every dead cat.
Morgan's competition was won by an Auckland design studio; the designers of the 40 flags shortlisted by the government panel will go unpaid, even if their submission makes the final four.
Sydney-based New Zealander Pax Zwanikken submitted 25 designs, of which two made the shortlist. He said that the two chosen were intentionally less divisive in their concept, "to appeal to the safe, conservative inclination of a committee."
His preference would have been not to refer to the Southern Cross even obliquely.
He said the process missed an opportunity to produce a range of ideas and potential motifs.
"It was never going to be a bold step away, because publics and committees inherently don't do that," he said.
Zwanikken said public opinion has turned on the issue, partly because of the cost, but also because it feels like an imposition.
"This didn't come out of a groundswell of public desire for a new flag, even if there's little affection for the existing one. Especially for something that people didn't really care about in the first place, the easiest response is resentment," he said. "Even if this [shortlist] was 40 of the most incredible concepts you've ever seen, the public wouldn't be in support of it. It doesn't help that they're not."
At the head of the charge is New Zealand Prime Minister John Key — the popular, everyman leader of the center-right National Party, now in its third term of government. He first floated the idea of changing the flag to a mixed response early last year, in the lead-up to the anniversary of the signing of the Treaty of Waitangi, shortly before announcing that a referendum would be held on the flag in the next parliamentary term.
Key's obvious investment is all the more notable given how hands-off he is on other matters. Like Australian Prime Minister Tony Abbott, Key has an impenetrable, water-off-a-duck's-back quality, which allowed him not only to weather serious accusations of international surveillance and "dirty politics" lobbed at his party during its election campaign last year, but emerge more popular than ever.
TV and radio host Duncan Garner has speculated that the bid to change the flag is Key's "attempt at nation-building" and building his own legacy as a leader.
Perhaps in response his political opponents have positioned themselves against a change in flag, calling for the process to be truncated or even abandoned.
Labour Party leader Andrew Little has told the government that given the "spectacular lack of interest and support "now's the time to just call a halt to the whole thing."
The Green Party has pointed out the shortcomings of a conversation about independence framed in purely symbolic terms.
"Just changing a piece of cloth" would not alter the fact that New Zealand's head of state remained the British monarch, MP Russel Norman said in parliament.
However, Key has resisted the argument that the debate is empty symbolism, arguing, somewhat implausibly, that a change in flag "has got to be worth billions over time" in brand recognition. He pointed to Canada's transition from a Union Jack ensign to the maple leaf in 1965.
"Show me a single Canadian on the planet who would go back to their old flag. Not a single Canadian would, because if I walked in with a sweatshirt on with a maple leaf on, you would say instantaneously that person lives in Canada, is a Canadian or has been to Canada," he said.
New Zealand is already known internationally by the All Blacks' logo of a silver fern on black, and this was Key's preference for the flag until an Australian commentator pointed out that it bore a passing resemblance to that of the Islamic State group, formerly known as the Islamic State of Iraq and the Levant.
After John Oliver picked up on it Key subsequently switched his support to a fern design in red, white and blue.
A new flag for New Zealand is about a new brand, but what exactly that might be no one seems to know or even care.
"The question we probably need to ask is 'why does New Zealand exist?'" advertising executive Jono Aidney wrote of the government's process. "Is our purpose unfettered economic progress? Is it to be an ethical voice on the world stage? A place where every child gets a fair start? Guardians of nature? Nature's pimps? If we can work out what our collective 'purpose' is, we'll have a chance of turning that idea into a flag."
It seems inevitable New Zealand will end up voting on a new flag, whether it wants to or not. If the existing design is backed by the public, it is likely to settle the matter for generations.
For that reason alone, Zwanikken said, as much as New Zealanders might resent the issue being flagged at all, it does not make sense to squander the opportunity out of spite.
"The important thing is to acknowledge that while the process itself is flawed, the fact is the money is being spent, it's happening anyway, so it would be a real shame not to make something good of this. We won't get a chance again," he said.
Comments will be moderated. Keep comments relevant to the article. Remarks containing abusive and obscene language, personal attacks of any kind or promotion will be removed and the user banned. Final decision will be at the discretion of the Taipei Times.