Blatter's anti-US fury echoes the new world political order
Support for soccer's emerging powers in Africa has secured backing for embattled FIFA president Sepp Blatter, while Russian President Vladimir Putin has also weighed in, dismissing the claims of corruption over the vast profits made from the game
December 2010, the eve of the vote for the 2018 and 2022 World Cup finals. Speculation has reached fever pitch in the Baur au Lac lobby as royalty, heads of state and breathless soccer executives criss-cross the room to genuflect before the 22 voting members of the Federation Internationale de Football Association (FIFA) executive committee.
British Prime Minister David Cameron, who last week joined the chorus of criticism against FIFA president Sepp Blatter, is among those on bended knee to the likes of the now disgraced Jack Warner and Qatar's Mohammed bin Hammam.
In his favorite corner of the lobby, Chuck Blazer, general secretary of the Confederation of North, Central American and Caribbean Association Football (CONCACEF) — the gargantuan, garrulous US gastronome, who later inadvertently began toppling the FIFA house of cards — is spreadeagled on a chaise longue with a gaggle of flunkies, bid executives and journalists hanging on his every word.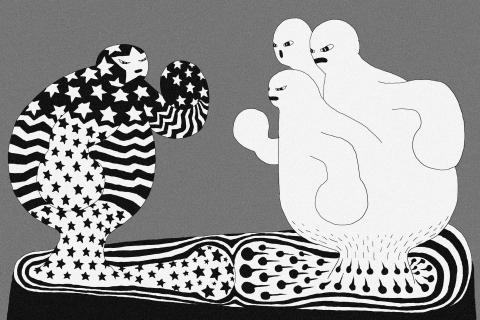 Illustration: Mountain people
As a Hogarthian tableau of how world soccer had become warped out of shape, it was hard to beat.
Rumors, which have since hardened, of huge trade deals and individual bribes swirled around the rarefied air of the five-star hotel. Of those who made the decision, almost half have departed with corruption allegations trailing in their wake. The 10 who remain are now under questioning from Swiss police over their role in the awarding of the 2018 edition of FIFA's World Cup cash cow to Russia and the 2022 tournament to the gas-rich Gulf state of Qatar.
So it was appropriate that Zurich's Baur au Lac lobby was again at the center of global attention on Wednesday last week, when seven senior FIFA executives were hauled from their beds by Swiss police and now face extradition to the US.
A SELECT COHORT
Among the 18 executives named in the jaw-dropping indictment released that day by the US Department of Justice were Warner, the Trinidadian former CONCACAF president and a veteran of ticketing and bribery scandals, who was one of Blatter's closest allies when he was consolidating his grip on world soccer.
There too was Jeffrey Webb, Warner's successor from the Cayman Islands, who had presented himself as a reformer and had been molded by Blatter as a possible heir apparent.
On Saturday morning, when Blatter was raging against a Western media conspiracy and claiming that the US charges were motivated by revenge over losing out to Qatar, Webb was still in a Zurich police cell as his family waited for news of his fight against extradition.
Also named was Blazer, who turned supergrass under pressure from the FBI over tax evasion charges. He secretly recorded his FIFA colleagues at the London 2012 Olympics to gather evidence, and later pleaded guilty to tax evasion, money laundering, racketeering and wire fraud.
Those looming tournaments in Russia and Qatar — awarded at the end of a convoluted, chaotic process riddled with corruption allegations — are symptomatic of a wider tectonic shift in world sport.
Using sporting events as political tools is nothing new (see the Berlin 1936 Olympics or the 1978 World Cup in Argentina), but since the World Cup and Olympics became hugely enriched by an influx of TV and sponsorship income the game has changed.
The Formula One calendar has tilted definitively toward countries prepared to pay handsomely for its glitz, while a string of Middle Eastern states have invested heavily in cascading tiers of sporting events as a means of projecting soft power.
As ever, FIFA and its senior executives have followed the money. If the first era of global sports politics was largely dominated by old-style European colonialism and the second by Joao Havelange's Brazilian style of doing business, which merged the personal, the political and the professional until they became indistinguishable, then Blatter's latest victory confirms a new world order.
PAYING FOR PLAY
An aside in March 2013 by FIFA general secretary Jerome Valcke, Blatter's longtime fixer, was revealing.
"I will say something which is crazy, but less democracy is sometimes better for organizing a World Cup," Valcke said.
It is a world in which 79-year-old Blatter has aligned himself firmly with those states that see sport as a means to cement their position on the world stage and are prepared to pay handsomely for the privilege.
Soccer, as the world's most lucrative and popular sport, and using the model minted by Blatter as general secretary when he was eased into place by his predecessor Havelange, is now leading the charge. As the US indictment shows, the flow of money is so great that large sums can easily disappear and barely register.
In return, those nations have helped maintain Blatter's grip on a job that comes with an estimated US$10 million a year salary and the life of a pampered, powerful head of state.
Increasingly, the stances of Blatter and Russian President Vladimir Putin appear indivisible.
On Thursday last week, Putin intervened in FIFA's self-made crisis to suggest that the case so powerfully outlined by US Attorney General Loretta Lynch was another example of US "meddling" in world affairs and an attempt to destabilize the 2018 World Cup to be hosted by Russia.
Blatter went further in an interview with Swiss television following his victory in the presidential election, railing against the English media and US authorities, and implying that both were bitter over losing out in the World Cup bidding.
"No one is going to tell me that it was a simple coincidence, this American attack two days before the elections of FIFA. It doesn't smell right," Blatter said. "The Americans were the candidates for the World Cup of 2022 and they lost. The English were the candidates for 2018 and they lost, so it was really the English media and the American movement."
The mind again immediately flitted back to December 2010. Then, the day before the vote, Putin issued a long statement condemning the Western media and saying that he would not attend ahead of the vote out of "respect" for Blatter.
Instead he hovered on the Swiss border, swooping in upon victory to deliver a rambling press conference on the same day that WikiLeaks cables proclaimed Russia a "mafia state."
When International Olympic Committee (IOC) president Thomas Bach, who on Thursday last week said that FIFA needed to clean up its act, was elected in 2013 in Buenos Aires, the first call he took was from Putin.
As Blatter — who on Saturday warned those who had crossed him: "I forgive, but I never forget" — resembles a mafia don doling out patronage and punishments to remain the spider at the center of his web, so his alliances have flexed to reflect geopolitical changes.
When Qatar won the right to host the 2022 World Cup finals, the first thing Blatter did the following month was to get on a private jet to go and see the then-emir.
Blatter never voted for Qatar (indeed, UEFA president Michel Platini was a prime mover), but his track record shows his ability to turn every situation to his advantage.
Some speculate that he may even have voted for the US in the knowledge it would lose, thus providing the perfect cover.
MIDDLE EASTERN NEXUS
Another Middle East royal, Kuwaiti Sheikh Ahmad al-Fahad Al Sabah, is at the center of this nexus. He helped Bach to get elected as IOC president and is an increasingly influential figure in Olympic circles.
Now, with the help of Blatter, he has taken up a place on the FIFA executive committee — one of a new wave of members for Blatter to try to control and contain.
As Kuwait and Bahrain carve up positions of influence in world sport, gas-rich Qatar focuses on securing the biggest events, no matter what it costs or the limitations in terms of its climate and size.
Where Platini, who speaks with something of a forked tongue given his backing of Qatar for 2022, decries the loss of influence by South America and Europe in sport's new world order, others continue to see arrogance and hectoring.
It is this sense that Europe hoovers up all the world's talent and money which Blatter endlessly plays to.
"In any assembly there are the good, the bad and the ugly. UEFA is a solid pillar for FIFA, UEFA created FIFA," Platini said.
"FIFA loses its authority because the number of associations that have joined FIFA have made UEFA and CONMEBOL [the South American soccer confederation] a minority. We are a minority and this creates problems," he said.
Michael van Praag, the Dutch soccer association president who challenged Blatter for the presidency, but stood aside to try to coalesce support behind Jordan's Prince Ali bin al-Hussein, conceded that UEFA had an "image problem" in the rest of the world.
AFRICA
Meanwhile, Blatter has engendered huge loyalty in Africa by maintaining the flow of development cash that has increased 70-fold under his presidency, as World Cup revenues have soared to nearly US$4.9 billion, but it is more than just money.
African nations feel a genuine affection and loyalty toward Blatter.
"He just gets Africa," one African delegate said at the congress on Friday last week.
Having secured victory under the flags of FIFA's 209 member nations (more than the UN) to soporific Muzak and a cry of "Let's go FIFA. Let's go," Blatter received a string of well-wishers. At the head of the line to congratulate him were Russian Sports Minister Vitaly Mutko and Al Sabah.
The FIFA president may still run his organization according to the principles and culture engendered under Havelange, but he has also shown a remarkable ability to move with the times.
As he prepared to face a barrage of tough questioning over what he knew about a US$10 million bribe that flowed through FIFA to Warner at a victory press conference that felt anything but, a statement from the Kremlin landed.
"The head of the Russian state expressed confidence that experience, professionalism and high authority will help Blatter in future to encourage the spread in the geography and popularity of football in the whole world," it read.
Meanwhile, US authorities were warning that further indictments against soccer executives would almost certainly follow, and Blatter was facing a chorus of furious criticism from British politicians and the media.
Newly reinstalled as the head of the scandal-hit organization from which he has become indivisible and with battle lines definitively drawn, Blatter must hope that his gamble in aligning himself so closely with those who are prepared to offer him the cover to carry on pays off.
Comments will be moderated. Keep comments relevant to the article. Remarks containing abusive and obscene language, personal attacks of any kind or promotion will be removed and the user banned. Final decision will be at the discretion of the Taipei Times.