New York City's environmental goals draw praise
A blueprint for the long-term future of the Big Apple has been widely welcomed, but some environmental groups and civic leaders say it lacks detail
As New York City Mayor Bill de Blasio on Wednesday released a long-term blueprint for the city — calling on New Yorkers to send no waste to landfills by 2030, and aiming to lift 800,000 people from poverty or near-poverty in a decade, among other far-reaching goals — attention turned quickly to a follow-up question: How?
The degree to which the document answers this query became a matter of some debate on Wednesday, as environmental experts and civic leaders broadly praised De Blasio's goals, but cautioned that details for many of the pledges remained hazy.
The mayor himself seemed to agree, to an extent.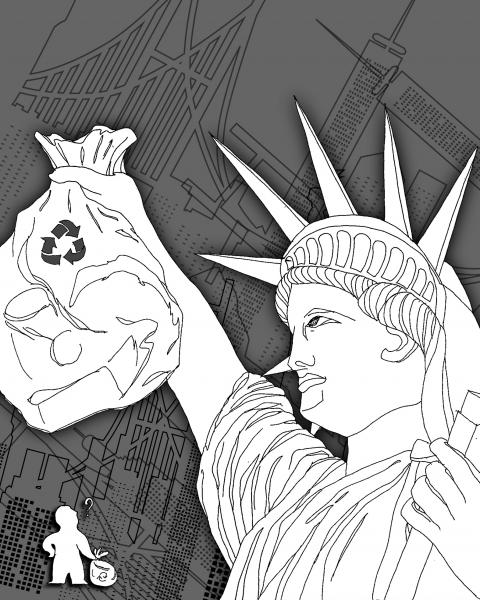 Illustration: Tania Chou
"In this plan, we do not provide all those answers because we don't have them all yet," he said at one point during a news conference in the Bronx, describing his interest in exploring a subway extension in Brooklyn. (The state controls the Metropolitan Transportation Authority.)
The proposals, collectively called OneNYC, descend from former New York City mayor Michael Bloomberg administration's environmental program, PlaNYC, a data-heavy document that set targets and tracked progress on green-leaning efforts across the municipal landscape.
Though De Blasio has praised his predecessor's work on this front, his retooled version has infused the program with another explicit focus: income inequality.
"This is not just about metrics; this is not just about dates or programs," he said, though aides hastened to add later that it was very much about these things, too. "This is about human beings."
Several environmental groups cheered the decision to marry economic and environmental policy in a single plan, calling the arrangement a logical fit.
However, some wondered whether the document itself included enough meat to accompany its lofty visions.
"The De Blasio administration should quickly follow up with an implementation plan that includes funding sources, a timetable, baseline indicators to track progress and an agency responsible for implementation," said Marcia Bystryn, president of the New York League of Conservation Voters, which has at times tweaked the administration's approach to environmental issues.
Bystryn, who served on the mayor's "sustainability advisory board," compared the level of detail in the OneNYC document unfavorably with the PlaNYC documents issued under Bloomberg since the program's creation in 2007.
Members of the advisory board were not shown the full document until its public release on Wednesday, though De Blasio praised the group for offering "so much in this process" and several leaders issued supportive quotes through the mayor's office.
Another board member, Kathryn Wylde, president of the Partnership for New York City, lauded the administration for applying a "regional lens" to its long-term plan, looking beyond the city limits.
"What people will be looking for are the mechanics of how these long-term and intermediate goals are going to be accomplished," Wylde added in an interview after the event.
City officials strongly resisted any suggestion that the plan amounted to an outline for an outline, arguing its level of detail was consistent with past programs under Bloomberg.
The 332-page report includes more than 200 new initiatives, officials said, with scores of specific new metrics and targets to be tracked and reported online for public review and updates on previous measures from the Bloomberg years.
De Blasio said specific funding totals would become clearer when the city's 10-year capital plan and executive budget are released, and his office said that previous plans under Bloomberg did not always attach specific price tags to projects at first.
"We do things in stages around here," the mayor said. "And this plan represents our core vision for the future of New York City. It does not address every single project or every single need in detail."
Among the city's murkier positions is its approach to plastic bag use, which is billed as a significant factor in its waste reduction plans. The administration has not specified how it expects to reduce the reliance on plastic bags, and the mayor, so far, has balked at a City Council bill calling for a US$0.10 fee on single-use bags at stores.
The poverty reduction goal also hinges in large measure on a policy, raising the minimum wage, that requires state approval.
The administration is betting, in part, that incorporating wage discussions into the plan will increase public pressure on state lawmakers.
"If you show the people a vision, and the people believe in that vision, a lot of things can change in places like Albany and Washington," De Blasio said.
Several personal touches during the announcement itself also hinted at the shift since the era of Bloomberg, who was less expansive about his private life.
De Blasio set off on extended riffs about family recycling habits, his daughter's disapproval when he drank from the wrong kind of water bottle and his children's mastery of "proper technique" for composting.
"This is a good day," De Blasio said at one point, in a brief third-person plug, "to remind everyone of the De Blasio family composting video."
Comments will be moderated. Keep comments relevant to the article. Remarks containing abusive and obscene language, personal attacks of any kind or promotion will be removed and the user banned. Final decision will be at the discretion of the Taipei Times.