Zoo watchdog overlooks cruelty
Affiliates of the world's top zoo organization have been filmed allowing shocking mistreatment of animals
Dozens of examples of harrowing cruelty toward animals in zoos have been overlooked by the world's top zoo organization, animal welfare groups have alleged.
Zoos belonging to the World Association of Zoos and Aquariums (WAZA) have been filmed over the past five years making animals perform dangerous tricks, confining them to inadequate premises and beating them, contrary to WAZA's code of ethics, which demands the "highest standard of animal welfare."
In November, an animal keeper at Mysore Zoo in India was filmed beating an elephant, and Taman Safari in Indonesia runs a traveling dolphin circus in which dolphins are forced to jump through flaming hoops. Tourists are also able to pose with tigers for photos.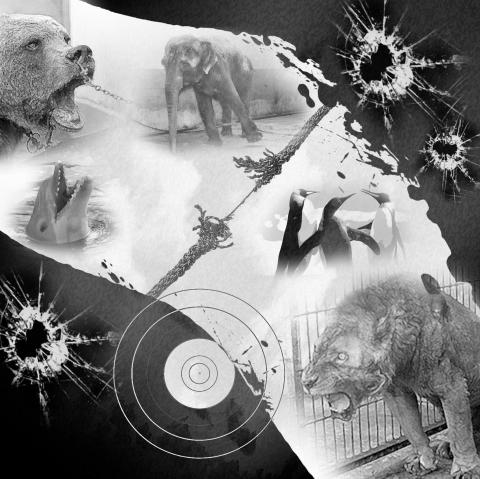 Illustration: Kevin Sheu
Zoo Negara in Malaysia has been condemned by a local MP for the terrible condition of its animals, and Dehiwala Zoo in Sri Lanka has come under fire after the deaths of a hippo, a lion and all the zoo's penguins. The zoo has also been criticized for an elephant show in which handlers threaten the animals with sticks to make them do tricks.
A manacled performing elephant has been filmed at Dusit Zoo in Bangkok, and Almaty Zoo in Kazakhstan and the National Taiwan Aquarium have been accused of housing bears and beluga whales, respectively, in sub-standard enclosures.
In 2009, a South Korean TV show filmed a small, terrified bear being placed inside a tiger enclosure at Everland Park.
All these zoos are members of WAZA, a Switzerland-based organization that acts as the peak member body for the world's zoos. As revealed by the Guardian, WAZA is being taken to court by an Australian conservation group over its alleged complicity in the infamous dolphin hunts in Taiji, Japan.
WAZA's code of ethics states that where animals are used in performances by zoos, they must "focus on natural behavior" and "not demean of trivialize the animal in any way."
It states: "WAZA and its members should make all efforts in their power to encourage substandard zoos and aquariums to improve and reach appropriate standards. If it is clear that the funding or the will to improve is not there, WAZA would support the closure of such zoos and aquariums."
Despite these stipulations, WAZA has confirmed that no zoo featured in the videos of alleged cruelty has been expelled, or publicly or privately condemned.
WAZA has more than 300 individual zoo members, including Taipei Zoo and the National Museum of Marine Biology and Aquarium in Pingtung County.
Sarah Lucas, head of Australia for Dolphins, which is leading the court action against WAZA, said the organization was too closely wedded to the interests of its members.
"It's very easy to find abuses in these zoos — elephants being beaten or bears being kept in tiny, grimy cages — but WAZA doesn't call out its members on any of these abuses," she said. "It's easy to form the view that WAZA is an organization that protects its members' interests above that of the animals."
"Many of the zoos and aquariums do take the code of ethics seriously, but there's clearly a significant number that don't and WAZA itself doesn't take it seriously. They need to enforce it, to take action. They've either got to do their job or stop pretending to be a policeman for zoos and aquariums," Lucas said.
Lucas said WAZA's dual role as a voice for zoos and a conservation organization was "inherently conflicted."
WAZA has previously expelled zoos for breaches of conduct, such as Johannesburg Zoo for the illegal importation of animals last year.
A spokeswoman for WAZA said it took "reputable and reasonable complaints" very seriously. She said there had been no complaints over any of the examples of abuse highlighted by the Guardian, but that the man filmed beating an elephant at Mysore Zoo had been fired.
The claims have raised concerns among WAZA members, with one, Kolmarden Zoo in Sweden, weighing up whether to quit the organization.
The director of the zoo, Mats Hoggren, said he could not be part of the same organization as the Japanese Association of Zoos and Aquariums, which takes dolphins from the Taiji hunt.
"We can't be even indirectly associated, that's not possible," he said. "We feel horrible about what's happening over there and we need to put pressure on WAZA to do something."
"We will wait a little longer but there needs to be something constructive or we will terminate our membership, for sure," he added.
Hoggren sits on the executive committee of the European Association of Zoos and Aquaria , and said it would also discuss WAZA membership.
Richard Branson has added his voice to the condemnation of WAZA's link to the dolphin hunts.
"I was shocked to learn that the World Association of Zoos and Aquariums, which is meant to protect animals, has members that are heavily involved in the horrific capture of dolphins in Japan," the Virgin founder said in a statement.
"I join with Australia for Dolphins in calling on WAZA to end its support for these organizations, and to end its toleration of taking animals from the wild using traumatic methods. WAZA is the world's peak captivity body and it should take a strong stance — no dolphins or whales should be captured from the sea ever again," Branson said.
Comments will be moderated. Keep comments relevant to the article. Remarks containing abusive and obscene language, personal attacks of any kind or promotion will be removed and the user banned. Final decision will be at the discretion of the Taipei Times.