Chinese media increase anti-Western rhetoric
Since taking over as leader of the ruling Chinese Communist Party in 2012, Chinese President Xi Jinping has made defending the one-party system and stoking nationalism top priorities
Western values are a "ticket to hell," a newspaper published by the Chinese Communist Party (CCP) said in a recent editorial that held up Ukraine and some Arab nations as examples of outside ideas causing turmoil.
It was the latest colorful example of a rising level of invective targeting critics of the authoritarian government. In the two-plus years since Chinese President Xi Jinping (習近平) took the helm of the CCP, state media have become more strident in defending the one-party system and stoking nationalism.
Events of recent months have accelerated the trend. Pro-democracy protests in Hong Kong from September to December last year, known as the "Umbrella movement", opened floodgates of disdain against "anti-China" forces. China's Global Times tabloid, owned by CCP mouthpiece the People's Daily, laid into well-known blogger Ren Zhiqiang (任志強) for questioning official warnings against Western values infiltrating Chinese college classrooms.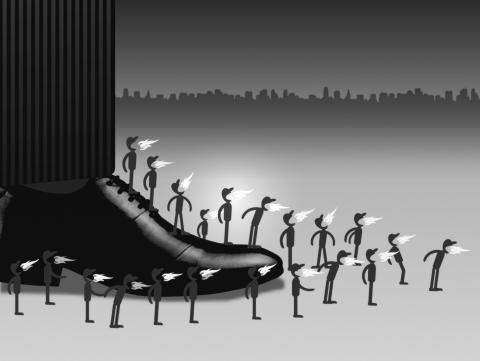 Illustration: Yusha
The newspaper pointed to turmoil in Ukraine and the Arab world to show how any adoption of Western models by non-Western nations "basically amounts to the copying of failure."
"No matter how beautiful they appear on the surface, they are in fact a ticket to hell, and can only bring disaster to the China," the newspaper said.
While Cold War brickbats like the "running dogs of US imperialism" have yet to return, there has been an overall revival of tough language laying down the CPP's bottom line and seeking to undermine opposing arguments.
Some critics fear a reversion to the extreme intolerance of China's 1966-1976 Cultural Revolution, and scrutinize the speeches at China's annual ceremonial legislature opening on Thursday last week.
"Over the last two years or so, the propaganda has become less refined. There is a big market for this kind of crude nationalism," said Willy Lam (林和立), a Chinese politics expert at the Chinese University of Hong Kong and a senior fellow at the Jamestown Foundation.
The exchange involving Ren followed a stern warning in January by Chinese Minister of Education Yuan Guiren (袁貴仁) against threats to communist ideological purity in higher education. His comments, in turn, reflected an internal party document, leaked in 2013, that warned against Western values such as constitutionalism, respect for civil society and freedom of the press.
A further echo was heard last week, when Chinese Supreme People's Court President Zhou Qiang (周強) demanded that judges stand strong against Western concepts of judicial independence and division of powers.
"Resolutely resist the influence of erroneous Western thought," Zhou said.
Such pronouncements are clearly being dictated from the highest party echelons, said Chinese political analyst Li Datong (李大同), who has been removed from a state media senior editing job for broaching sensitive subjects.
"These people talking so harshly now were only recently espousing greater openness, not less. Clearly things have changed," Li said.
Foreign nations and leaders are frequent targets.
Chinese state media pilloried Britain after British Prime Minister David Cameron met with exiled Tibetan leader the Dalai Lama, who is reviled by Beijing. The Global Times in a commentary published in December 2013 said that Britain is no longer seen as a "big power" among Chinese, but as "just an old European country apt for travel and study."
Especially strident outrage from Beijing was sparked by last year's Occupy Central protest movement in Hong Kong. Beijing rejected the protesters' demands for open elections for the territory's chief executive in 2017.
Protest leaders were accused of being pawns of shady outside forces and foreign governments. In October last year, the People's Daily accused organizers of seeking to "arouse social conflict and incite illegal activities under the name of election issues." They were leading democracy "into peril," it said in an editorial.
Government allies and retired officials condemning the demonstrators included former Chinese ambassador to the UN Zhou Nan (周南), who warned that "anti-China forces inside and outside Hong Kong" were conspiring against the territory and could threaten China's socialist regime.
Observers see the more combative language as an outgrowth of Xi's calls for stronger party control and a more vigorous role for China on the world stage.
"I do think this is very much an initiative that Xi Jinping approved, if not started," said Steve Tsang (曾銳生), senior fellow at the University of Nottingham's China Policy Institute.
Shortly after taking over as CCP leader in 2012, Xi took a hard line on issues of national sovereignty and state survival.
He said that while China seeks a peaceful international environment, "no country should presume that we will engage in trading our core interests, or that we will swallow the bitter fruit of harming our sovereignty, security or development interests."
Tsang said that approach underscores Xi's confidence in the political model he has adopted, but also betrays his nervousness about the party's ability to retain power. The Hong Kong protests were especially nerve-rattling because they showed the influence of Western thinking over public attitudes in the former British colony, which enjoys its own legal system and other freedoms.
"Hence the current warning against Western values," Tsang said.
Beijing-based political commentator Zhang Lifan (張利方) warned of a "vicious cycle" of insecurity leading to ever-sharpening criticism. Political debate already has fallen behind that of the relatively open 1980s, and threatens to revert to the violent intolerance of the Chinese Cultural Revolution, Zhang said.
Despite that, Lam said that internal party polling shows the stridency has resonance with patriotic young Chinese, seen for example in the rising number of university graduates volunteering for the armed forces.
"Xi's major objective is to stoke the flames of nationalism, especially among young people. They are proud of what Xi is doing for China's position in the world," Lam said.
Yet, while surveys show high levels of patriotism, Chinese society also displays a strangely contradictory attitude toward the West. Despite its willingness to defend its nation and join in condemnations of its enemies — particularly archfoe Japan — many Chinese are voting with their feet when it comes to their future, with the West receiving the strongest endorsements.
An estimated 274,000 Chinese are studying in the US alone, with tens of thousands more in Australia, Britain and elsewhere. While estimates vary, millions more are believed to have obtained foreign residency or purchased property abroad, particularly among the elite. So large are the numbers that financial experts have begun to warn of the dangers of capital flight, though China's economy remains on a firm footing.
Comments will be moderated. Keep comments relevant to the article. Remarks containing abusive and obscene language, personal attacks of any kind or promotion will be removed and the user banned. Final decision will be at the discretion of the Taipei Times.