What a stronger US dollar means for the global economy
The appreciation of the greenback has not upset US manufacturers yet, but if it goes much further, they might start to complain to Washington
For US tourists, it just might be time to book that vacation in Paris they have been considering.
That is one practical conclusion to draw from a remarkable set of shifts in global currencies that started in the second half of last year and has continued in the early trading days of this year. The seemingly inexorable rise of the US dollar versus the euro and most other currencies has broad implications for the global economy this year and beyond.
The euro traded below US$1.19 at times on Monday, its lowest level in nine years — it was US$1.39 as recently as May. The US dollar index, which tracks the US dollar against six other major alternatives, is up almost 15 percent since June 30 last year. Those swings are big enough to reshape the terms of economic interaction among the most powerful nations on Earth — and will affect almost any company or individual doing business across national borders.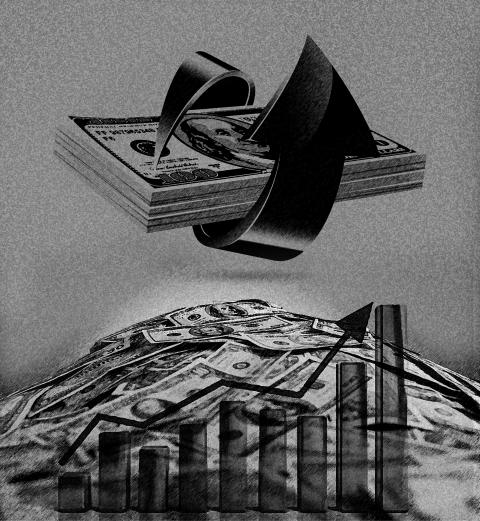 Illustration: Constance Chou
The underlying causes are straightforward enough. The US economy is doing far better than economies in most other advanced nations, achieving a recently revised 5 percent GDP growth in the third quarter last year. The US Federal Reserve is planning to raise interest rates this year, at a time its counterparts in Europe and Japan are pushing toward easier money.
However, the consequences are quite a bit more varied, with some straight from Economics 101 and others unique to the current circumstances.
For US companies that compete globally and derive much of their income from overseas, things have gotten a lot tougher in the past few months.
If you are US-based Boeing Co competing with European Airbus SAS to sell jumbo jets around the world, or a California winemaker trying to persuade global buyers that your product is better than its French and Italian counterparts, your competitiveness has fallen. Firms that must pay workers and buy raw materials in now-depreciated currencies like the euro and yen are effectively getting cost savings, even without having to cut pay or renegotiate with suppliers.
That said, because the currency appreciation has its roots in an improving US economy, US-based manufacturers are hardly panicking. There has been little complaining — so far at least — from business interests saying that other nations are engaging in currency wars.
"The [US] dollar is strengthening in many ways for the right reasons, because we're one of the brighter spots in the world," National Association of Manufacturers head economist Chad Moutray said. "That will present a challenge in terms of growing exports, but at least to the extent we're strengthening it's because the US economy is getting better."
That said, if the appreciation goes much further, do not be surprised if US exporters start to pressure Washington to apply diplomatic pressure to reverse the slide.
OVERSEAS OIL PRICES
One reason the US economic expansion is picking up is that plummeting oil prices — and the lower gasoline prices that result — are leaving US consumers with more money in their pockets.
However, oil prices are almost always quoted in US dollars, so the currency's appreciation exaggerates somewhat the extent to which oil prices are falling for most markets around the world.
Notably, in Europe, the benchmark price of Brent crude oil has fallen 53 percent when measured in US dollars since June 30, but just 46 percent when measured in euros. Cheaper oil tends to be good for consumers everywhere, but the strong US dollar means the shift is sharpest for the US market.
One of the most intractable realities of the past several years is that inflation has been consistently below the 2 percent that the Fed and other major central banks target.
Inflation has been a bit below in the case of the US (with 1.2 percent inflation in the most recent reading), and way below in Europe (a mere 0.1 percent in Germany, Berlin's statistics agency said on Monday). The rise in the US dollar and the decline in other currencies will tend to push US inflation down and European and Japanese inflation up.
A more expensive US dollar means cheaper imported goods for US consumers, while making imports more expensive for those overseas. While major central banks do not normally make currency values the explicit focus of their policies, they are supposed to account for whatever effect their fluctuations have on inflation.
In that sense, for the European Central Bank and the Bank of Japan, the falling currency values could have a welcome effect of helping prices rise a bit faster, at least temporarily. Meanwhile, for the Fed, it could mean even lower inflation and more latitude — should its leaders choose — to wait longer before raising interest rates.
DIFFERENT TRAVEL LANDSCAPE
US consumers thinking of traveling overseas are winners in the currency swings. Conversely, travel-related firms that cater to foreigners in the US are losers.
This is really a variation of the point above about a strong US dollar creating challenges for exporters, in the sense that a Japanese tourist who visits California and spends US$5,000 has pretty much the same effect — in terms of trade and balance of payments effects — as a California winemaker shipping US$5,000 worth of wine to Tokyo.
However, as people make their summer plans, since, for example, European destinations are 12.5 percent cheaper than they were six months ago in US dollar terms, the situation could make locations abroad more attractive to US consumers and US travel less attractive to would-be foreign visitors.
The effect is not likely to be enormous, US Travel Association senior vice president for research David Huether said; the trade group's analysis suggests that a 10 percent rise in the US dollar should translate into only a 0.2 percent drop in the number of visitors from abroad.
"The value of the [US] dollar will have some impact, but I think travel will be less impacted than other goods and services, where a piece of steel is a piece of steel," Huether said, adding that the US' distinct offerings are attractive enough that travelers will pay a higher price to visit.
Barring a reversal in currencies, this year is shaping up to be a year of testing just how high a price they are willing to pay.
Comments will be moderated. Keep comments relevant to the article. Remarks containing abusive and obscene language, personal attacks of any kind or promotion will be removed and the user banned. Final decision will be at the discretion of the Taipei Times.