How China spies on Hong Kong's democrats
Hong Kong police inadvertently arrested a Chinese surveillance team hounding a pro-democracy legislator, while student activists report having been spied on even from within a hotel where they were staying in Taiwan
James To (涂謹申) was growing uneasy. When the veteran Hong Kong Democratic Party legislator looked in his rear-view mirror, two silver Mercedes-Benz sedans kept appearing behind his gray Volvo.
For almost a week, one or the other was behind him on his daily commute. When he arrived at the Hong Kong Legislative Council building, the following car would park nearby and wait, sometimes for hours. With his suspicion hardening, on Aug. 11, To complained to the police, reporting the registration numbers of the two Mercedes in his detailed statement.
The next morning, he pulled out of his home in the largely working-class neighborhood of North Point on Hong Kong Island and headed to work. At the bottom of the street outside his building, he glanced in the mirror to see an unmarked car pull sharply into the path of a silver Mercedes behind him. Several men got out of the unmarked car. He kept driving, assuming the police had moved fast to intercept his tail.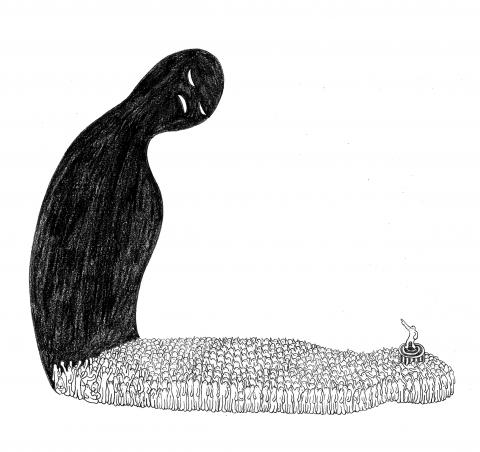 Illustration: Mountain People
He was right. Later, police informed him they had arrested two men and seized two Mercedes, To said. What he did not know was that the police had inadvertently foiled a surveillance operation being run by China. Just ahead of the biggest pro-democracy protests in Hong Kong since the 1997 handover, the police had stumbled into a Chinese internal security operation aimed at monitoring the activities of pro-democracy figures in Hong Kong, according to two people with knowledge of the surveillance.
The Chinese intelligence services have long been suspected of running covert operations in Hong Kong, but this has now been confirmed for the first time, with one of their surveillance teams taken into custody. The pair was part of a team watching To, according to people familiar with the operation.
Other teams have been assigned to track key figures in the pro-democracy movement and critics of Beijing's rule in the territory — with the aim of uncovering compromising information, they said.
The arrested pair were quickly released without any public announcement. Police declined to divulge their identities to reporters.
Retired senior Hong Kong police officers and managers at private security companies say Chinese intelligence services have been recruiting former Hong Kong police to assist in political surveillance operations. Recruiters identify former officers with surveillance training and pro-Beijing sympathies. They say that more than 20 of these retired officers have been assigned to surveillance teams working alongside mainland agents.
One of the Mercedes sedans that To reported to police is registered to a local resident who says he is a Hong Kong public servant. The man said he played no role in the surveillance.
The other car was displaying a license plate that is not registered to any vehicle, according to records of the Hong Kong Department of Transport.
News of the Chinese spying operation comes as many Hong Kong residents are already chafing at China's tightening grip on their territory. The fear: Beijing is eroding the wide-ranging personal freedoms and independent law enforcement enshrined in the "one country, two systems" formula under which they have been governed since British rule ended in 1997.
Pro-democracy legislators, academics and political activists worry that Hong Kong is becoming more like mainland Chinese cities, where the internal security services join forces with the police to crush dissent.
They say the surveillance has intensified over the past 12 months, as the territory's pro-democracy movement began planning for the campaign of civil disobedience that disrupted Hong Kong's central business district for more than two months, beginning in late September.
For China's leaders, the upheaval presents one of the most serious popular challenges to Chinese Communist Party (CCP) rule since the 1989 Tiananmen protests.
EMBARRASSING MATERIAL
The surveillance of To is just one example of the monitoring of Beijing's political opponents. Other legislators, political activists, academics and Catholic priests say they have been monitored or followed in recent months. In some cases, they suspect that the surveillance is aimed at unearthing material that could be used to discredit or embarrass them.
To said the surveillance is especially intimidating when Beijing is struggling to contain demands for fully democratic elections in the former British colony.
"In these difficult times, we do not know what action they will take in an extreme case," he said. "I do not know what their motive is, you know, so it is always threatening behavior."
China's Liaison Office of the Central People's Government in Hong Kong, Beijing's official representative body in the territory, did not respond to faxed questions.
A spokesman for the office of Hong Kong Chief Executive Leung Chun-ying (梁振英) said it did not comment on individual cases.
"All persons in Hong Kong, whether residents or not, have to abide by the laws of Hong Kong," the spokesman said.
Hong Kong police cleared out the main protest site late last week, bringing to an end more than 10 weeks of street demonstrations. To was among the pro-democracy politicians arrested on suspicion of obstructing police and of illegal assembly as they gathered for a last show of defiance at the site. He was released after several hours.
In written answers to questions from reporters in October, a Hong Kong police spokesman confirmed that an investigation had been launched after "someone surnamed To" reported being followed.
"On Aug. 12, two local Chinese males aged 56 and 54 were arrested in North Point," the spokesman said, adding that they had been released on police bail.
Police described the case as suspected loitering, but did not give further details about the arrested men and did not respond to a question about whether the suspects were retired Hong Kong police officers.
In a reply to reporters last week, police said the investigation had been "curtailed" due to insufficient evidence that any criminal offense had been committed.
Hong Kong law enforcement veterans would be valued for their local knowledge and contacts.
As retirees, they are private citizens, which might mean there is a gray area in which they can operate, legal experts said. And, if one of these surveillance operations were exposed, the Chinese security service personnel could distance themselves from any fallout, according to foreign diplomats who follow political events in Hong Kong.
For To, it would be a bitter irony if former Hong Kong police were following him as part of a Chinese-led operation.
"In the past, they never trusted Hong Kong people," he said, referring to Chinese officials. "So, now they trust Hong Kong people more, in a sense."
UNITED FRONT
The "one country, two systems" framework does not explicitly prohibit China's vast security and intelligence apparatus from operating in Hong Kong, but it does require any investigation and enforcement action to be carried out by local police and under the territory's laws.
These operations are headed by a bureau of the Chinese Ministry of State Security, according to security analysts, foreign diplomats and former Western intelligence officers.
The ministry gathers information on political figures and potential threats from a wide network. It also collaborates with other Chinese security services and the CCP's United Front Work Department, an organ that aims to spread the party's influence at home and abroad, and which is active in the territory of 7.2 million.
The ministry did not answer multiple calls to its only publicly available telephone number seeking comment.
China routinely complains about what it says is foreign interference in its internal affairs.
In a sign of Beijing's frustration with the Hong Kong protests, articles in China's state-controlled media outlets have accused foreigners of inciting the demonstrations.
Leung in October said that "external forces" were involved in the protests.
He provided no evidence.
Many of Hong Kong's politicians, including pro-democracy figures, do maintain links with foreign diplomats, international non-governmental organizations, human rights groups and think tanks. Among them is To, who once told US diplomats in Hong Kong that his Democratic Party had been penetrated by Chinese agents and was in a "dangerous position," according to a 2007 leaked US cable published by WikiLeaks.
DESIGNED TO INTIMIDATE
Sometimes, the surveillance of democracy leaders seems designed purely to intimidate, activists said.
In May, Joshua Wong (黃之鋒), one of the most prominent student protest leaders, visited Taiwan for a short vacation with two other members of the group Scholarism, which is now at the forefront of the pro-democracy movement.
The night they arrived in their ground-floor room at the Simple+ Hotel in Taipei, the telephone rang.
A male voice speaking Mandarin Chinese asked for Wong, saying a "Hong Kong friend" wanted to pay him a visit.
The boys said Wong was not available. Later, they asked at the front desk if the call had come from outside the hotel, the 18-year-old Wong said.
The desk attendant said that it had not, leading Wong and his friends to conclude that the caller had been inside the hotel and knew their room number.
"Even my parents did not know which hotel I was in or the exact time I was arriving, but that guy knew the details," Wong said.
Over a period of two days, at least two men followed Wong and his friends, he said.
One came within about 2m to snap photographs of them on his mobile phone. When the boys confronted the man, he said he had been hired to follow and photograph them, but was not part of the media.
Wong has pictures of one of the men, which he posted on Facebook.
He said he did not bother to report the incident to police.
Derek Lam (林淳軒), a student activist on the trip with Wong, said he suspected the men following them were trying to collect dirt to tar the pro-democracy movement.
The man they confronted told them he had instructions to photograph them, especially if they did anything like visit "women," he said.
Chan Kin-man (陳健民), a founder of the democracy movement, said several men took turns to monitor his movements in late September, just before the protests erupted.
Chan, an associate professor of sociology at the Chinese University of Hong Kong, described the men as "middle-aged" and said they were positioned at a bus stop opposite his apartment complex.
They stayed for several days, working in shifts around the clock.
'TRYING TO SLIP A TAIL'
Fellow academic Robert Chung (鍾庭耀), a Hong Kong University pollster, is accustomed to being attacked in the territory's pro-Beijing press over his surveys. His work explores sensitive topics, including attitudes to political reform and feelings about national identity. However, earlier this year, Chung was stunned when a report in one of these newspapers revealed that he was being followed.
A full-page spread in the pro-Beijing Chinese-language Ta Kung Pao newspaper in May accused him of reckless driving, including running an amber light and making illegal turns.
The report included a number of photographs of his car on different streets on different days over a period of weeks in March.
The report also carried a graphic showing the routes he took and quoted a private investigator as saying his "driving methods are similar to those used by spies trying to slip a tail."
For Chung, the level of detail in the article suggested expertise beyond the skills of muckraking reporters.
"There was never any real evidence until I read that Ta Kung Pao story," Chung said. "I believe they are professional agents."
A spokesperson for the Ta Kung Pao editor-in-chief said the report was done "independently" by the newspaper's reporters.
Catholic priests in Hong Kong said they have been approached by Chinese security ministry agents seeking gossip on local clerics and church affairs, as well as information on the Vatican's thinking on China. The officers are said to typically visit Hong Kong on tourist visas, but make their identities clear, seeking discreet meetings in cafes and restaurants.
TRIAD-STYLE ATTACK
For To, apprehensive about the silver Mercedes following him, it was a simple test that convinced him that he needed to go to the police. On Monday, Aug. 11, he stepped out of his apartment building with his three-year-old son, turned right and walked down the street in North Point.
Sure enough, one of the silver Mercedes was parked near his building. To and his son walked a few doors down into a small cafe. A man got out of the car and followed them, peering through the window.
"That is when I knew I had to act," To said. "This was not normal."
That day, he went to the police.
To suspects one reason that police moved so fast after he reported the surveillance is that they might have feared for his safety.
In February, on a street not far from To's home, one of his close friends, investigative journalist Kevin Lau (劉進圖), was stabbed in a triad-style attack. Lau was lucky to survive.
To had been quoted in one of the journalist's more controversial articles in a Chinese-language newspaper.
To said police told him that he needed to be alert and offered him protection, but he declined.
Police in Hong Kong and China have arrested nine men in connection with the attack on Lau.
In his written police report, To described first seeing the Mercedes about four cars behind him on the way to work at the Legislative Council on the morning of Aug. 6. It followed him whenever he changed lanes and slowed whenever he slowed, he told police.
That day, he saw the Mercedes parked outside his workplace with two Chinese men sitting inside. The same car followed him home.
The next day, a second silver Mercedes followed him to the office and parked by a nearby building. Shortly before midday, To left his office and drove to the Hong Kong Jockey Club at the Happy Valley Racecourse, he said in his report.
The Mercedes that had followed him in the morning tailed him to the prestigious club.
The next morning, the second silver Mercedes was back on his tail when he drove to work, he reported.
This pattern continued until the arrests.
After the police swooped in, To said, they told him they took the two men and the two seized cars to a nearby police station.
Police told him the two men refused to answer questions. They also told To there was no evidence to charge the pair with any offense.
"They assured me that I would not be followed anymore," To said.
'MISUNDERSTANDING'
As of the day of the arrests, one of the Mercedes that To reported to police was registered to a residential address in the container port district of Kwai Chung in Hong Kong's New Territories, according to Hong Kong Transport Department vehicle ownership records.
In an interview outside his home in late October, the car's owner, Riky Li Kwok-ming, said that the police had asked him to bring the Mercedes in for inspection. Police checked the vehicle and asked him whether he had been following anybody, Li said. Li said the police allowed him to leave and he had not heard from them since.
Li said that he was not a current or former police officer. He said that he worked for the Hong Kong government, but declined to give details. Li also said that he had not followed anybody or let others use his car. He said he had been driving on Tanner Road in North Point, where To lives, because his office was in the same area.
When asked if he had been conducting surveillance while his car was parked outside the government office complex, Li said: "Of course not; I was just picking up my wife."
Li said his wife also worked for the Hong Kong Government, but would not elaborate.
Reporters later located Li's car in a marked parking space in government offices in North Point.
In a follow-up interview in the parking lot earlier this month, Li said that he worked for the government logistics department and had been there for more than 10 years.
The Hong Kong authorities have yet to explain who was following To and why.
In his case, Riky Li Kwok-ming says the answer is simple: "This is all a misunderstanding."
Additional reporting by Anne Marie Roantree, Clare Baldwin, Lizzie Ko and Ben Blanchard
Comments will be moderated. Keep comments relevant to the article. Remarks containing abusive and obscene language, personal attacks of any kind or promotion will be removed and the user banned. Final decision will be at the discretion of the Taipei Times.