Grand hopes unrealized, as post-wall Berlin takes its own path
Despite many people believing the world would become a better place after the fall of the Berlin Wall, the progress, or lack of progress, since 1989 paints a different picture
Not far from the Brandenburg Gate, Potsdamer Platz was a no-man's-land during the Cold War. Then the Berlin Wall fell, and the German authorities made it a petting zoo for celebrity architecture. The corporate headquarters of Germany's new global swagger.
However, the ambitions for Potsdamer Platz, like the hopes and fears about a united Germany, turned out differently. The architecture was not so great. Many companies fled. Berliners and newcomers alike preferred the dingy, more atmospheric quarters of the old former East. "Poor, but sexy" became the city slogan.
"Twenty-five years ago, there was the expectation that a reunified Berlin would become the economic engine of the new Germany, a great metropolis," said Peter Schneider, a novelist and the author of Berlin Now.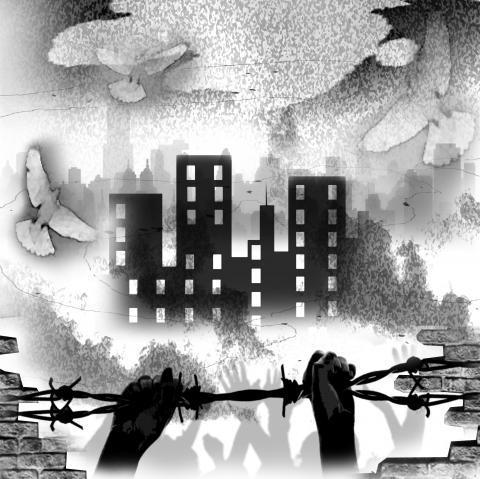 Illustration: Kevin Sheu
"There was even talk of 10 million inhabitants," he said. "Instead of going up, the population dropped."
A friend recently took me to where he lived in East Berlin before the wall fell. He still sees the wall in his mind every day, he told me, when he drives across the city. Yet he could not find where it had blocked off the street just yards from his old apartment. Almost all traces of it are gone now, obliterated in the rush to wipe clean the historical slate.
Few Germans thought about preserving significant parts of the wall in 1989, as a cautionary tale. Today, many Berliners regret the haste with which it was demolished and sold in bits and pieces.
"It's horrible, how we deleted it," said Simon Schaefer, who runs Factory, a Berlin incubator for startups, which recently opened in a refurbished brewery from which East German border guards used to survey a strip of the wall.
West Berlin chauvinism, lording it over the humiliated East, hastened the destruction of many East Germany landmarks that, also unpredictably, are now prized as architecturally significant and historically irreplaceable.
"East Germany had its own aesthetic, its own history," Schaefer said.
It was that same urge to wipe clean the past and settle scores that caused Berlin to undertake another grand architectural folly: tearing down, at insane cost, the modernist, bronzed glass Palace of the Republic — which East Germany built to replace the kaiser's Schloss it tore down in the heart of the city — and erect an imitation of the old Schloss.
The absence of the wall is a handy metaphor for a world whose divisions, religious and cultural, are everywhere and often invisible. At the same time, the wall's destruction created a new range of urban possibilities. It left vast empty spaces that have turned out to be civic boons in ways politicians and planners 25 years ago did not foresee, just as it freed citizens from the constraints of oppression to explore ambition and opportunity.
The emptiness attracted a new generation. It provided space to dream up clubs in bunkers, galleries in old department stores. Berlin was unfinished, like this generation, which pioneered ad hoc, improvisatory, piecemeal development.
For some of the same reasons that big corporations fled the city — inept government, lack of infrastructure, Detroit-size debts and "the fact that there still is not a Whole Foods where you can choose six different types of bananas," as Schaefer said half-jokingly — Berlin suited a post-wall, urban-minded, DIY generation.
In 1989, then-British prime minister Margaret Thatcher and then-French president Francois Mitterrand fretted about whether a single Germany would fall back on old habits. They pictured Panzers rolling down the Champs-Elysees. US news media brooded about a Fourth Reich while recording Berliners' euphoria when the wall came down. The triumphal narrative came later.
For a long while, the story of reunification entailed unrest, unemployment, division. Many West Germans resisted the economic burden of reunification; East German dissidents had wanted to liberalize East Germany, to gain access through the wall, but not to be annexed.
As with Berlin, so it was with all of Germany that an identity envisioned 25 years ago did not quite come to pass. Today Germany straddles the diplomatic fence between an increasingly assertive Russia and the West. It is reluctant to save Europe from fiscal malaise. Struggling neighbors regard it as a kind of polite bully.
Two distinct Germanys during the Cold War have yielded not to what leaders in the Western political class feared after reunification, but to a single, fuzzier, more reticent nation in a world that has become not safer and flatter — as the fall of the wall promised — but more violent, tribal, fractured and unpredictable.
"We imagined the world would become a better place," said Jens Reich, a scientist and former civil rights leader in East Germany, as he sipped coffee on a recent afternoon in a cafe on Unter den Linden, the boulevard in the former East Berlin that has become a tourist showpiece of the reunited city.
"During those first years after the wall came down, the city was gloomy, industries were dying, communities dying," Reich said. "Many Berliners fled to the suburbs. The elderly left. But then, unexpectedly, young people started moving into neighborhoods like mine, Prenzlauer Berg in the former East, and now children of those who left want to come back, except they can't afford the rents because all the foreigners are driving prices up."
"Of course Berlin is wonderful, and as Berliners, we should be content with how things turned out," he added. "But the dreams I nourished back then were very different. I shared the hope of Vaclav Havel and Milan Kundera," he said, referring to the Czech writers. "I imagined a rejuvenated Central Europe, restored to its former glory. That dream didn't materialize."
It vanished, like the wall, among the most audacious works of modern architecture. For decades, the wall made concrete a world divided by dueling superpowers. When it came down, a new order promised freedom and unity. The notorious phrase became "the end of history."
Except that it was not, of course. In Iraq, Catalonia, Scotland, Quebec and even California, independence movements worked to break states apart. More walls than ever, real and virtual, went up: firewalls and walls built of ethnicity, religiosity, sect. Freedom gave way to fears about vast population shifts, waves of new immigration, and security and digital surveillance, which was also hardly imaginable in the days when the Stasi's monitoring of East German phone calls was the state of the art in spying.
Globalization, which promised to make the world smaller, only accelerated the desire of millions of people to distinguish themselves, via language, culture, race or politics. From Berlin to Cairo to Kiev, revolutions uncorked civic urges and potent forces in the human spirit not easily anticipated or channeled, and difficult to bottle back up.
After the collapse of the Soviet Union, Ukraine hoped to become a single, unified nation, but it failed to overcome the abiding differences between its Ukrainian and Russian identities, which now tear the nation apart with help from neighboring Russia. Those forces that made the world more volatile are impossible to confine by a strip of concrete.
American Academy in Berlin executive director Gary Smith said: "The principal conflict was between free and not-free states."
"Today it's between globalization and cultural identity," he said. "We live in a completely different world than the one we anticipated."
On a recent morning, I spoke with Theresa Koehler, a 29-year-old from Cologne, who writes a blog about educated 20 and 30-somethings like herself, struggling to find decent-paying jobs in industries the city likes to advertise as its forte. For Koehler, it is the art scene.
"It's only unpaid internships," she said. "Berlin now has 300 galleries, but they hardly make money. You get here, then reality sets in."
So Berlin is still a work in progress, meaning reality can careen off the rails into chaos or present itself with a new, if unexpected, delight.
"Everything changes in ways we don't predict," said Christophe Knoch, who runs an artists' coalition. "Isn't that what we learned from the fall of the wall?"
Comments will be moderated. Keep comments relevant to the article. Remarks containing abusive and obscene language, personal attacks of any kind or promotion will be removed and the user banned. Final decision will be at the discretion of the Taipei Times.