Ebola leaves Spanish city in fear
Near the hospital where a nurse tested positive, many residents wondered how worried they should be
As she waited for her bus next to a billboard urging people to donate money for the fight against Ebola in west Africa, Elena Felican could only shake her head at how close the threat posed by the virus now felt.
"My sister called me first thing this morning, telling me not to go to near the hospital," the catering worker said. "She told me the patient lived in Alcorcon. How does this happen? It is really scary."
Few details have emerged about the first person known to have contracted the Ebola virus outside west Africa. The Spanish nurse, Teresa Romero, who tested positive on Monday, was part of a team that cared for two elderly Spanish missionaries who both died after being evacuated to Madrid for treatment.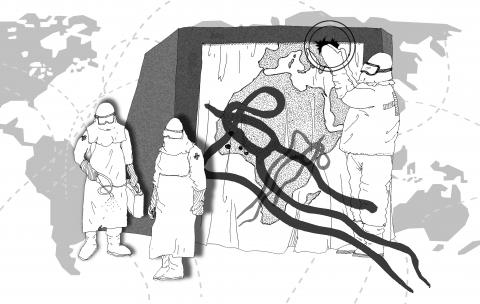 Illustration: Tania Chou
On Tuesday, her husband, Javier, said she had followed all the regulations.
"She did all that they told her to. At no moment was she worried about being infected," he told El Mundo newspaper.
The pair had intended to go on vacation, but changed their plans after he injured his leg, he told the Spanish-language news outlet in a telephone interview from the room where he has been isolated.
Health authorities euthanized the couple's pet dog because it had been in contact with his wife.
"They told me that if I did not give them my authorization, they would get a court order and enter the house by force to kill the dog. Then what will they do next? Sacrifice me too?" he asked.
In Alcorcon, a city of 170,000 people on the outskirts of Madrid, many wondered just how worried they should be.
"She might have been living in this neighborhood for days with Ebola," Felican said. "Did she go to the supermarket? The gym? We do not know anything."
Three primary schools ringed the hospital where the nurse had tested positive, she added, and all of them were open on Tuesday.
Her concerns were echoed inside the imposing hospital.
Juan Pulido, waiting for his wife to finish her appointment, said his family had urged him not to go.
"Every day I sit here, waiting for my wife. I decided today would be no exception," the retiree said, brushing off their worries. "But it seems like nobody else dared to come — it is empty today."
The infected nurse was transported to Madrid's Carlos III hospital late on Monday. She was placed in isolation, as was her husband, who has shown no signs of the virus. Health officials said yesterday they were monitoring 50 more people who might have come into contact with the nurse.
Authorities placed a second nurse from the same team in isolation after she complained of diarrhea. Saying that she did not have a fever — the most common initial symptom for Ebola — doctors said her initial test results were negative.
Health authorities said they had two priorities: Compiling a list of all the potential contacts that Teresa Romero had before being hospitalized, and determining exactly how she had been infected.
The nurse had helped care for Miguel Pajares, 75, who was the first person to be repatriated to European soil for treatment in August, but she is thought to have become infected while looking after Manuel Garcia Viejo, 69, who died in Madrid after being evacuated from Sierra Leone two weeks ago.
After complaining of a fever on Sept. 30, the nurse was told to check herself into a hospital if her temperature exceeded 38.6°C.
Spanish Ministry of Health, Social Services and Equality official Fernando Simon acknowledged on Tuesday that it might have been better to have hospitalized her right away, despite her not showing serious symptoms.
When she was admitted on Monday, Romero remained in a bed in the emergency room, separated from other patients by curtains, while waiting for her test results to come back, hospital staff said.
Several associations representing health professionals in Spain painted a picture of a healthcare system reeling from cutbacks, drastically underfunded to tackle the challenge of Ebola and led by a health ministry creating policy on the fly.
Elena Moral, of the CSI-F, a union that represents healthcare professionals, said the delay in hospitalizing the nurse hinted at deep flaws in the protocol.
"A patient suspected of having Ebola and a history of working with Ebola patients should have been put in the first ambulance they could find," Moral said.
She dismissed any suggestion of human error, referring instead to what she described as a lack of training, infrastructure and safety measures.
Moral also laid blame on the impact of austerity measures on the Spanish healthcare system.
"We have been protesting for a long time that the dismantling of the Carlos III Hospital could provoke extreme situations like this one," she said.
In recent years, she said, the Carlos III Hospital was closed, gutted of its emergency rooms and then turned into a hospital specializing in tropical diseases.
"The repatriation of the two missionaries turned the hospital into something just short of a field hospital. Authorities activated the protocols without keeping in mind the actual state of the hospital," she said.
Opposition politicians called on Spanish Minister of Health, Social Services and Equality Ana Mato to explain the safety lapses, while about 200 health professionals gathered outside a hospital in Madrid calling for her resignation.
The European Commission said it had written to Mato "to obtain some clarification" on how the nurse had become infected.
"There is obviously a problem somewhere," commission spokesman Frederic Vincent said.
Spanish health authorities said that medics treating Ebola patients in Spain followed the protocols laid out by the WHO, but their claims were widely disputed.
While "level-4" protective equipment is required to attend to Ebola patients, healthcare workers in Spain who treated the missionaries had only "level-2" equipment, said Juan Carlos Mejias, of Satse, a union that represents nurses.
"'Level-4' is what is being used in other European countries," he said.
Inside Alcorcon Hospital, two women working at the hospital gift shop said they knew only what had been reported in media outlets.
"Our coworker left after her shift last night wondering why there were journalists outside the hospital. Nobody told us anything or warned us that we should be careful," one said. "At least they could have given us hand sanitizer."
Comments will be moderated. Keep comments relevant to the article. Remarks containing abusive and obscene language, personal attacks of any kind or promotion will be removed and the user banned. Final decision will be at the discretion of the Taipei Times.