The village that defeated developers
Protests by residents of the small Chinese village of Xian led to the downfall of a top official and the end of an intimidation campaign
To find the villagers who toppled one of southern China's most powerful men, start just east of Guangzhou's Canton tower, an LED-lit column twisting more than 500m into the cloud cover. Head north, past two blocks of luxury apartments, until you come to a high concrete wall. Behind its gates, you will find Xian Village.
Xian is the size of about eight soccer fields. Most of its 4,000 residents live three or four to a room, up filthy staircases in boxy concrete mid-rise blocks. Its tangle of dark, narrow alleys winds in on itself like a labyrinth.
On a recent rainy night, about 300 villagers gathered for a traditional Cantonese feast. Some performed a lion dance with a big, black papier-mache lion.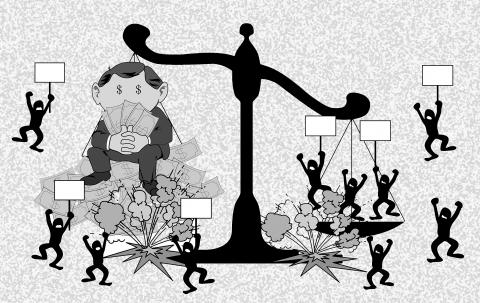 Illustration: Constance Chou
Since Aug. 19, 2009, the villagers have been waging an open protest against official corruption and every summer they gather to celebrate their progress.
This year's banquet was especially festive. Just the day before, after years of ignoring or censoring the revolt, state media syndicated a report applauding Xian village for uncovering an "iron triangle of corruption" among village officials, two local developers and former Guangzhou deputy mayor Cao Jianliao (曹鑒燎). Cao was placed under investigation in December and sacked in July.
"Over the past year, our lives have got better; our hearts are calmer," said Lu Jingfeng, 43, captain of the village soccer team, as he tucked into a plate of roasted pork belly. "But our demands have not yet been met. So we'll keep on fighting."
Xian village is one of 138 "urban villages" scattered throughout Guangzhou, a sprawling, 13 million-people metropolis at southern China's economic core. Municipal authorities consider the villages an eyesore and a slum-like breeding ground for social unrest. They announced plans in 2010 to redevelop all of them within the decade.
Xian village was not always surrounded by a concrete wall — local authorities built it in 2011. Make conditions unbearable, the logic went, and the villagers would leave. A cabal of powerful developers — Jiayu Group, Nanya Property Development, Qiaoxin Real Estate, Poly Real Estate — were anxious to turn the land into luxury apartments and office blocks.
Yet despite the wall, like the beatings, arrests and forced demolitions before it, the villagers were recalcitrant. Even now, they live amid swaths of utter devastation. Weeds grow from mountains of rubble. Concrete apartment blocks sit half-demolished, their exposed tangles of reinforcement bars splayed like severed nerves.
Similar scenarios are playing out across China, as Chinese Communist Party authorities attempt to move 250 million rural people into cities by 2025. It may be the largest social engineering experiment in human history. Under Chinese law, urban land is owned by the government and rural land is owned collectively by villagers. Yet the easiest way for local governments to fill their coffers is by requisitioning that land and flipping it to developers. Often, they bribe village leaders to keep prices low, and the villagers themselves end up with meager compensation for land they have owned for centuries.
"I can't even count the number of demonstrations we've had," said Ms Lu, 40, who calls defending the village her full-time job.
Lu, who declined to give her full name for fear of reprisals, has a soft, lilting voice that belies an undercurrent of outrage.
"We don't leave the village for fear that they'll come and destroy it," she said. "If anything happens, we need to stay here and resist."
Xian residents say that the authorities began to loosen their grip in late 2012, when Chinese President Xi Jinping (習近平) was installed as the top party leader. Endemic corruption, Xi has said, poses an "existential threat" to party rule.
Last summer, seven Xian village cadres were placed under investigation for taking bribes. This summer, they were tried. At the judge's behest, the defendants, one by one, vowed to return their payouts to the developers. With every promise, the villagers burst into laughter and jeers.
According to Xinhua news agency, the village cadre investigation helped anti-corruption authorities "trace the vine to the melon" and turn their focus on Cao. Developers had given Cao £6.7 million (US$10.9 million) to strip Xian villagers of their land, the report said. When he was investigated, the developers' intimidation campaign abruptly stopped — no more ID checks, no more arbitrary beatings. He was expelled from the party on July 11. That night, the villagers set off fireworks.
The villagers' resistance has no leader. Yet if it did, Lu Youfeng, the organizer of the celebratory banquet, would almost certainly be it.
Lu Youfeng, a diminutive but quietly charismatic father of two, said that until the late 1990s, the village was a rural idyll.
Then the Guangzhou government announced plans for a new financial district, the Zhujiang New Town, which first tentatively crept around the village and then swallowed it whole. The villagers lost their farmland to developers, so they became landlords. They built spartan residential blocks on their remaining property, subdivided them into scores of tiny rooms and rented them out to migrant workers from the countryside.
The migrants came in droves; the villagers kept building. Soon, the apartment blocks were packed so tightly that sunlight could not reach below their highest floors.
Migrants now make up two-thirds of the village's population. The men work on construction sites, while the women spend their days in the dank, artificially lit alleys, stripping wire for copper.
Lu Youfeng said the villagers understood the value of their property — nearby apartments sell for up to £5,000 a square meter — and hoped to redevelop it themselves.
"The smart thing they're doing in Xian is that they're not fighting for a specific amount of compensation, they're fighting against official corruption," South China Normal University assistant professor Chen Hong (陳宏) said.
Chen said the compensation process was fraught with traps and loopholes. Residents of another urban village, Liede, agreed to relocate into decent-looking high-rises, but discovered that the buildings were jerry-built, with "terrible construction materials."
"I think so far, we've been successful," Ms Lu said. "But the cost has been huge — so many people have been hurt."
Although this year's village-wide banquet lasted late into the night, villagers conceded that it might be one of their last — the stalemate cannot go on for ever.
"Demolition should be a good thing," a police officer shouted above the din. "They've just made a terrible mess of it. Development is inevitable."
Comments will be moderated. Keep comments relevant to the article. Remarks containing abusive and obscene language, personal attacks of any kind or promotion will be removed and the user banned. Final decision will be at the discretion of the Taipei Times.