Ugandans begin to question the price of growing China-Africa ties
The broadcast of a father's last call to his family before his execution in China has sparked calls for Uganda to review relations with Beijing
The last words Ham Andrew Ngobi spoke to his wife, Mariam Nabanja, were intended to be reassuring.
"Be firm. I am OK," he said, unaware that this was to be his last call to his family.
Ngobi was one of two Ugandans put to death in Guangdong Province, China, last month after they were found guilty of drug trafficking.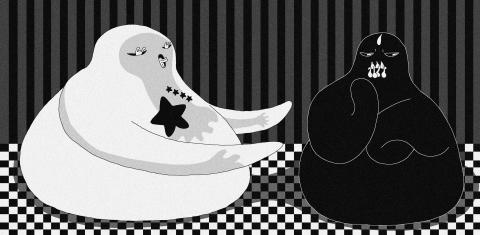 Illustration: Mountain People
His last communication with home before he was executed was broadcast on Ugandan television, sparking outcry and demands that the country review its relationship with China.
In the recording, Ngobi reassures his wife that the appeal court will set him free and let him return home.
Then comes a chilling second clip, a call from Ugandan Deputy Ambassador to China Paul Makubuya informing Nabanja: "It is not good. They have taken him. He did not understand what was happening, but I eventually told him in Luganda [his local dialect] that he was going to be killed."
Ngobi had provided a decent life for his family. His wife described him as a loving husband and a man "who had everything he needed."
"He had built other houses in addition to the family house," she said. "Why, then, would he go into drugs?"
His is part of the wider story of China in Africa, and specifically in Uganda. In 2009, China overtook the US and the UK to become Africa's leading trading partner. It is involved in virtually every sector of Uganda's economy.
Africa's growing relationship with China and other non-traditional allies has led to predictions that its long-awaited rise out of extreme poverty, disease and destitution to become an economic giant is near. Unlike the relationship with western countries such as Britain, Africa's relationship with China is untainted by colonialism.
Uganda's relationship with China dates back to 1962, when Uganda won independence from the British. Like most new African states eager to fortify their independence, Uganda looked for alternative development partnerships. China was one of the first countries to recognize Uganda's independence and the two countries built a relationship based on non-interference with each other's internal affairs. The anti-gay law in Uganda this year and continued western criticism of Ugandan President Yoweri Museveni's 28-year-old regime only served to bind the two countries closer.
Ngobi, 39, sought to make the best of the opportunities that the China-Uganda relationship presented. His wife said he regularly traveled to China to buy clothes that he would sell in Uganda.
It is not only Ngobi who became caught up in the fallout from growing links between the two countries. Five more Ugandans in China are set to be executed amid warnings from the Ugandan foreign minister about the dangers of becoming involved in the drugs trade.
The Ugandan government has said there is nothing it can do to help those on China's death row and that the executions will not affect China's relationship with Kampala. Its inability to save its citizens' lives, despite its close relationship with China, has angered Ugandans, with one journalist, Simon Musasizi, writing in the Ugandan newspaper the Observer that "illegal traders in ivory also deserve death" — a reference to China's involvement in the illicit ivory trade in Africa.
In Uganda, one of the world's poorest countries, three-quarters of the population are under the age of 30. Most are unemployed and unable to resist the lure of money from the illegal drug trade.
Ugandan Ambassador to China Charles Wagidoso said these young people were mostly "victims of economic circumstances" — mere carriers for big drug dealers. The economic circumstances have been worsened by drastic aid cuts, after corruption scandals and the passing of a harsh anti-gay law. Uganda depends heavily on external funding to supplement its budget and to directly support its population with basics such as food, health services and education.
Though China has reduced its number of capital offenses, it has the highest number of executions in the world (Uganda retains the death penalty for some crimes). Human Rights Watch has said that China's legal system does not provide enough safeguards for administering the death penalty.
Ugandan human rights activists and lawmakers blame the government for not doing enough for Ugandans held under arrest in China.
"This is a relationship in which China has the upper hand," said Livingstone Sewanyana, executive director of the Foundation for Human Rights Initiative, a non-government organization that successfully campaigned for ending mandatory death penalties in Uganda. "China's interest in Africa is trade and not human rights, and Uganda badly needs China."
When big donors such as Britain, the US and the Netherlands slashed aid because of the anti-gay law, the government, in addition to levying new taxes, turned to China, making more investment deals with Beijing. Given the human rights records of China and Africa, civil society organizations have urged that this relationship be monitored lest it becomes one no different from colonialism, with China siphoning off resources, indifferent to Africa's poverty.
Africans are now starting to question the nature of Chinese investment.
In the New York Times in May, Howard French, a senior foreign correspondent and author of China's Second Continent: How a Million Migrants Are Building a New Empire in Africa, wrote: "China has peppered the continent with newly built stadiums, airports, hospitals, highways and dams, but as Africans are beginning to fully recognize, these projects have also left many countries saddled with heavy debts and other problems, from environmental conflict to labor strife. As a consequence, China's relationship with the continent is entering a new and much more skeptical phase."
"The doubts aren't coming from any soured feelings from African leaders themselves, most of whom still welcome (and profit from) China's embrace," French wrote.
Rather, the doubts are coming from an increasingly vibrant civil society that wants to know how ordinary Africans benefit from Chinese money, infrastructure building and mineral extraction.
In Uganda, the Chinese presence is everywhere. From owning shops and hawking merchandise to running hospitals and managing multibillion-dollar projects on which the entire future of Uganda rests, China's presence is conspicuous. China National Oil Shore Corp won the right to develop Uganda's Kingfisher Field for US$2 billion. The Chinese have further invested in Uganda's US$2.5 billion oil refinery and a US$1.4 billion rail project across east Africa.
China is also financing the construction of two dams and a highway from Kampala to Entebbe airport. Major government buildings, such as Uganda's Ministry of Foreign Affairs and the President's Office, were constructed by the Chinese. By 2011, China had invested US$14 billion in Africa and offered £75 billion (US$127.3 billion) in aid. A big chunk of this money comes to Uganda and by last year, bilateral trade between Uganda and China reached more than US$500 million.
It is the sheer volume and importance of these projects that convinces activists that the government can do more for Ugandans facing execution in China.
"What China is doing is prohibited by international human rights law and diplomacy," Ugandan MP Betty Namboze said. "We welcome them into our country, and this is how they repay us?"
Sewanyana added that the two countries do not have an extradition agreement.
"Uganda needs to first review its human rights record before it reviews its relationship with China. Maybe if we strike out the death penalty completely, then we can ask that China does not administer the death penalty to our citizens," he said.
Comments will be moderated. Keep comments relevant to the article. Remarks containing abusive and obscene language, personal attacks of any kind or promotion will be removed and the user banned. Final decision will be at the discretion of the Taipei Times.