Merkel-Putin relationship forged in shared history
As the German leader takes on the role of mediator in the Ukraine crisis, her reputation with the Kremlin may be a factor in the unfolding of events in Crimea
After one of her first encounters with Russian President Vladimir Putin in 2002, German Chancellor Angela Merkel joked to aides that she had passed the "KGB test" by staring straight into his eyes without averting her gaze.
Unlike Washington — former US president George W. Bush claimed to have gotten a glimpse of Putin's soul and US President Barack Obama promised to "reset" relations with Russia — Merkel has never harbored any illusions about the former Soviet agent, nor hopes that she might change him.
It is this hard-nosed realism, born of Merkel's own experience growing up in a Soviet garrison town in East Germany and reinforced over a turbulent 14-year relationship with Putin, that has earned respect for her from the Kremlin and thrust her into the potentially risky role of chief mediator in the Ukraine crisis.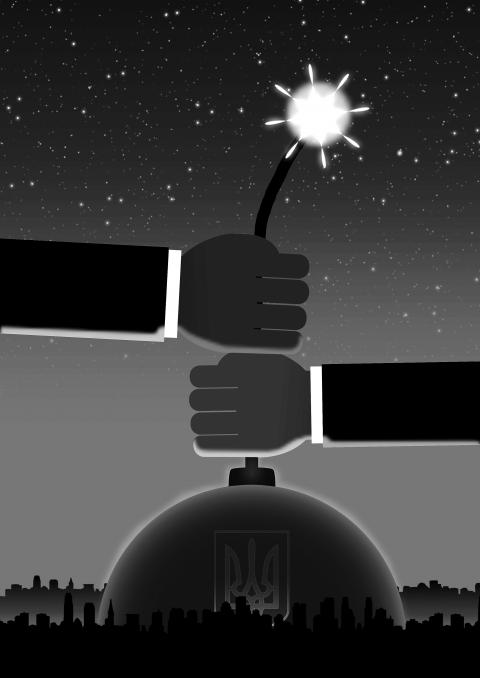 Illustration: Yu-sha
When Merkel and Putin interact, it is a clash of polar opposite worldviews, aides to the chancellor say.
For Merkel, a physicist, the fall of the Berlin Wall in 1989 was a godsend that launched her extraordinary career as a politician.
For Putin, who was living in the East German city of Dresden at the time, it was a calamity that led within two short years to the collapse of the Soviet Union — an event the Russian leader has described as the biggest geopolitical catastrophe of the 20th century.
Despite different outlooks, Merkel and Putin, born less than two years apart, speak each other's language — literally and figuratively.
Merkel, a fan of Tolstoy and Dostoyevsky, won a trip to Moscow as a teenager for her mastery of the Russian language.
Putin's favorite subject in school was German, which he perfected during his half-decade as a KGB officer in Dresden, and later sent his daughters to a German school in Moscow.
On Merkel's first trip to Moscow as chancellor, the two leaders conversed in their native tongues with translators present, but found themselves interjecting repeatedly to correct the interpreters. Aides say their conversations follow the same pattern to this day.
"They have been working together for over a decade," said Alexander Rahr, head of the German-Russian forum in Berlin. "It hasn't always been smooth, but Putin knows Merkel better and respects her more than the other leaders. He's never had a good relationship with Obama."
Since the overthrow of Ukraine's pro-Russian president Viktor Yanukovych last month and Putin's decision to respond by tightening Russia's grip on Crimea, the autonomous southern region of Ukraine, the two leaders have talked on the telephone about half a dozen times.
The conversations have not been easy, according to German sources.
Putin speaks a lot, sometimes endlessly. At times emotional and angry, he tries to bully with a mix of genuine and calculated outrage. The reserved Merkel waits patiently for the right time to make her points.
"It is always exhausting, always a battle — intense," one senior German official said.
In his 2013 biography of Merkel, Stefan Kornelius likened the two to an old married couple who know all of each other's tricks and can anticipate what they are going to say next.
Merkel has described her conversations with Putin as challenging tests for her own arguments. She feels that she cannot afford to show any weakness.
In a conversation with the White House on Sunday last week that followed a chat with Putin, she reportedly told Obama that the Russian leader appeared to be "in another world," out of touch with reality.
In public, Merkel took care not to criticize Putin too loudly in the first weeks of the Ukraine crisis, fearing it would backfire and make the Russian leader harden his positions.
That changed on Sunday last week when an unusually tough statement from her office said she had accused Putin in a telephone call of breaching international law with his "unacceptable intervention" in Crimea.
On Thursday in Brussels, she said the EU would follow the US in introducing visa bans and asset freezes unless Putin moved quickly toward a negotiated settlement on Ukraine.
The new tone was a reminder of the different worldviews in a relationship that is based firmly on strategic interests rather than friendship.
In 2005, Merkel defeated the Russian's close ally, former German chancellor Gerhard Schroeder, who had once referred to Putin as a "flawless democrat." Within weeks of leaving office, Schroeder took a job as board chairman of Nord Stream, the pipeline majority owned by Russian gas monopoly Gazprom.
On her first visit to Moscow as chancellor, she made a point of inviting human rights campaigners and opposition figures to a reception at the German embassy, something Schroeder would never have done.
A year later, when Merkel paid a visit to the president's Black Sea residence in Crimea, Putin infuriated the Germans by allowing his big black labrador Koni to bound into the room while cameras were running, ignoring warnings from protocol that the chancellor has a fear of dogs.
More recently, the two clashed at an exhibition at the Hermitage Museum in St Petersburg, which included German art seized by the Soviets at the end of World War II. In a tense exchange at the opening in June last year, Merkel demanded the works be returned to Germany, only to be rebuffed by Putin.
Amid the sparring, Merkel has also sided with Putin at key moments, bolstering her credibility in Moscow as an honest broker.
At a NATO summit in Bucharest in 2008, Merkel refused to bow to pressure from Bush and other leaders to put Georgia and Ukraine on track for membership in the Western military alliance, a move the German leader knew would infuriate Putin.
However, she sided with Russia in abstaining from the 2011 UN vote authorizing intervention in Libya and pleased Putin with her sharp public criticism of the US last year following reports the US National Security Agency had monitored her mobile phone.
"What is important for Putin is what Merkel thinks, what China thinks and what the CIS [Commonwealth of Independent States] countries think," a senior Russian security source said, dismissing the largely symbolic measures unveiled by Obama on Thursday as having zero impact on the Russian leader.
Still, even members of Merkel's entourage believe that her ability to sway Putin is limited. In the Ukraine crisis, the Russian leader's behavior has been driven primarily by domestic considerations, they say.
By embracing the role of mediator, Merkel is running a big risk. She has urged Western partners to give Putin more time before punishing Moscow with economic sanctions.
This stance reflects German fears of the geopolitical consequences of an isolated Russia as much as it does concern about its business interests and energy ties. Germany gets over a third of its oil and gas from Russia, and more than 6,000 German firms are active in the country.
If Putin refuses to follow her advice on pursuing a negotiated solution to the Ukraine crisis and consolidates Russian control of Crimea in the days ahead, she runs the risk of looking soft and naive.
"Merkel's chances of influencing Putin are overstated," European Council on Foreign Relations senior policy fellow Stefan Meister said. "She has a relationship with him, there is a certain trust and he listens to her, but there are limits to what impact that might have."
"Putin has a very clear strategic goal in Crimea and he is not going to be persuaded by Germany," Meister said.
Comments will be moderated. Keep comments relevant to the article. Remarks containing abusive and obscene language, personal attacks of any kind or promotion will be removed and the user banned. Final decision will be at the discretion of the Taipei Times.