Europe should surrender sovereignty to solidify its union
The dream of a real EU, one that is politically and fiscally integrated, may materialize as a solution to the debt crisis
It is 2025 and former German chancellor Angela Merkel, Europe's first democratically elected president, is reviewing a crowded agenda for the new session of the increasingly powerful European Parliament.
The head of the European Monetary Fund is recommending a big increase in the by now well-established financial transactions and carbon taxes to fund emergency transfers from Brussels to the EU's new Balkan members.
Merkel must also overcome lingering opposition to her proposal to re-admit Greece to the euro, 12 years after Athens pulled out of the single currency because of popular unrest over the austerity measures she had championed as German chancellor.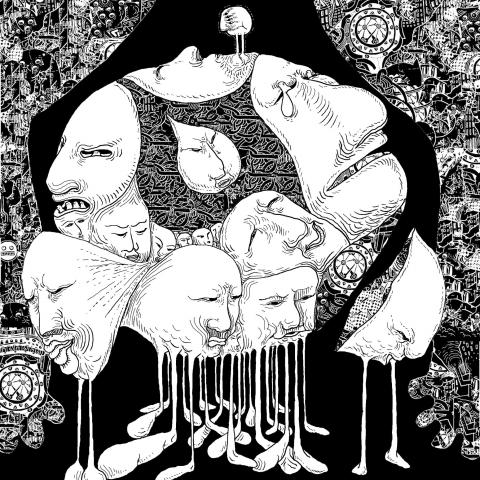 Illustration: Mountain People
The ensuing financial cataclysm and economic depression galvanized the euro's remaining members to seek shelter in what many had dismissed as unthinkable — full political and fiscal union.
If that scenario sounds far-fetched, then so does the "vision statement" prepared by four EU presidents — the bloc's most senior officials — for last week's EU summit.
The paper, co-authored by European Council President Herman Van Rompuy and European Central Bank (ECB) President Mario Draghi, said the eurozone should push ahead with a banking union and a budgetary union, possibly leading to the creation of a treasury office that could issue common debt.
Critically, they added, for the plan to succeed Europe's voters must rally behind such a surrender of sovereignty. The summit tasked Van Rompuy to deliver by the end of the year a firm timetable for fiscal union.
In Portugal, which has already had to accept strict external supervision of its budget as the price of a 78 billion euro (US$97.6 billion) bailout, some regard the prospect of handing greater fiscal power to Brussels as a natural evolution.
"I would be very happy to pay my taxes to a European entity as long as those who are managing that money have more democratic legitimacy," said Francisco Alves da Silva, 27, a mergers and acquisitions consultant in Lisbon.
That legitimacy could come via much greater sway for the European Parliament or even from the direct election of the president of the European Commission, the EU's executive arm currently headed by Jose Manuel Barroso.
What da Silva does not want to see is decisionmaking for the whole of Europe stitched up in back room deals between Germany and France.
Like it or not, though, the scale and speed of further eurozone integration will largely come down to Berlin and Paris, Europe's two traditional heavyweights, and whether they can reconcile their radically different concepts of "more Europe."
Germany, the EU's main paymaster, refuses to countenance common debt issuance to placate bond markets until other member states with weaker finances have surrendered a large degree of control over their budgets and economic policy to Brussels.
For its part, France insists that "solidarity" — getting Germany to share responsibility for debt issuance — must precede any dilution of sovereignty.
Can the circle be squared?
The outcome of the summit offered cautious grounds for optimism. In what many saw as a major concession by Germany, Merkel agreed to let the eurozone's rescue fund inject funds directly into stricken banks from next year and intervene in bond markets to support troubled member states.
"The art of German-French friendship is to be conscious of each other's different interests," said Thomas Silberhorn, a parliamentarian for the Christian Socialist Union, the Bavarian sister party of Merkel's Christian Democrats.
However, speaking at a pre-summit meeting in London of the Open Europe think tank, Silberhorn said mutual aid had its limits: he echoed Merkel's mantra that underwriting common euro bonds would be too much of a burden even for Europe's mightiest economy.
"Germany will keep solidarity, but we will have to reject the appeal for selflessness," he said.
In contrast to Germany's federal model of government, which makes it more natural for Berlin to cede fiscal authority, France cherishes a strong central state and is loath to see the responsibilities of the French parliament in Paris pass to Brussels.
However, France has been losing economic ground to Germany, diluting its influence in the integration debate.
"It is still too strong to accept further loss of sovereignty, but it is too weak to offer a clear and meaningful alternative," said Marc Chandler, global head of currency strategy at Brown Brothers Harriman.
Jean-Dominique Giuliani, president of the Fondation Robert Schuman, a pro-European think tank in Paris, saw no political willingness in France in the short term to bow to Germany's demands for a transfer of power. For a start, both main parties studiously avoided the issue during France's just-concluded presidential and parliamentary elections.
Yet he said the ruling Socialist Party of French President Francois Hollande was likely to ratify the EU's fiscal compact, signed by his conservative predecessor Nicolas Sarkozy, which requires strict adherence to debt and deficit limits on pain of sanctions.
That might be awkward to explain for Hollande, who campaigned on a pro-growth platform, and so provoke a backlash from sovereignists in his own party as well as from radical parties on the left and the right, including the eurosceptic National Front.
However, it would leave France's two main political groupings in favor of greater integration, Giuliani said.
"And with the economic situation quickly getting worse in France, I think it will become urgent to push on towards steps that involve sharing sovereignty, notably on the budget," he added.
As for Germany's opposition to euro bonds, Giuliani said the eurozone's extension of hundreds of billions of euros in loans and guarantees to bail out Greece, Ireland and Portugal, and now Spain and Cyprus, already constituted a mutualization of liabilities.
Michael Heise, chief economist at German insurer Allianz, agreed that the bailouts represented debt pooling on a massive scale.
"If something goes wrong, for example if Greece exits the eurozone, it will not just be Germany that is hit," he said.
This was all the more of a reason to make sure the euro was solidly underpinned by requiring central oversight of members' budgets, Heise said, in another echo of Merkel's views.
"When we've achieved that, the path towards some mutualization of debt — euro bills or something of that type — will probably take place. But that's the right procedure and sequence for going forward," Heise said.
By proposing direct aid to banks, leaders took what could turn out to be a crucial step towards severing the dangerous link between weak lenders and their over-indebted sovereigns.
They hope to work out how the ECB will supervise big cross-border banks, the first pillar of a mooted banking union, by the end of the year.
That is also the deadline Van Rompuy has been given to come up with a firm timetable for implementing the four presidents' vision. With the euro's current architecture in effect declared unfit for purpose, impatient markets will want to know exactly what the eurozone means by fiscal union and when to expect it.
"It's still a good distance off, but it has to be done in order to make real progress," said Niels Thygesen, an economics professor at the University of Copenhagen and a member of the committee headed by former European Commission president Jacques Delors that designed the single currency in the late 1980s.
"There's no solution in breaking up the euro area," he added. "The consequences of that are so inferior that it cannot be contemplated, be it by the strong or the weak. We should discard that completely."
Additional reporting by Daniel Alvarenga in Lisbon
Comments will be moderated. Keep comments relevant to the article. Remarks containing abusive and obscene language, personal attacks of any kind or promotion will be removed and the user banned. Final decision will be at the discretion of the Taipei Times.