Microfinancing lifts tsunami-hit Japan
Small businesses that suffered in the wake of the tsunami have found it hard to secure the bank loans they need to aid their recovery, but now a more charitable lending program is offering a helping hand
The world's third-largest economy might not seem the obvious place to find the need for microfinancing, but for businesses in tsunami-ravaged northeast Japan, it could be the key to revival.
Music Securities, a brokerage more used to raising cash for struggling musicians, has turned its expertise to building bridges between small businesses in the disaster zone and people with cash who want to help.
The model is based on that developed by Grameen Bank in Bangladesh, where small loans on easy terms are offered to the nation's poor, with an emphasis on growth potential rather than creditworthiness.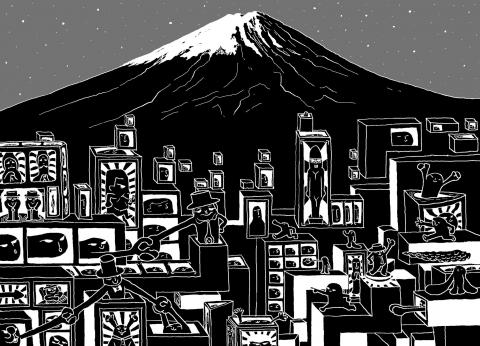 Illustration: Mountain People
The program and its founder, Muhammad Yunus, won the 2006 Nobel Peace Prize for the scheme, which allowed individuals to work for their living to regain their dignity.
In Japan, investors with as little as ¥10,000 (US$77) to spare are helping to rebuild enterprises as diverse as cafes, seafood producers and a 200-year-old soy sauce factory.
Alongside household names such as Toyota which suffered when the March 11 tsunami shattered their supply chains or knocked out their factories, hundreds of family-run businesses were also badly hit.
However, unlike multinational car companies, these small businesses have neither deep enough pockets nor the available lines of credit to get back on their feet.
"This is an area where public assistance has been insufficient, and where it is difficult for existing financial institutions to enter," said Masami Komatsu, chief executive of Tokyo-based Music Securities.
"But, there is a desperate need for capital in the region. There are so many good businesses out there who could use help," he said.
Some of those who ran businesses in the Tohoku region of Japan lost almost everything — houses, factories, inventory and even their skilled workers — when the monster waves roared ashore, claiming 20,000 lives.
With existing debts and nothing to offer as fresh collateral, even farmers with generations of success behind them have found it all but impossible to secure bank loans.
However, with the skills and a solid business plan to rebuild and to expand, all that is needed is capital to renew factories, to purchase freezers and to build greenhouses.
Under the scheme, investors offer cash in increments of ¥10,000, with ¥5,000 an investment and the remainder a donation that will not be returned.
Music Securities lets investors choose from a expanding catalog of small businesses in Tohoku.
Those businesses promise to return the investment in a decade or less in addition to extra financial returns if they have commercial success.
As of early this month, 28 enterprises had collectively asked for more than ¥900 million through Music Securities, and raised around ¥455 million from more than 13,500 investors.
Among them is farmer Seiichi Seto, 62, who lost family members, his house and many of his fields to the tsunami.
He has joined forces with two friends to raise ¥40 million to start a hydroponic vegetable farm in Sendai.
"Unless I do something I cannot put food on the table. Financial institutions and farmers' cooperatives don't lend us money," said Seto, who has already persuaded major restaurant chains to buy his vegetables once his new farm becomes operational.
"I want to create stable jobs and provide a stable income," he said.
Seitoku Iwai is trying to re-establish his shop selling sake and porcelain in hard-hit Rikuzentakata, a city that was largely destroyed by the tsunami.
He hopes to raise ¥12 million to restart the family store, which has a history going back to the early 1800s.
"We don't sell life's necessities, like food. We are not makers of the goods we sell," he said. "I thought about quitting, but customers have asked when our store will reopen."
"So I wondered if maybe what we do really is important. Many people are waiting for the very original products that we select and sell. They are small goods, but they fill voids in our hearts," he said.
Yagisawa Shouten, a maker of 200-year-old soy sauce, is hoping for ¥100 million through the scheme, while Yamamoto Strawberry Farm, which was formed when three family businesses merged, wants ¥21 million to modernize farms and expand distribution networks in a bid to double pre-quake sales.
The risks for investors are high. Not all of these businesses will succeed in a country where the economy has been largely moribund for much of the past 20 years.
However, those contributing cash have an emotional as well as a financial investment in the companies they support and can watch as lives are rebuilt.
Tokyo businessman Kazushige Honda, 58, says he gave ¥10,000 each to two seafood producers, despite not having any connections to the Tohoku region.
He said he felt compelled to help and thought this kind of seed money was the best way to do it.
"So many people have volunteered in the region to help clear debris or to prepare meals. It's difficult for me to do that, but I can offer investment," he said.
Music Securities plans to continue the microfinancing scheme for as long as necessary.
However, Komatsu said his long-term hope is for the tsunami-hit businesses to become stable and viable enough to get back into mainstream financing.
"It is best if things become easier for banks to issue loans to these good companies," he said. "We hope that our program will help them show a track record of successes under the current difficult conditions."
Comments will be moderated. Keep comments relevant to the article. Remarks containing abusive and obscene language, personal attacks of any kind or promotion will be removed and the user banned. Final decision will be at the discretion of the Taipei Times.