Giving old gadgets a green burial
The US$170 billion consumer electronics industry recycled 90.7 million kilograms in 2009, rising to an estimated 136 million kilograms last year
This weekend, Josh Mohrer and Petra Cramer are moving to an apartment on the Upper West Side of Manhattan, free of the discarded gadgets that have been collecting dust in their East Village closet: a PalmPilot, a first-generation iPhone, an iPod, a BlackBerry and a Texas Instruments graphing calculator.
Moving is the perfect time to sell or give away the used electronics on Craigslist, Mohrer said, adding: "We want to own less in general and antique tech stuff is a good place to start."
Many Americans have outdated technology in their homes, especially after the holidays when the average consumer planned to spend a record US$232 on electronics gifts, according to the Consumer Electronics Association.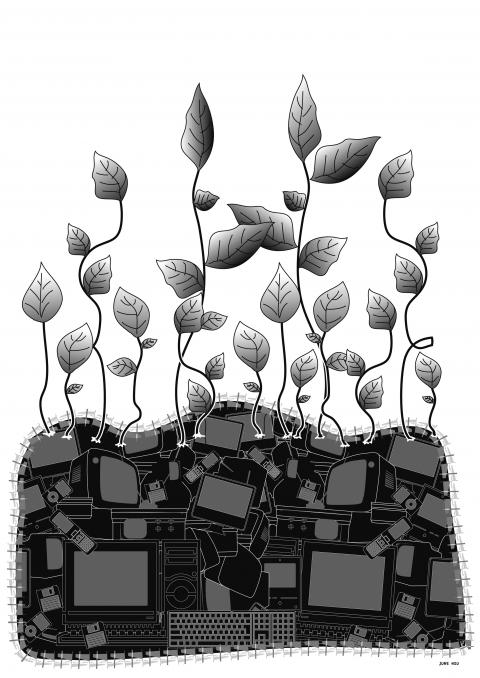 ILLUSTRATION: JUNE HSU
The average household now has 25 devices, the group says.A November report, Tackling High-Tech Trash, from Demos, a public policy organization focused on economic fairness and sustainability, cited government data showing that US citizens owned 3 billion electronic products, with a turnover rate of about 400 million units each year.
However, less than 14 percent of those gadgets are recycled, the report noted.
There are, though, many outlets for consumers to recycle, donate or trade-in goods. The Environmental Protection Agency has a list, and the electronics association provides links with a ZIP code search feature to find corporate recycling programs and programs for donating used goods to charitable organizations. Earth911 offers an iPhone app.
Best Buy has been recycling most consumer electronics in its stores for two years. Consumers can drop off, at no charge, smaller items like CDs or DVDs, rechargeable batteries and cell phones at kiosks at the entrance of its stores.
Best Buy will also take up to two larger items a day at customer service, including televisions and monitors up to 32 inches, computer CPUs, VCRs and DVD players, phones, remotes and keyboards. The company charges a US$10 recycling fee for items with screens, but gives customers a US$10 store gift card immediately.
Slightly used items can be traded in for a gift card. Certain big TVs and appliances can be hauled away for a fee. The removal is free if the customer buys a newer appliance from Best Buy to replace the old one.
For its fiscal year ending March 1, Best Buy anticipates recycling 36.2 million kilograms of goods, up from 31.7 million kilograms the previous year, spokeswoman Kelly Groehler said. About 75 percent to 80 percent of that is computers and monitors.
"We realize how big the stream is," she said. "We are trying to make it as easy as possible to recycle."
The US$170 billion consumer electronics industry recycled 90.7 million kilograms in 2009, according to the electronics association's 2010 Sustainability Report released this week. The association estimated that recycling rose to 136 million kilograms last year.
Other companies have also introduced programs. Goodwill Industries has joined with Dell Computer to make it easy for consumers to donate unwanted computer equipment. Waste Management offers recycling drop-off sites across the country and sells Think Green From Home -electronics recycling kits, in three sizes.
Most cellphone service providers, like AT&T and Verizon, will take used phones, and many retailers like Target, Apple and Best Buy offer trade-in programs. Gazelle.com works with retailers like Costco and NewEgg.com on dedicated trade-in programs, but anyone can go to the site to get cash for their gadgets.
In November, Bobby Lozano, a freshman at Jefferson College of Health Sciences, Roanoke, Virginia, sold his three-year-old iPod Nano and two-year-old LG EnV Touch Verizon phone to Gazelle.
"I got an iPhone," he said, "so I no longer needed the other two."
He said he had chosen Gazelle because "my roommate used it and raved about it."
Gazelle valued the items at US$70, he said, and sent the money directly to his PayPal account.
In addition to estimating a gadget's value, Gazelle technicians also erase the contents of its hard drive before reselling, said Israel Ganot, founder of the site.
"Wiping hard drives and device contents is not easy," he said, "but we stand behind it."
Gazelle refurbishes and resells the devices at its Gazelle Store on eBay and overseas.
Gazelle accepts 250,000 kinds of items, and points consumers to local retailers for those it does not accept online. Despite the options for consumers, the Demos report noted that the US lacks a uniform system for recycling electronics and instead relies on a patchwork of voluntary "take back" initiatives and legislated state and local electronics recycling programs.
About two dozen states have passed laws mandating the recycling of electronic waste, according to the Electronics TakeBack Coalition, which promotes responsible recycling. All of the laws except for California's require the manufacturer to pay for recycling. New Jersey's law took effect on Jan. 1, while New York's law comes into force on April 1.
Elizabeth Grossman, who wrote the Demos report and is the author of the book High Tech Trash, said the manufacturer take-back programs, which the coalition grades annually, should be a consumer's first stop.
"I like the idea that it closes the loop on the product lifecycle for the manufacturer," she said.
In the report, she offered six recommendations to reduce the stream of e-waste. One is to expand the scope of products included in the manufacturer programs. Another is to increase the number of recyclers that are certified through a program run by e-Stewards.org. That group maintains a list of recyclers that adhere to a set of international standards for responsible recycling, which, among other requirements, prohibits toxic waste from going to landfills or incinerators.
Grossman said that recycling electronics should be as easy as buying them. Recycling still requires a lot of research, she said.
"It's not as comprehensive, not as easy and not as convenient as it should be," she said.
Comments will be moderated. Keep comments relevant to the article. Remarks containing abusive and obscene language, personal attacks of any kind or promotion will be removed and the user banned. Final decision will be at the discretion of the Taipei Times.