China asserting control over rare earth elements
Facilities are now under development elsewhere, but it would take time to fill the gap left by China
The price of crucial minerals used in everything from smart phones to wind turbines and radar systems — and the shares of companies seeking to produce them — are soaring after Beijing slashed global supplies.
China produces as much as 97 percent of the world's supply of so-called rare earth elements, but has drastically cut back exports to the concern of foreign businesses and governments.
The move has seen prices rise as much as nine-fold in a few months and given new impetus to mining firms across the world that have long been seeking to develop deposits.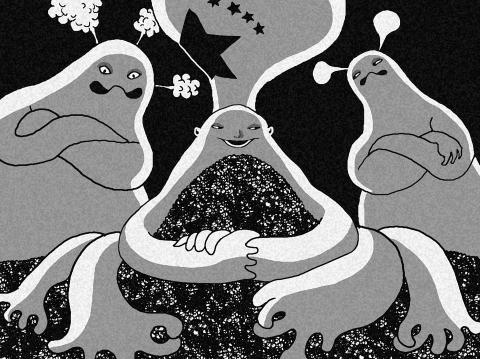 ILLUSTRATION: MOUNTAIN PEOPLE
However, analysts warn that stocks in such firms are reaching unrealistic highs in an investment surge that some compare to the dotcom bubble.
Despite their collective name, the 17 elements are not rare. According to the US geological survey, China has only about a third of the deposits and for many years a US mine run by Molycorp was the main global supplier.
However, the minerals are expensive to extract and process, and China's expansion into the market saw prices plummet.
Analysts say its labor costs are kept low and looser environmental laws and the fact that the main deposit at Baotou in Inner Mongolia is also an iron ore mine, also keep overall processing costs down.
Now Molycorp is looking to reopen its Mountain Pass mine in California, which closed in 2002, and a host of other firms are attempting to develop deposits.
Although China began tightening export quotas some time ago, the industry was shocked when it slashed the export quota for the second half of this year by 72 percent year-on-year. Beijing said it wanted to ensure sustainability and curb environmental damage.
The government has also consolidated the industry, closing smaller mines and seeking to create stronger, more efficient enterprises.
However, the overseas facilities now under development are well over a year away from production, at best.
"It's all down the road — and everyone is worried about today and tomorrow," said Suzanne Cammell of Metal-Pages. "If you don't get rare earths, you can't produce anything; that's why there's a panic."
In early July, cerium oxide, used in the manufacture of ceramics and photosensitive glass, was US$6 to US$7 a kilo, she said. Later that month the price started to leap; now it is US$36 to US$38. samarium, used in magnets for items such as headphones and carbon arc lights for the film industry, cost US$4.25 to US$4.75; now it is US$34 to US$35.
The soaring prices produced dramatic gains for related stocks. The Financial Times reported that an index of shares in rare earth companies, from research firm Kaiser Bottom-Fish Online, has increased 12-fold in less than two years and by more than a third in the last month.
It pointed out that the combined market capitalization of six junior mining firms had reached almost US$7 billion even though they are not yet mining rare earths and the market is worth about US$2 billion annually.
"It is a bubble. There is no doubt about that," said Gareth Hatch, cofounder of Technology Metals Research.
However, he said usage was increasing fast because rare earths are now used in so many consumer goods and because of the growing demand for such items in emerging economies.
They are also vital for green technology developments: One wind turbine generating 3 megawatts of power might require 600kg of rare earths for its magnets, he said.
Last year, global production stood at 124,000 tonnes. Lynas, which is developing a major rare earths project in Australia, reported that demand would increase by an average of 9 percent a year until 2014, but that supply would only grow to 170,000 tonnes, leaving a shortfall of about 20,000 tonnes. The Chinese Rare Earths Industry Association has predicted demand will rise by almost two-thirds within five years.
China will use an increasing amount of its production itself. Some also fear Beijing may use quotas to promote domestic manufacturing because export controls apply solely to the raw materials, not alloys or components.
That makes foreign governments anxious, particularly following reports that China has cut some shipments to Japan.
On Sunday, Japanese Trade Minister Akihiro Ohata urged China to begin shipping rare earths again, saying the Chinese vice minister of commerce had told him customs had tightened checks on rare earth exports to all destinations.
China has denied claims that it is punishing Japan over a maritime dispute and earlier this month Chinese Premier Wen Jiabao (溫家寶) insisted: "China is not using rare earths as a bargaining chip."
In a statement last week, the commerce ministry denied reports it might cut the export quota 30 percent year-on-year and said China would continue to supply rare earths to the world.
"At the same time, to protect usable resources and sustainable development, China will also continue to impose restrictive measures on exploration, production and import and export," it said.
For all the industry's hype, Hatch said, there is an underlying problem.
"Despite the relatively low value of these materials, the technologies enabled by rare earths and components that contain rare earths run into the trillions of dollars," he said. "There is certainly going to be an issue in the next zero-to-three years where there will be a gap between material available from China and actual demand outside."
Comments will be moderated. Keep comments relevant to the article. Remarks containing abusive and obscene language, personal attacks of any kind or promotion will be removed and the user banned. Final decision will be at the discretion of the Taipei Times.