Thieves cash in on cycling craze
As the number of people using bicycles is seeing an upswing, the number of bikes being stolen is also rising, resulting in an often high-tech response to get them back
Build them, and the riders will come has become a kind of mantra for cities looking to encourage cycling through a widening network of bicycle lanes.
And, it turns out, the same might be said of bicycle thieves.
As cyclists from New York to San Francisco take advantage of new commuting infrastructure, thieves appear to be taking a growing interest in two-wheeled travel as well, riders and advocates report. The response by some cities and local law enforcement agencies has been a kind of high-tech cat-and-mouse game, one involving bait bikes and radio trackers as well as social media Web sites.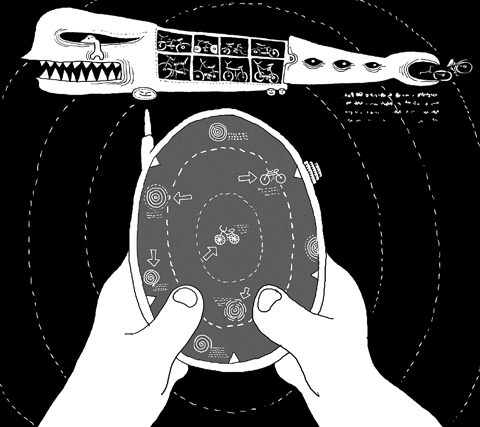 ILLUSTRATION: MOUNTAIN PEOPLE
In San Francisco, police are working with advocates to develop a series of stings this summer using hidden transmitters mounted on bikes.
"It's a lot like the drug war," said Marc Caswell of the San Francisco Bike Coalition, an advocacy group. "We need to get the higher-ups."
Campus police at the University of Nevada, Reno, began using a similar tracking system early last month to trap thieves, who have been found to operate in small groups.
"It's actually a continual problem," commander Todd Renwick said.
Boston has been trying another technological approach, using Twitter and Facebook to help publicize bicycle thefts in a kind of virtual lost-and-found message board.
The program, which began in August last year, replicates successful efforts by cyclists to mobilize the bike community online in response to theft, most notably by Lance Armstrong. When his bicycle was stolen after a race in Sacramento in February last year, Armstrong alerted his many Twitter followers; his bike was turned in to the police a few days later. Similarly, in New York in March, a messenger recovered his stolen bike just hours after posting an alert on Twitter.
For riders in Boston, the city's social media program has succeeded in increasing the number of bikes registered with the police, but not in recovering those already stolen.
Only "two or three" of the 238 bikes reported stolen using the city's social media outreach have been recovered, said Nicole Freedman, director of city's cycling program.
Bicycle theft remains an underreported crime, advocates and criminal justice experts said. The FBI reports 188,698 thefts nationwide in 2008, up slightly from previous years. It is certainly an undercount, experts said, because cyclists assume that once the theft occurs there is little chance of getting the bike back and often do not report thefts.
In fact, many police departments — including in Portland, Oregon, where bicycling is particularly prevalent — said they did not keep official records of bicycle thefts. (Departments voluntarily send their bicycle crime data to the FBI, another reason for a potential undercount.)
In New York, where the police do keep a record of bicycle thefts, riders have seen about a 35 percent increase in the number of reported thefts this year over the same period last year, according to statistics provided by the police. But the number of reports was small, 519 through May 16, in a city where tens of thousands ride each day.
"The very first bike I built, by the time I retired it, it had been stolen 33 times," said Jason Cecchettini, whose company, Bait Bike, began selling radio-­tracking technology for bikes to law enforcement agencies in 2002.
Since then, the police and college campuses across the country have bought the systems, Cecchettini said, at a cost of US$7,000 each, not including the price of the bicycle, which is usually valued above the level for grand larceny in a given state.
The tracking system is similar to the LoJack technology used to locate stolen cars. However, unlike LoJack, the trackers are primarily hidden on bikes — as well as other items, like laptops — to catch thieves, not to recover property. In Sacramento County alone, the use of such bikes has resulted in 150 to 200 felony arrests, according to Sergeant Todd Deluca of the Sheriff's Department, which has been using the bikes since 2004.
"When we started, I thought we'd get kids stealing each other's bikes," Deluca said. "But what we've found is that we've gotten some pretty heavy-duty criminals."
In one memorable incident in spring 2007, an escapee from Folsom State Prison stole a US$3,000 Foes mountain bike that had been left as bait in a supermarket parking lot, locked to the rack of an SUV. The system alerted the police, and the prisoner was caught about 15 minutes later, less than an hour after his escape, officer Lou Wright of the Folsom Police Department said.
Comments will be moderated. Keep comments relevant to the article. Remarks containing abusive and obscene language, personal attacks of any kind or promotion will be removed and the user banned. Final decision will be at the discretion of the Taipei Times.