A crucial step for offshore wind power
While Europe already has hundreds of offshore wind farms and China is about to inaugurate its first, the US lags behind in this bracket of the renewable energy race
More than 800 giant wind turbines spin off the coasts of Denmark, Britain and seven other European countries, generating enough electricity from strong ocean breezes to power hundreds of thousands of homes. China's first offshore wind farm, a 102-megawatt venture near Shanghai, goes online this month, with more in the pipeline.
Despite a decade of efforts, however, not a single offshore turbine has been built in the US.
Experts say progress has been slowed by a variety of factors, including poor economics, an uncertain regulatory framework and local opposition.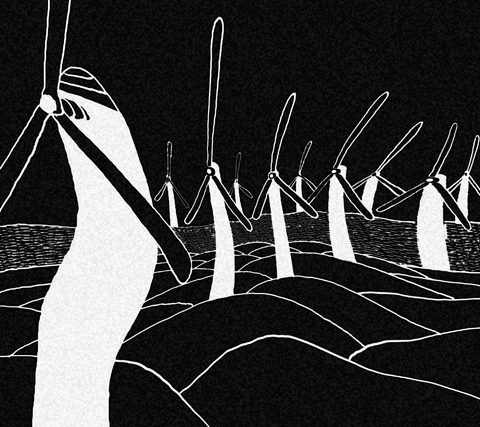 ILLUSTRATION: MOUNTAIN PEOPLE
When the administration of US President Barack Obama announces a decision this week on the most prominent project — Cape Wind, off the coast of Massachusetts — it could have implications from Long Island to Lake Erie. An approval from US Interior Secretary Ken Salazar might well nudge the project to completion as the nation's first offshore wind farm. On the other hand, some developers say a thumbs-down could gut the US' offshore wind industry before it ever really gets started.
"It is imperative that Cape Wind gets built — we need the momentum," said Peter Giller, chief executive of OffshoreMW, an upstart developer with ambitions to build two 700-megawatt projects off the shores of New Jersey and Massachusetts.
At least half a dozen offshore wind projects that could provide electricity for hundreds of thousands of customers have already been proposed in the shallow waters off the East Coast and the Great Lakes. Even more are in the paper-napkin stage, including a project that would place a bank of turbines about 21km off the Rockaway peninsula in New York.
Although offshore wind farms are roughly twice as expensive as land-based ones, developers and advocates say offshore projects have several advantages. Sea and lake breezes are typically stronger, steadier and more reliable than wind on land. Offshore turbines can also be located close to the power-hungry populations along the coasts, eliminating the need for new overland transmission lines. And if the turbines are built far enough from shore, they do not significantly alter the view — a major objection from many local opponents.
The National Renewable Energy Laboratory has estimated that about 90,000 megawatts of electricity could be extracted from offshore winds in US coastal waters less than 30m deep, the easiest and most cost-effective depths. Most of that potential lies in New England, the mid-Atlantic and the Great Lakes.
If the handful of US projects on the drawing board are built as planned, they would produce 2,500 megawatts, according to the American Wind Energy Association, or about as much as two mid-size nuclear power plants.
The Cape Wind project would place 130 turbines, each 135m tall, over 38km2 of Nantucket Sound at a likely cost of more than US$1 billion.
Opponents have argued that the venture is too expensive and would interfere with local fishermen, intrude on the sacred rituals and submerged burial grounds of two local Indian tribes and destroy the view.
"Cape Wind's oversized costs do not represent a reasonable return on the public's investment," Joseph Kennedy II, the former congressman and president of the Citizens Energy Corp, a Boston nonprofit group, wrote in a letter to the Cape Cod Times in February.
Kennedy's family owns property that looks out on the proposed wind farm site.
"Citizens Energy has been involved in alternative energy development for decades," Kennedy said, "but we do not include in our business model a plan to pick the public's pocket."
Proponents of the project, which include major environmental organizations like the Sierra Club and Greenpeace, point to a February study by Charles River Associates, a consulting firm hired by Cape Wind's developers, ­suggesting that the project could save New England ratepayers US$4.6 billion in energy costs over 25 years. They also say that the project has undergone two separate environmental impact analyses, neither of which found significant downsides.
The governors of six East Coast states — Delaware, Maryland, Massachusetts, New Jersey, New York and Rhode Island — last week called on Salazar to approve the project.
Even if Salazar gave the approval, however, opponents of Cape Wind would probably continue to challenge it in court and the company would still need to strike a deal with a utility to buy the power.
Jim Gordon, president of Energy Management, the firm heading the Cape Wind project, is weary but resigned.
"It's hard whenever you're a pioneer trying to do a first of a kind," he said. "We always recognized that this would not be an easy path."
Despite Cape Wind's struggles, a small but determined wind industry has emerged elsewhere, proposing several ocean projects off the shores of New Jersey, Delaware and Rhode Island, as well as freshwater projects in the Great Lakes near Cleveland and Chicago.
The industry got a boost last Wednesday when the Obama administration asked for formal expressions of interest from companies that might want to build wind projects off the Delaware coast.
Still, many hurdles remain.
Regulatory uncertainty has made offshore wind development a haphazard affair. It was only last year that the Interior Department approved final regulations for granting leases, easements and rights of way for renewable energy development in federal waters. Within 5km of the Atlantic coast, or on the Great Lakes, states have jurisdiction — and some have not even begun the rule-making process.
An even bigger impediment has been the high cost of building and maintaining turbines in a harsh marine environment, where equipment must be fortified to withstand crashing waves, hurricane winds, corrosive salt and, in the case of the Great Lakes, winter ice.
The current price tag for a fully installed offshore wind system is estimated at US$4,600 a kilowatt, nearly double the US$2,400-a-kilowatt price for a land-based system, according to the US Offshore Wind Collaborative, a coalition of public and private organizations and institutions promoting the industry.
"The reason there are no offshore wind farms in the US has more to do with the fact that there are plenty of land sites yet to be developed," said Sam Jaffe, an energy analyst at IDC Energy Insights, a market research and consulting firm. "Why on earth would you go offshore, which is more expensive, when you still haven't developed North Dakota?"
In Rhode Island, a US$200 million, 28.8-megawatt demonstration project being developed in state waters by Deepwater Wind was tripped up late last year when the local utility, National Grid, declined to enter into an agreement to buy power from the project, citing its "unreasonable" cost.
After Rhode Island Governor Donald Carcieri intervened, National Grid agreed to buy the electricity for US$0.24 a kilowatt-hour, but late last month, the Rhode Island Public Utilities Commission rejected the deal as too expensive for ratepayers, who would bear the cost.
By comparison, production tax credits and other incentives have driven the cost of land-based wind power to less than US$0.05 a kilowatt-hour in some places, and that's still more expensive than other sources like coal and hydropower. Despite the upfront costs, proponents say offshore wind power is worth it if it can reduce the reliance on carbon-intensive sources of electricity like coal.
"People should be cautious of thinking that protecting the viewshed protects the place," said Kert Davies, a research director with Greenpeace who has closely watched the Cape Wind venture. "The truth is that every model shows that the cape and islands and Nantucket are going to be drastically different places if climate change continues apace."
Comments will be moderated. Keep comments relevant to the article. Remarks containing abusive and obscene language, personal attacks of any kind or promotion will be removed and the user banned. Final decision will be at the discretion of the Taipei Times.